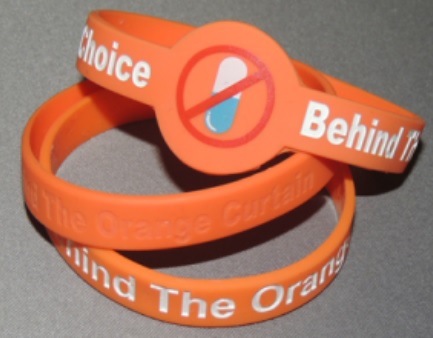 Natalie Costa has dedicated her life to educating us on the dangers of abusing prescription pills. See her documentary Behind the Orange Curtain.
In Part I, we learned some scary stuff about children recreationally taking prescription drugs. The kids aren't the only ones affected -- their families are too.
How can parents deal with their own emotional stress once they find out their child is on pills? What's the best success rate to help children stop?
Parents are on the ride of their lives. Reach out to groups that deal with family addiction issues.
The best advice you will receive is from parents who know what you are going through. They understand the horror of addiction, the crime and lifestyle that accompanies it and the destruction that it does not only to the addict but also to the entire family unit.
Not one modality works for everyone. For many families rehabs been hit and miss/trial and error or just getting into whatever they can afford.
There are many great rehabs out there and many horrific ones. I believe they need to be longer than 30 days and the entire family needs to participate in the healing process. Parents sometimes are frantic to get their child into anything that will accept them as fast as possible because they are afraid their child will die.
Many fail out of rehab because they were forced in and have not fully committed to getting clean. This is where a family can become financially devastated. You flunk out of rehab you do not get a refund.
Sober high schools are becoming more popular. Students can continue their education in a safe-drug free environment away from their sphere of influence that encourages drug use. The user needs to leave behind their old way of life and adapt to new rules and a new way of life.
Coming clean from a heroin addiction is probably the hardest thing you can attempt and this is a life-long commitment to stay clean.
What if the parents/guardians do not have the money to send their child to rehab?
This is material for another documentary. Rehabs are expensive. There is no guarantee they work because we are dealing with an individual who has to want do the hard work that it takes to remain clean and sober.
The important thing here is that if your child is overdosing or detoxing get them into a medical facility with around the clock doctor care as soon as possible. In many states there are no laws governing the quality of care provided by a rehab. Some are court appointed and they tend to be crowded and overstaffed.
Here in California a person facing jail for a non-violent offense can get a probationary sentence in lieu of jail time (Prop 36). So if you cannot afford rehab and can get into a county/state run facility, you may be housed with individuals who are just there to avoid time behind bars. There is much work to do to provide quality, safe, effective and affordable rehabilitation solutions.
Do you have a suggestion for children who currently do NOT take drugs on how to stay away?
Yes. They need to understand why we have "medicine". Prescription drugs are to be used for medical issues only and given to them by a parent. They need to know they are dangerous if taken incorrectly and could result in death.
Do not take any pills in your family's medicine cabinet without your parent's supervision and never take any pills given to you by a friend or at a party. Parents need to lock up all medications in a small safe.
PARENTS: Talk to your children. A 4th and 5th grader is going to school with 6th and 7th graders. If you are not talking to your children about the dangers of prescription drugs, then someone at school is.
How long did it take you to make the documentary? Where can it be seen?
It took just about a year to compete the film. It currently is available on iTunes and Amazon. We also have an educational version for school screenings.
How did you team up with film director and acting coach Brent Huff to make the documentary?
I own an acting academy called The Performer's Academy in Laguna Hills. The faculty consists of Los Angeles film directors, writers and producers. Brent has taught many workshops and used many of my students in his films. He's a father of a 22-year-old and I knew that he would understand the plight of these families. I called him one night and said, "There's a story here to tell, and do you want to help me tell it." It was an emotional experience that has changed me forever.
How did you even know where to start?
We compiled a short list of Orange County parents who lost their children. We initially thought we were going to make a short film on the subject. The list of parents who wanted to share their stories kept growing. We literally could still be filming parents and recovering addicts today.
How long did it take you to do your research?
Once we started the film, the process moved quickly. We certainly did not lack material for the documentary.
Every interview was an emotional process. Filming in the morgue was the most emotional for me. I took my daughter with me the day of the filming. Like every 17 year old, she was griping about why she had to be there.
During one point, the toe tags on the bodies had to be turned so the camera would not catch a glimpse of the name. When we arrived at this one particular table and upon turning the tag, we realized it was another friend of my daughter's. There sticking out of this bag was a toe of a young man she knew.
She went off in the corner and I notice she was crying. I was taking still photography that day and actually captured a picture of her that I find extremely moving. It's the one on the top right corner of the poster. That picture says it all. She said she was not disturbed about seeing dead bodies but was sick of seeing young friends make stupid choices and winding up in a plastic bag with a toe tag. It had a big impact on both of us.
What do you do for a living?
I own The Performer's Academy in Laguna Hills. I am a known workaholic when I get passionate about a project. So I sit at my desk and run a school and promote drug awareness and a documentary at the same time. I put in the seed money for the film and raised the rest on Kickstarter.
How is your movie is making a difference in society?
The film is a wake up call to parents and bringing to light the problem of the abuse of prescription drugs. The film features real people whose lives were changed forever because of one bad choice. Their life stories resonate and it's hard to walk away from this film with being moved. The film creates conversation. Getting people talking about this problem and to understand it is in their backyard is so important.
What have you done personally to educate parents and kids on the epidemic?
I talk non-stop on the subject. Anywhere they will have me I show up with my video and locally I bring a panel of experts to lay it on the line.
Keeping quiet about this problem benefits no one. We lose a life to prescription drug abuse every 24 minutes, so in the time I show the documentary 3 people died somewhere.
I use social media to post awareness information, articles, facts, figures and announcements. I speak in a direct straightforward manner. I still feel that there is so much more to do.
What's happened in your life after the documentary that you never expected to happen?
I feel like I found my calling. I have never been a fan of big pharma. Only in this country do you sit at home and watch television and view prescription drug commercials. Pharmaceutical companies spend a large amount on advertising, marketing and lobbying. In the U.S., drug companies spend $19 billion a year on promotions.
Purdue Pharmaceuticals who manufactures OxyContin profits billions a year alone just from this one drug. Being an advocate for prescription drug awareness is where I was meant to be. There are many wrongs being committed by these drug companies and the casualties of their actions are our children and family members. It is time they stepped up to the plate and did more than just put a protective coating on a pill.
Are you fielding a zillion emails / phone calls from people who want help or to see the documentary?
I do get emails and phone calls every day asking where they can see the film. Many just want to share their personal story and tell me how the film moved them. Some of these stories of desperation by family members are so sad. Equally as sad are the deaths and the families that have been destroyed. They lost their child. How do you get over that?
Are you aware of any lives that you've helped?
I do get many beautiful emails thanking us for making the film and opening up the subject to so many. For many watching the documentary, it is the first time they have heard of the problem.
Do you feel anything negative -- like you've been pulled into something bigger than you could ever imagine?
I feel that I'm exactly where I need to be. I am not owned by anyone, not on anyone's payroll, so my voice is simply that -- my voice. The message needs to be heard. I have the energy and the passion to keep speaking and I will do so until I have no breath left in this body. I love the saying, "Speak the truth, even if your voice is shaking" and I intend to keep speaking until enough people come together and demand that change happens.
Anything else you'd like to add.
Addiction is not a moral failing. People who become addicted to prescription pills did not plan on this happening. The potency of these drugs and the ability to get them from dirty doctors is the problem.
Prescription drug abuse is in every city, town, county and state in America. It's in every public, private, and religious school. No one is exempt.
You cannot get Oyxcontin, Vicodin, Xanax or Opana from anyone other than a licensed medical physician. The cost of using these drugs becomes prohibitive. Oxy on the street is about $1.00 per milligram.
It is not uncommon for addicts to be popping 80 mg. Oxy's ($80.00) per pill -- and taking 10+ a day. The switch to heroin happens because it produces the same high for a fraction of the cost. You can buy a balloon of heroin for $10.
Dirty doctors need to be taken out of business quickly. Dr. Tseng in Rowland Heights, California wrote 27,000 prescriptions for opiates in three years and is currently sitting in jail awaiting the murder trial of three young men. Dr Yee pleaded guilty and received 10 years as he was sitting in Starbucks every night in Orange County seeing a long line of young men and women buying prescriptions for cash. He did have them touch their toes and take their blood pressure. Right there while you are getting your latte.
Calling all HuffPost superfans!
Sign up for membership to become a founding member and help shape HuffPost's next chapter