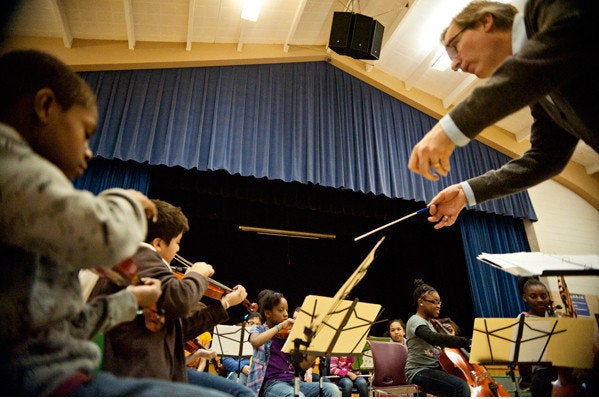 A kid who would give up recess to make time for another lesson? Never happen.

At Woods Lake Elementary at 3215 Oakland Drive, in the Kids in Tune program, however, that is precisely what did happen. And not just one child made such a choice, but 79 children voted to extend their music lessons rather than go outside to play.

For them, Kids in Tune is play. These children play musical instruments for two-and-a-half hours, four days of the week, as part of the Kids in Tune program, a collaboration of Kalamazoo Public Schools (KPS), Kalamazoo Symphony Orchestra and Communities in Schools (CIS) of Kalamazoo. An after-school program launched in the fall of 2011, Kids in Tune is built on the Venezuelan philosophy known as El Sistema, founded by Dr. José Abreu.

"I saw a YouTube video of an orchestra of young people from all walks of life playing instruments, and I started to think about how to reach people in our community," says Elizabeth, or Liz, Youker, education director at Kalamazoo Symphony Orchestra and founder of Kids in Tune. "Music changes lives."

Youker found the partners she needed in Woods Lake Elementary, a Magnet Center for the Arts, where she worked with Rachel Boomsma, senior site director for Communities in Schools, to put the music program together.

"It's an extraordinary meld with CIS," says Youker. "The wonderful thing about working with CIS is that we can surround the kids with a web of support, helping them develop social and academic skills along with musical skills. There's a lot of interest now in the concept of resilience, how that's needed in life, and it's fairly inherent in music."

"Resilience is built into music study," echoes Boomsma, who is a thesis shy of her master's degree in music therapy. "Music is fun, but it's also hard work. You have to keep doing it, practice and push through, even when you are good at it."
Children pop in and out of the classroom at Woods Lake Elementary, and they ask Youker and Boomsma about their instruments, about practice sessions, about the recital coming up the next day, when they will perform for their families and other community members. The flow of activity is bustling and constant.

Five hundred children attend Woods Lake Elementary, and the capacity for the Kids in Tune program is 100 with plans to expand. "In terms of demographics," says Boomsma, "about 84 percent are eligible for free or reduced cost lunches. We identify the kids with a strategic need for this program, those who are least likely to have access to music but need it the most."

"The instruments are for the most part made available through grant funding," says Youker. "Some instruments come from KPS, and we will always accept donations."

The walls of the room are lined with instruments. Junior-sized cellos, violins, flutes and clarinets, percussion instruments lined up neatly, waiting to be taken up in the next child's hands. The children, kindergarten through fifth graders, take their chosen instrument and head down the hall to another room for rehearsal. Kids in Tune has started with strings, but the plan is eventually to include all the instruments that comprise an orchestra--even harps, Youker says a little dreamily.

Kids in Tune is music and far more than music. The program includes hot meals and transportation, academic tutoring, group lessons and one-on-one sessions, choir, dance, and the occasional field trip to hear the professionals perform.

"Money can be an obstacle to the arts, of course," says Youker, "but kids can be dealing with all kinds of obstacles, like getting a ride, or just finding the space at home to practice."
"Parents love this opportunity, much more than any other program we've offered," adds Boomsma. "We've actually met some of the parents in the music events for the first time. We were seeing about 20 percent attendance at events from parents. Now, we see as much as 94 percent, and extended family, too, come to the events."

Parents are called in for meet-and-greet meetings, instructed on instrument care, and how to help their children practice at home, says Boomsma. For the most part, however, practice happens at school, after hours. She and Youker are looking into allowing the children to take their instruments home for the weekend.

Helping Youker and Boomsma with the program is a growing cadre of volunteers. Eric Barth, a mathematics professor at Kalamazoo College by day, shows up at the end of his work day to become the young orchestra's conductor. He is the music curriculum director here, writing arrangements suitable for young beginners.

"I caught the magic," says Barth. "I love sharing this experience with the kids. All the challenges we all face--music builds those skills that we need to face life's challenges."

A moment later, Barth is in front of the kid's orchestra, coaxing, praising, cheering, and successfully inspiring enthusiasm in the young musicians. Seated among them are several Kalamazoo College music students, part of a college service learning program, playing with the kids. That, too, is part of the program, with those who are just beginning to learn practicing side-by-side with those who have already achieved expertise.

Deb Faling, director of social-emotional health initiatives at CIS, wanders through the gathering crowd, talking to parents, talking to kids. "Oh, I'm very charged up about this program," she says. "It's amazing, to see the changes in these children as they take up their instruments. Every kid here feels like they have an advocate in this program. Our staff is always trying to find a way to personalize the experience and to connect with the child."

Faling tells a story of a boy who loved wrestling, and so a staff member wrote a music arrangement based on the WWF theme song for the young cellist's favorite wrestler. A new and dedicated musician was born.

"Every kid thinks it's normal to play music," Faling says. "They identify with it."

"We focus on the whole student," Youker adds. "Music isn't just about learning to play the scales. This is wholly affirmative, passion over precision. Once they have the passion, they will be motivated to pursue precision. We want them to fall in love with music."

This is the El Sistema philosophy: through passion and support, nurturing and joy, given a chance to know music intimately and personally, a child will learn life skills through the learning of music skills. As the orchestra of tiny musicians soars into another go at Beethoven, however squeaky it might be at moments, it appears that change is well under way at Woods Lake Elementary.

Standing at the back of the room, lips pressed into a smile, cheeks flushed, Youker listens. "It's working even better than I expected," she whispers.
REAL LIFE. REAL NEWS. REAL VOICES.
Help us tell more of the stories that matter from voices that too often remain unheard.
BEFORE YOU GO