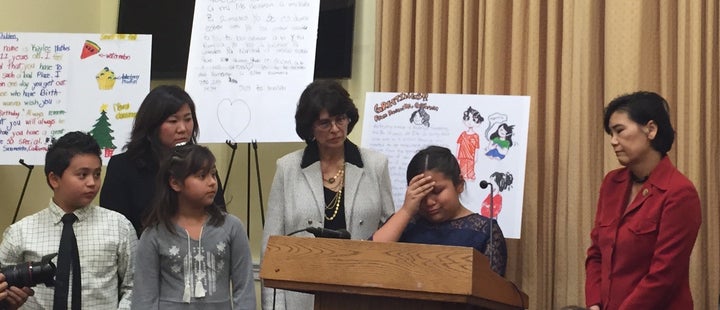 Over the past four years, children have penned thousands of letters over the holidays to President Barack Obama and members of Congress urging them to take up immigration reform.
This year, the letter-writing campaign organized by the advocacy group We Belong Together is doing something different. The children are sending holiday wishes to other children: those in immigrant detention facilities with their families.
The group wants to end the practice of detaining mothers and children, and attended a press conference on Wednesday with House Democratic members calling for the same. But this year's letters aren't solely activism -- they'll also be delivered next week to the families in the three operating family immigrant detention centers, two in Texas and one in Pennsylvania.
Fiorella Zuniga, a 9-year-old who penned one of the letters, began to cry during the press conference while talking about her fear of her mother being deported. She told HuffPost later that she had also started to cry when she heard from her mother that other children were being detained.
"I imagined if that was me and my family I would be really, really crying," she said.
Women and children are spending less time in immigrant detention centers than they used to, thanks to a court ruling and pressure from advocacy groups and members of Congress. The average time they're held now is about 28 days, according to Rep. Lucille Roybal-Allard (D-Calif.). She told The Huffington Post she would like to see that timeline cut down to the minimum needed to screen the families and then release those who are deemed eligible for asylum or other relief while they await a final ruling. 
Roybal-Allard and other members of the Congressional Women's Working Group on Immigration Reform -- plus immigration reform champion Rep. Luis Gutierrez (D-Ill.) -- called for an immediate closure of family detention facilities.
"We want children to be in places where Santa can find them," Rep. Dina Titus (D-Nev.) said at the press conference.
The children who wrote letters want that, too. Noe Gutierrez, 11, wrote that he wants to put all of the other kids "in freedom from the detention centers plus your parents."
"It makes me sad so we will try our best to get you free," he wrote. "I wish to have you here playing with other kids."
"Feliz Navidad," he signed off. 
Here are some of their letters:
PHOTO GALLERY
The Obama Administration's Controversial Use Of Family Immigrant Detention
Calling all HuffPost superfans!
Sign up for membership to become a founding member and help shape HuffPost's next chapter