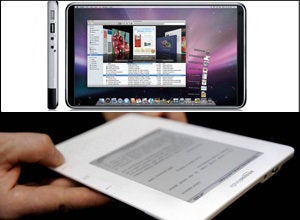 Since the advent of the Amazon Kindle and its successors -- before, even -- everyone in the book business has been wondering and fretting over the future of the book. Will e-books completely take over? Are we witnessing the death of the paper book? The arguments fly back and forth, and between them, publishers are moving forward with innovations to keep the book as we know it contemporary with the Google generation.
Simon & Schuster recently launched their first Vook titles through the multimedia start-up, Vook.com. They're combining book and video, which has been working well for the few non-fiction titles available. But the target audience is adults for whom iPhone apps and Internet downloads have only recently become a way of life. They're still novelties. If you really want to get a taste of the multimedia book experience, better look to the people who've grown up in the golden age of information: pre-teens and teenagers.
Multi-platform books are still in the experimental stage, it's true. But one blazing success has cleared the path for more to come afterwards: Scholastic's 39 Clues. Launched in September 2008, the action/adventure series follows siblings Amy and Dan on an action-packed, globe-trotting treasure hunt for the source of their ancestral power. In addition to the books (written by different popular Young Adult and Middle Grade authors), there's a website where kids can play a game and win prizes, 350 collectible cards, and audiobooks -- not to mention a film deal with DreamWorks and Steven Spielberg. Recently, Scholastic Media expanded the interactive reach of 39 Clues with apps for the iPod and iTouch.
Before the launch of The Maze of Bones, first in the 39 Clues series, people were skeptical. It was a gamble -- internet games, collectible cards, movie deals, all for a book whose popularity was yet to be determined? Since then, the doubts have been blown out of the water. As reported in Publishers Weekly as of June, the 39 Clues web site had attracted more than 500,000 online game users from 191 countries. The great success has inspired other publishers to recreate that model - HarperCollins has launched an online game [www.warriorcats.com] to pair up with its bestselling Warriors series, by Erin Hunter.
Both Warriors and 39 Clues are meant for the younger set of teens, but rest assured: there's plenty of multi-platform books out there for young adults. Running Press published the last in the Cathy's Book trilogy (by Sean Stewart, Jordan Weisman, and Cathy Briggs) this year. Cathy's Book once one of the first interactive young adult books of its kind -- it came packaged with "evidence" (letters, phone numbers that readers could actually call, pictures) and online components, including a discussion forum, and MySpace, Facebook, and Flickr pages. iPhone apps were also created for the series, as well as sweepstake prizes. Following on the heels of Cathy's Book, Running Press is launching two new interactive series with Weisman: the Nanovar series for middle grade, and the Lost Souls Trilogy.
Also for the young adult crowd is Scholastic's new multi-platform series (written and produced by Patrick Carman, who also contributed to 39 Clues), Skeleton Creek. Skeleton Creek is a creepy mystery series told through books and online videos. The series is really a book and a movie simultaneously -- readers (viewers?) need both elements to get the full story. So far there are two books in the series, and Scholastic has signed on Carman to produce another multimedia project in 2010. As Patrick Carman tells it, "It's not about bridging the gap between technology and books-it's about erasing it."
Everyone wants to get in on the multi-platform, multimedia, interactive scene. 39 Clues is by far the most successful so far, but that doesn't stop innovators from experimenting with different models. Fourth Story Media is a company that aims to create multimedia stories that encourage reader participation. Their first "transmedia" project is a digital mystery geared towards teen girls called The Amanda Project; the first book, invisible i was published in September by HarperTeen. The books are different accounts of Amanda's disappearance by her three friends; the website provides clues and a space for reader interaction.
All of the above -- successful or not -- are pioneers in what is sure to become the norm in YA publishing: interactive, multi-platform stories. Most of today's teens are online, and that's where publishing has to go if they want to reach them. Blog and book trailers are well and good, but why not take advantage of the rich storytelling opportunities that multimedia has to offer? It's going to be very exciting to see how publishers tap into those opportunities, and how it will change the reading experience for today's teen readers.

Related
Popular in the Community