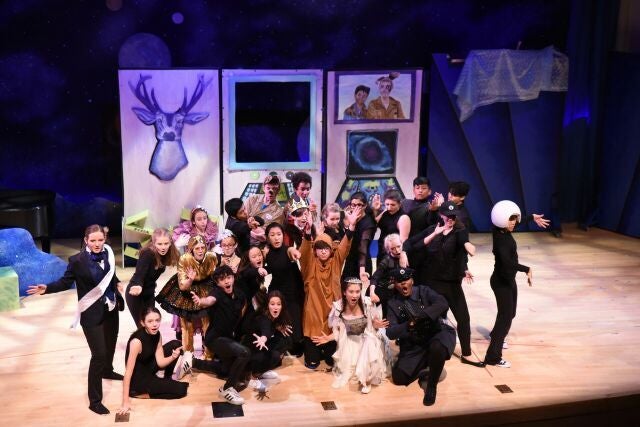 With the spectacular success of Hamilton, musical theater has moved from a niche market to the national stage in recent years. And for good reason – the impact of Hamilton has has reached far beyond the entertainment world, spanning culture in general, rap, education and even Congress. Among other things, it has shown that musical theater can offer a fresh, exciting way to learn about history and culture, and it can offer much more than that – even to those who don't aspire to perform on Broadway.
Indeed, musical theater is a powerful art form that can transform the lives of those who take part, but its power is often overlooked. Now is the time to pull the curtain back.
Reams of statistics show that learning a musical instrument can lead to a whole host of benefits, from improved discipline, perseverance and collaboration to enhanced cognitive skills and positive neurological effects. While these benefits are beyond dispute, it's worth considering that musical theater – mostly left out of conversations like this – expand upon them.
Among other life lessons and traits, musical theater can teach and foster these important skills:
1) A deeper understanding of human behavior and psychology: Researchers have argued that psychologists can look to how actors create emotions to understand human nature in a new way. That's because a performer must understand others' actions and the meanings behind them to convincingly portray another character, environment and tone on stage. In doing this, they conversely learn to identify their own innate biases and practice empathy when interacting with the people around them.
2) A sense of ownership and independence: In a theater production, there's no sitting on the sidelines! There's only one person for each role and a small margin for error, so performers must learn to work independently and arrive prepared. They are expected to pull their own weight – and sometimes even more -- to produce the best show possible.
3) Creative thinking and problem-solving skills: Anyone partaking in a production is involved in the business of creation – whether it's building scenery, a script, a costume, props, and so on. On stage, performers create characters, moods and settings. They must also use problem-solving skills to decide how a character will react, what decisions they will make, and how their actions will help tell the story.
4) How to give and take feedback effectively: Giving and receiving constructive feedback is a regular part of any form of theater. Performers understand that feedback is a useful part of the learning process and how to channel it into success. At the same time, they are also challenged to give feedback to their peers that is respectful and useful. Critical thinking and listening are just as an important piece of the puzzle as performing on stage.
5) The importance of teamwork and the unique value that every individual brings: Musical theater is arguably the most collaborative form of creative expression. It takes a range of people – writers, actors, designers, directors, choreographers, and more – to put together a successful performance. Performers can't get on stage without the help of the off-stage crew; what happens behind the scenes is just as important as what happens when the curtain rises. Theater demands that anyone working on a project is an important part of the show – the final product can never be completed unless every team member is working toward the same goal.
As executive director of Kaufman Music Center in New York City, I've seen this first-hand at the organization's annual Summer Theater Musical Workshop, where young people of all backgrounds and interests learn to shine on stage. The workshop is primarily for kids with various interests, not just for those who want to spend their lives professionally on stage. For those who may already be instrumentalists, musical theater takes them further, allowing them to express their musical talent through their own body. It helps the shy or quiet child come out of his/her shell and boost confidence, and has been known to turn the "class clown" into a real star. For many people, there's something about singing with a group, working with others to pull off a number and flexing many different talents – singing, dancing, acting, writing – that's stimulating, moving, motivational, fun and inspirational. At the same time, it leads to a mastery of stage presence – a boon for any musician, attorney, physician, teacher – and the list goes on!
For an experience that will have a long-lasting and potentially life-changing impact, everyone and anyone should take part in musical theater. You might be surprised at the result, and have a lot of fun as well.
Support HuffPost
The Stakes Have Never Been Higher
Related
Popular in the Community