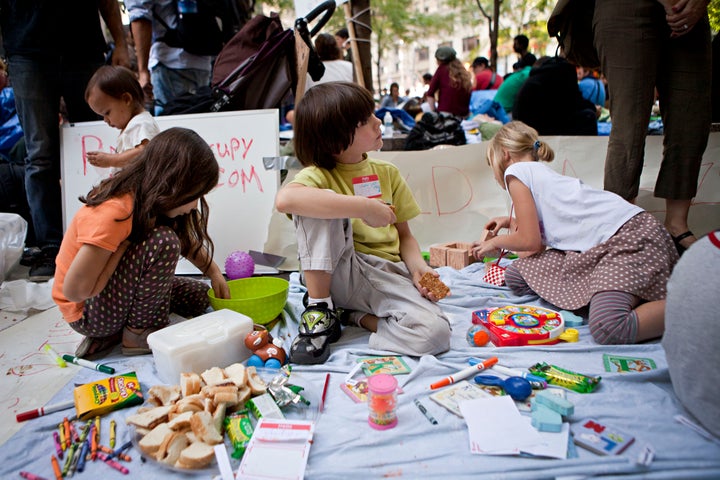 Rather than spend their day off hanging out with friends or watching television, a few dozen children crafted signs and fervently waved them at Occupy Wall Street on Monday.
Columbus Day marked day 24 of the Occupy Wall Street protest and the first that activists could bring their kids to Zuccotti Park without taking them out of school. Four Central Park East II Elementary School mothers designated one hour to "Kids Speak Out At Occupy Wall Street," to include youngsters in the demonstration that calls for ending the influence money has in Washington, according to the organization's website.
Even as banks got bailed out, American children have witnessed their parents get tossed out of their homes and lose their jobs. Public school kids have lost arts, music and physical education. Many don't have appropriate healthcare. We can't be afraid to discuss these issues with our kids.
One such protester, 7-year-old Caleb Horowitz, told The New York Times that he joined in "to protect animals, and because some people are very poor and have no homes and food — stuff like that." Caleb is a second grader at Public School 116 in Manhattan.
Other kids, like 13-year-old Luca Rozany, come from a long line of demonstrators whose relatives wanted to teach the power of speaking out. Luca headed down, with his grandfather and friend, in a pickup truck loaded with fruits and vegetables that farmers near Asheville donated to the cause, The New York Post reported.
"He's learning life lessons,'' Luca's grandfather, Weezel, told the news outlet.
Like his fellow protesters –- from the union workers to the disgruntled unemployed citizens –- Luca is concerned about getting arrested. So, he jotted down a friend's phone number and a Legal Aid contact on his arm, the Post noted.
In addition to imparting lessons about freedom of speech and Columbus Day, activists hoped to highlight the power of democracy to its youngest protesters.
"One of our models is teaching to make a difference," Naomi Smith, principal of Central Park East II told The New York Times. "I thought it would be great for the children to see what's happening here. This is what democracy looks like."
Popular in the Community