This Cubs mega-fan is about to get the experience of a lifetime.
The above video shows 9-year-old Kolt Kyler unable to contain his excitement nor his tears as his dad surprises him with tickets to a Chicago Cubs game.
While Kolt's mom recorded the conversation, his dad complimented him for working hard to help out on the farm while still excelling at school.
His dad pretends to give him more work, before saying, "This is something you and I are going to do, and it's going to take a whole day to do it." He then hands Kolt an envelope.
Since the family from Pierceton, Illinois, posted the exchange to Twitter Sunday, the video has racked up more than 2,000 retweets and 7,500 likes.
And it wasn't long before Cubs players themselves started became swept up in the sweet moment.
In fact, it seemed as though the Cubs players were just as excited to meet Kolt as he was to see them play.
"I've always talked to him about how hard work will always pay off. It will never let you down," Andy said.
For the past eight months, Kolt has been helping his dad every day on the farm. Last Saturday, Kolt had to wake up early to complete his chores, which included feeding the pigs and watering the cows, all before playing a double-header baseball game. He helped his dad with more tasks after his game, and then was surprised with tickets.
"He earned it," Andy added. "It's going to be a special day."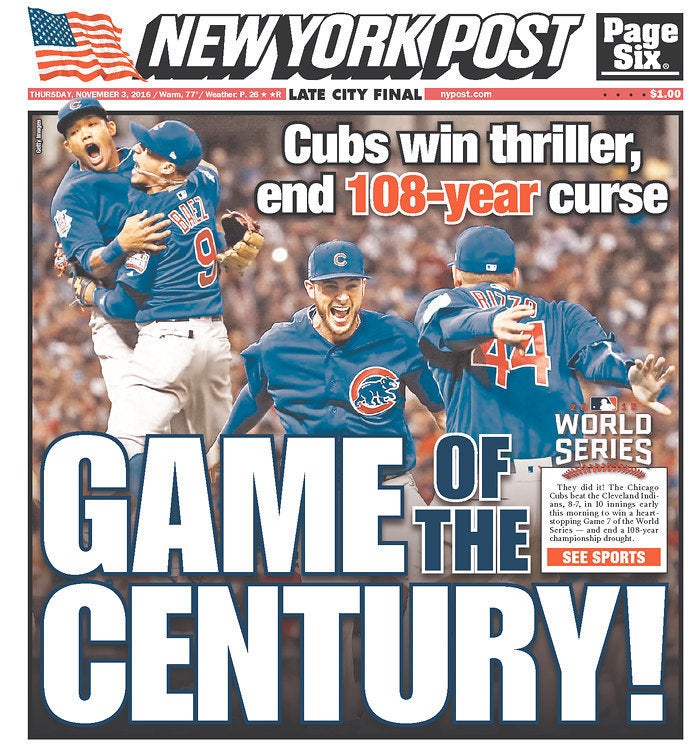 U.S. Front Pages After Chicago Cubs World Series Win