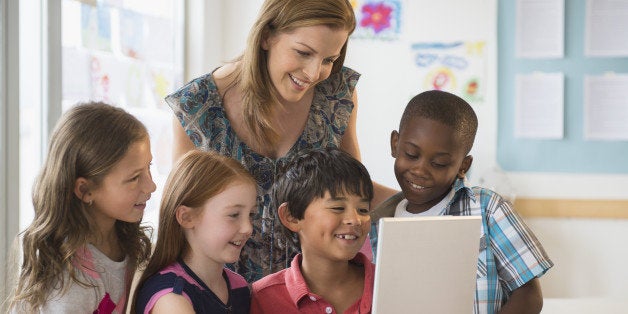 As kids, we learn how to write, maybe play a musical instrument and draw. So why don't we learn to code computers programs too? What coding has in common with writing, playing music and creating art is that it lets you bring your ideas to life. Coding is all about creativity and that's why I love it.
CoderDojo helps young people around the world to learn computer programming for free. When I went to my first CoderDojo session in Dublin City University in Ireland, age nine, I didn't know anything about coding or even what it was. But I remember making my very first web page that first day, and being amazed that I could create such a thing. It was a great feeling that I think every young person should experience!
By going to CoderDojo every week, I have since learned how to make websites, apps and games and even how to program hardware devices.
One of my apps is called reCharge My eCar, it helps the drivers of electric cars find all the public charging points in Ireland and to see whether they currently are in use or not. I am also making an app called Auto-Journalist, to help journalists and interviewees do interviews even if they are really busy or live in different time zones. Both apps are still in development, and I have demonstrated them at an annual event called Coolest Projects Awards, where young people get to show the public what they have created with code. It's so much fun to share your creations, and to see what everyone else has made too.
For the past three years I have also been helping to teach other young people at CoderDojo DCU -- both at the girls-only class and in the Scratch sessions. When I started, I knew very little about Scratch Scratch -- a drag-and drop interface for programming code - but by helping other people to learn, I was learning myself.
In recent years I have also noticed many more girls attending CoderDojo DCU to try out coding. This has a lot to do with the CoderDojo Girls sessions - girls and young women take part in it with their friends, and it doesn't feel like coding is a 'boy thing'. It is really brilliant to see this, because we need more girls and women in STEM (Science, Technology, Engineering and Maths). Of course there is more to STEM than coding, but it's a good way to learn more about technology.
Learning to code has brought me so many opportunities. Last summer I spent several weeks in London at Outbox Incubator, a residential programme about running a STEM business, and in December I was awarded EU Digital Girl of the Year 2015.
Last month I got to go to the World Economic Forum in Davos, Switzerland, where world leaders, big business people and people in tech come together to talk about the problems and solutions in the world. While I was over in Davos, Will.I.Am came to visit the CoderDojo we were running, he was very interested in how we were helping the local school students to code.
One of the main things I have learned in the last few years is that coding is not only for adults, coding is for young people too. And when you are child it is a great time to start coding, because your imagination is the limit for what you can create!
Want to learn more? Find out if there is a CoderDojo near you at www.coderdojo.com or set one up yourself! Also check out [Code.org] which has lots of fun drag-and-drop coding games.
Calling all HuffPost superfans!
Sign up for membership to become a founding member and help shape HuffPost's next chapter