Like many people across the country, I'll be spending this week paging through recipe books, drawing up shopping lists, clearing out the fridge, and filling up grocery carts for our family's Thanksgiving feast.
The season of plenty, as they say, is upon us. But for many families, the holidays highlight the absence of good, healthy food--not an abundance of it.
According to the latest data available from the U.S. Department of Agriculture, in 2014 more than 48 million people -- including 15.3 million children -- in the United States lived in households that were food-insecure. They face a constant struggle against hunger, and putting enough food on the table can be even tougher over holidays. That's because, when schools are closed, millions of children lose access to the healthy meals and snacks they receive at school and at afterschool programs. During these times, too many young people don't get the nutrition they need to stay healthy and thrive.
Afterschool and summer learning programs play an important role in keeping our kids sated, fit, and ready to learn. In addition to fun, educational, hands-on learning activities, these programs provide millions of young people with healthy snacks and balanced, nutritional meals each afternoon after the school day ends and over the summer.
All over the country, teachers and afterschool program coordinators send students home with extra backpacks on long holiday weekends. These packs aren't filled with extra homework, though; they're stuffed with peanut butter, applesauce, non-perishable milk and other healthy and filling foods that stave off hunger when they're at home for long stretches. These kids welcome these food supplements, especially as holiday breaks approach.
This holiday season, our elected officials have a chance to expand access to, and availability of, afterschool and summer meals for kids and families. Congress could vote before the end of the year on whether to reauthorize the federal child nutrition programs. This legislation makes possible the Afterschool Snack and Meal Program, the Summer Food Service Program, the National School Lunch Program, and other programs that reimburse schools, child care centers, and afterschool and summer learning programs for the healthy snacks and meals they provide our nation's children.
We need Congress to act now to ensure child nutrition programs are reauthorized and strengthened so that they can continue to help our nation's children grow and learn in the classroom and beyond--in every season. Some members of Congress have offered proposals to improve these programs by breaking down paperwork barriers and increasing access to meals and nutritional programming for more children in need, and those of us who want to help hungry kids must do all we can to support them.
I hope this holiday season, you will take a few minutes to learn more about how we can increase access to afterschool and summer meals (The Food Research & Action Center has a great fact sheet) and take action. Contact your member of Congress and let him or her know you support legislation to strengthen, protect and expand children's access to summer meals.
You can also show your support on social media using the #hungry2learn hashtag.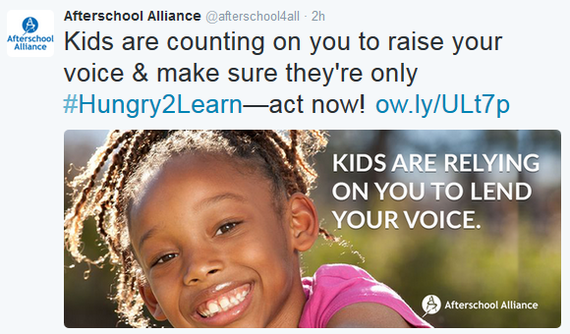 Calling all HuffPost superfans!
Sign up for membership to become a founding member and help shape HuffPost's next chapter