If you think summer is a season to let your hair down and be done, think again. Girls are getting elaborate and bringing braids and buns to a whole new level.
"The biggest trend straight off the runway is incorporating texture into the hair, whether that's by braiding or adding accessories," says Teychenne Whitley and Jataon co-owners of Milk & Cookies Kids Spa & Salon in New York City, which caters to a pint-sized clientele, 90% of whom are requesting some form of super stylish hairdos, including buns.
Because let's face it. Even during pool season girls want to gussy up, whether it's for a birthday party or because of the influence of a certain plait-filled film like Frozen or a hair-inspiring heroine like Katniss Everdeen from The Hunger Games.
The owners of Milk & Cookies claim that most of these styles below are casual and can be done at home in a snap. Accessories can be anything from a simple bow to the creative use of ribbon, yarn, lace and beads - supplies you could easily score at a local crafts store if you don't already own them.
The bottom line is that while these salon-created looks are fancy at first glance, the goal is still girly and fun. "We don't want the kids to mature too quickly," says Teychenne. "We keep it cute, soft, flowy and innocent,"
LACED-UP HIGH BUN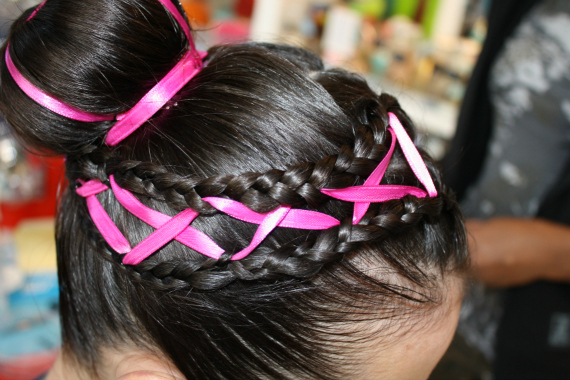 Here two cornrow braids (also known as Dutch braids) start to the side of a center part and sweep to the back of the head, leading and tucking into a high chignon.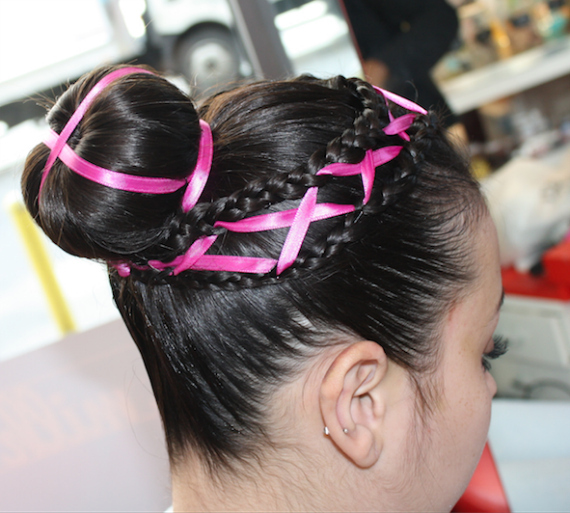 A thin pink ribbon is inserted to create a "shoelace-like crisscrossing" between the inner plaits of the cornrows that is wound around the bun for final flair. Best suited for shoulder-length or longer hair.
WATERFALL-KNOT PONYTAIL
"Kids who want to be more daring for day can add color plastic elastics to break up a standard ponytail," states Teychenne, who says the first step to this look is dividing the hair on the crown of the head into four sections and securing with elastics; then, putting the hair into a high ponytail.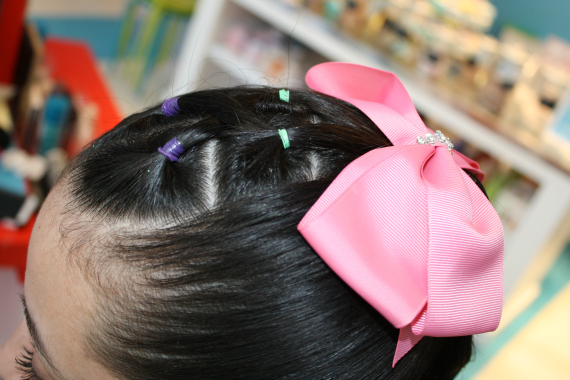 Now you can stop here, or take it to the next step. As Jataon says: "A ponytail is a ponytail...until you add a fishtail or braid to give it a different look."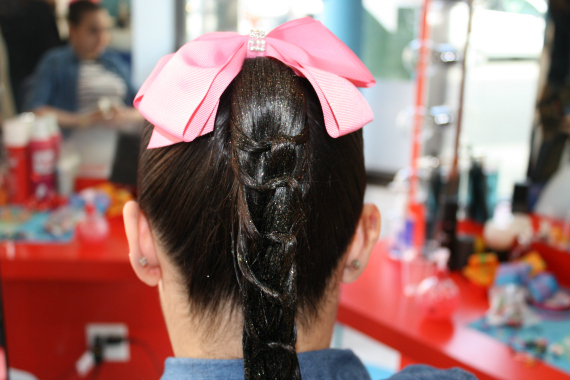 To create the waterfall, take two small sections of hair from the outer edges of the ponytail (if you have curly hair, straighten with a flat iron first), and gently do a single tie knot, and let the strands hang down. Moving about two inches down the ponytail, repeat this process over and over to create the effect of a cascading waterfall of hair, securing the end with an elastic and bows at top and bottom.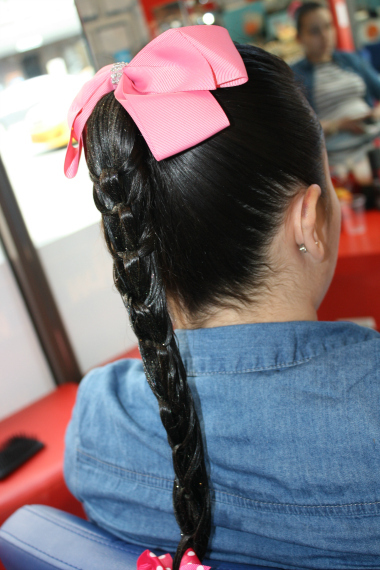 Finish with sparkle hairspray for hold. "Sparkle makes every girl so special," says Teychenne. Best suited for mid-length or longer hair.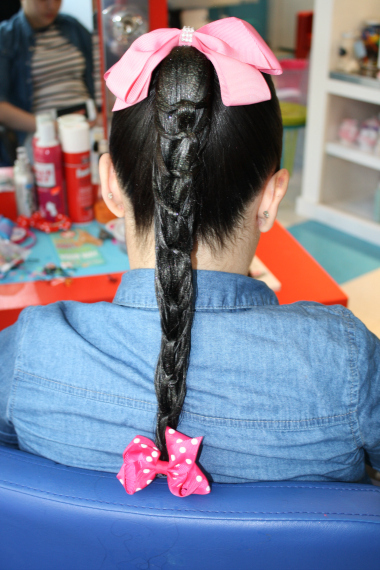 CHARMING BEADS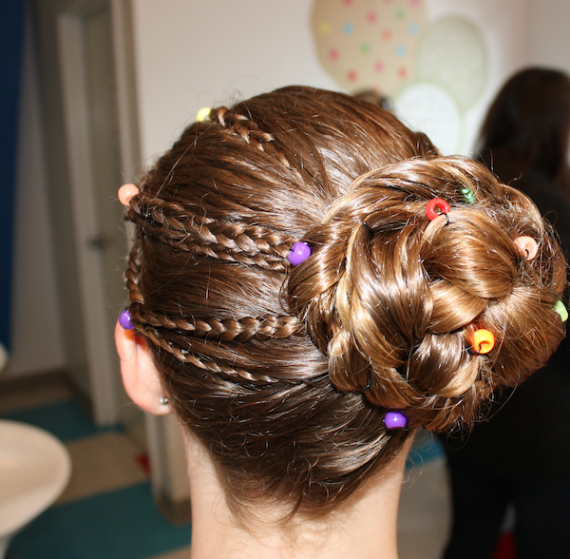 If you ever want a break from super curly hair, sweep it up into a braided chignon, here done off-center for an asymmetrical look. The next step is dotting in colorful beads (which many girls will own as part of jewelry beading kits) using hairpins; it's that simple.
HEART PART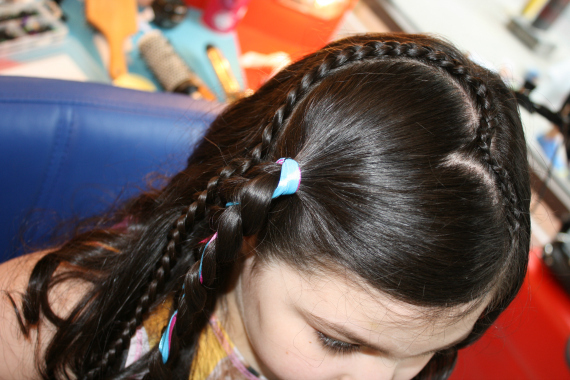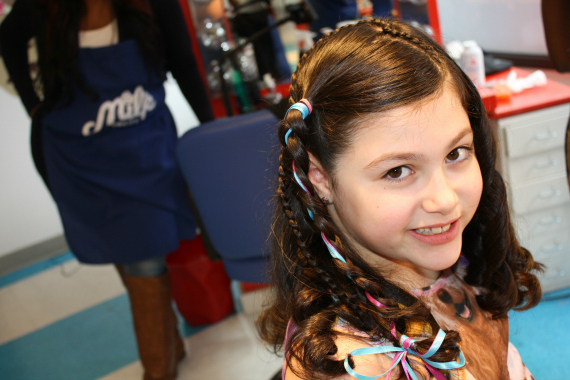 Looking to switch things up? Then try a heart part, here neatly outlined by a cornrow and secured by a braided side ponytail. "Looks with a unique part are increasingly popular!" says Teychenne. "Girls want to be fancy, different and daring and are open to trying new hairstyles."
DOUBLE-TAKE CHIGNON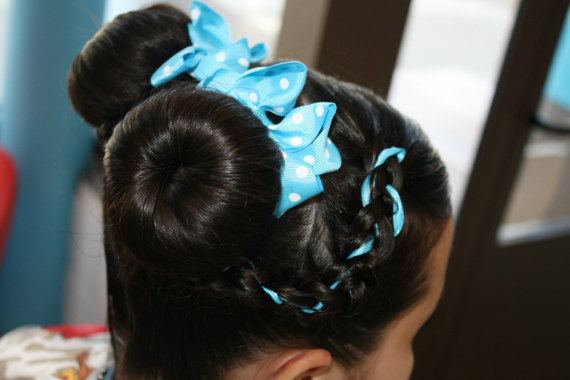 Make Princess Leia a little envious with these fancy, ribbon-wrapped cornrows leading to two, braid-wrapped buns! Come September, with the release of the latest Star Wars installment, you better believe this is going to be hot!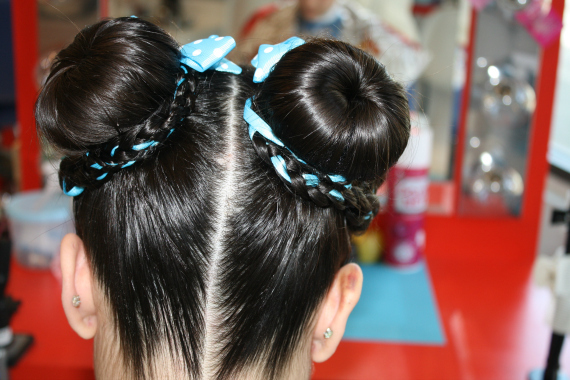 The key to creating such neat, tight chignons? Get a spongy bun "donut" at your local hair supply store that acts like a guide. You wrap the hair around it, and it's great for hair with little volume. "It gives you a perfect bun every time," says Teychenne.
SIDE OF LACE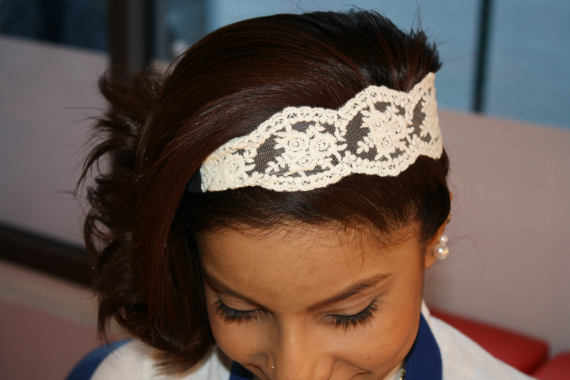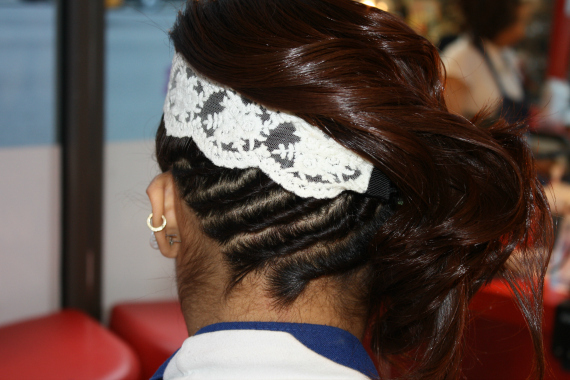 This side-swept style is great for young women with short hair who have a dressy occasion like prom or a wedding to attend. At the nape of the neck, hair is twisted in about five individual sections using styling gel and secured with elastic bands to hold, then secured under a 2-3"-wide lace headband, with the top of the band facing over the left ear. The remaining hair is loosely curled in waves that fall over the bottom of the headband or right ear, and left to hang softly and naturally with no hairspray.