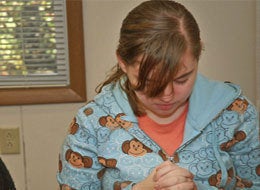 The bell rang and the eighth graders jumped up, eager to compare notes.
"I named my baby Kyle Patrick," one shouted.
At the urging of an antiabortion activist, they had each pledged to "spiritually adopt" a fetus developing in an unknown woman -- to name it, love it from afar and above all, pray daily that the mother-to-be would not choose abortion.
"Maybe one day you'll get to heaven and these people will come running to you . . . and say, 'We're all the little children you saved,' " activist Cristina Barba said. She smiled at the students in their Catholic school uniforms. "Maybe you really can make a difference."
Thirty-five years after Roe vs. Wade, the U.S. Supreme Court decision legalizing abortion, opponents are pouring resources into building new generations of activists. Young people are responding with passion.
Today's students and young adults have grown up in a time when abortion was widely accessible and acceptable, and a striking number are determined to end that era.
Pew Research Center polls dating back a decade show that 18- to 29-year-olds are consistently more likely than the general adult population to favor strict limits on abortion. A Pew survey over the summer found 22% of young adults support a total ban on abortion, compared with 15% of their parents' generation.
Click here to continue reading
To read more from the Huffington Post on abortion and abortion legislation, click here.
Popular in the Community