Today, we live in a world where every high school kid in the United States was born with access to the Internet--whether in her own home or at his local library. I've always been fascinated with the idea of a generation that was raised in the Internet age. For the first time in history, we, regardless of age and gender, have unprecedented access to paths of creating something meaningful and wonderful. I recently had the opportunity to catch up with Emily Moseley, a student at Mount Vernon Presbyterian School in Atlanta, Georgia, who is doing just that.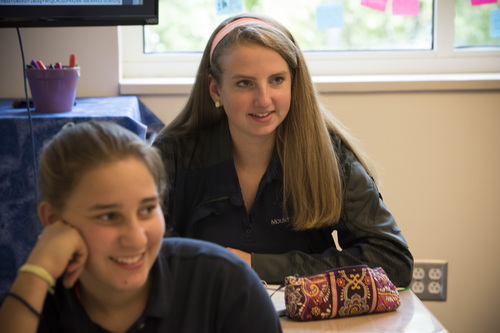 Through her school, Emily partnered with a non-profit called e-Nable to build a prosthetic hand for another child via the use of 3D Printing technology in an initiative called (i)Project. Non-profit organizations like e-Nable and schools like Mount Vernon Presbyterian School understand the need to encourage and inspire this new generation of students to push the boundaries on what was previously thought "possible."
Brian Kil (BK): What kind of technology most fascinates you (programming/robotics to sustainable energy, etc...can be flexible here)?
Emily Moseley (EM): I find robotics, CAD, and 3D printing the most interesting part about technology, and especially with robotics, I love how the systems just work together so smoothly as a result of your programming and engineering of the robot. Ever since I was a kid I loved working with Erector Sets and mechanical Lego cars that I would make. Now that I am learning to use many different CAD programs, I am very excited to start a new project where I can put my skills to work, part of the reason that I chose to continue the prosthetic hand project into my (i)Project this year. 3D printing is also a big component of my project, a skill that I have had a good amount of experience in both at school and while doing an internship over the summer at an aerospace company (SpaceWorks Enterprises). While at my internship, I learned so much in so little time specifically for the aeronautics/aerospace industry. I guess you could say that aeronautics is my new-found passion within technology.
BK: How does Mount Vernon Presbyterian help you expand your knowledge in the fields you are interested in?
EM: Mount Vernon has given to me is so many ways, it's hard to count at this point. Most importantly, the teachers are the most incredible people I have ever met. They are willing to work with you and will do anything to get you to where you want to be. When I expressed my interest in engineering, every single one of my teachers took an interest in me and have always helped me make what I'm learning in class relevant to engineering. They encouraged me to take on an engineering internship over the summer and make (i)Project a whole experience for my Junior year. I never would have gotten to where I am, or had the goals that I do now if it weren't for Mount Vernon.
BK: What does the field of engineering mean to you?
EM: I think that it is important for anyone to go into the field of engineering, but girls especially need to start because we are a big minority in really any field of engineering. I know from experience, because I was the only girl in my Sophomore Technology, Engineering, and Design class taught by Mr. T.J. Edwards, last year and, even though the numbers are growing, it shows that girls have this preconceived notion that engineering is a man's field. But all it comes down to is your love for a little math, science, and problem-solving for you to be a great engineer!
BK: Let's talk a little bit more about (i)Project.
EM: We were paired up with a college student, Alex Linkous, in the Atlanta-area and the class designed, printed, and modified many different models of prosthetic hands for him. By the end of the semester, we had four prosthetic hands to give to Alex which he continues to use today. We are still in contact and Mr. Edwards and I will periodically send him prints of parts he broke or maybe a modified pin or finger joint.
BK: What was your initial thought process when presented the project?
EM: When Mr. Edwards first told our class about this E-nable Hand Project, everyone was pretty excited but it seemed very surreal. We never thought that, as high schoolers, we would be entrusted with something as big as creating a hand for another individual. We were introduced to Alex, who was born without four of his five fingers. As we exchanged emails, I started to see that this was something anyone with just a little drive, heart, and ingenuity could do.
BK: Who else worked on this with you?
EM: Although this was a class-wide project, the sixteen students (sophomores, juniors, and seniors) split into four groups that worked on a specific model of the prosthetic hand that E-nable provided us the files for. This way, we were able to "divide and conquer" to find the most durable, functional, and best-fitting hand for Alex.
Within the class and each group, we designated certain roles to people so we could learn many skills at once and then help each other learn along the way. I was the contact for Alex and his mom, so I would send emails back and forth as well as set up meetings so that we could get his measurements, talk about what he wants for his prosthesis, and ultimately do the "hand-off." Within in my group, I was also the CAD-engineer. It must have taken about 6 or 7 prints to get all the dimensions and modifications right along with many long days after school and in between classes to create the ideal hand for him.
BK: What was the most exciting part of this project?
EM: The most exciting part of the project was definitely working with Alex; he came into our first meeting a little shy but after we asked to take a mold of his hand in gooey plaster, he warmed up to us immediately. That must have been the weirdest ice-breaker in the world! It only got better after our initial meeting. Every time we met with him, he was so interested to see our printer in action, learn about the CAD modeling (which he had been studying at the same time), and wanted us to teach him whatever we had been working on in the last few weeks. Not only were we working for him to make his prostheses, we were working with him which just made the experience so much better. To see how his eyes lit up when he picked up a jar for the first time was inspiring and made every late night and early morning worth it. When the project was over, he told us that our working with him had inspired him to build his own 3D printer and do the same for other kids without hands. That, and everything I learned along the way, made this project the most rewarding thing I've done in high school.
BK: What was the most eye-opening part of this project?
EM: I would have to say the most eye-opening part of this whole experience was realizing the potential that I have as a Mount Vernon student to help many people and kids in need of a prosthetic hand. Mount Vernon provides us with a great amount of resources and excellent mentors, like Mr. Edwards, and that is why I chose to continue this project for my year-long (i)Project this year. This means that I will have more time to devote to learning advanced CAD programs like Blender to help more children.
BK: Who are some of your heroes?
EM: The first one that comes to mind is Homer Hickam (you may know the name from October Sky). Hearing about how he grew up in Coalwood, WV, and followed his passions to study rockets despite the disapproval from the rest of his community was very inspiring and showed me that you can accomplish anything you want to, at any age. He fought for what he believed in and, with the help of his mentor and support from his friends, he went on to win awards for his work and become a NASA engineer.
BK: What would you like to tell your 28 year old self to remember?
EM: I would say: don't forget how it feels to not only learn a multitude of skills from a project but also the satisfaction and knowing that you have made a huge impact on someone's life and gave them something that they might not have ever thought possible. Remember to push yourself because these kinds of mentors won't be around forever to encourage you to try new things, always try the impossible and you'll be surprised with what you can accomplish.
BK: What now?
EM: My plan for (i)Project this year is to not only print as many hands for people as I can, but to design my own model of prosthetic hand to present to E-nable at the end of the year. I noticed that last year during the project, there was only one model for a super durable hand and only two models that made picking up smaller objects easier. I want to make a hand that is mechanically operated by tension wires, making it easier to pick up a soda can and a piece of paper, without giving up any durability. I want my hand to be the most functional and durable hand that E-nable has to give out to volunteers all over the world to print.
Related
Popular in the Community