For Japjee Singh, the bullying started in the second grade.
Some kids would yell, "Is that a bomb in your turban?" Others would try to pull the turban off his head. Some would claim that Osama Bin Laden was his father and blame his family for the September 11 attacks. In 2012, when the Georgia student reached middle school, a brutal attack left Singh with a broken nose and recurring breathing problems. 
But the most hurtful incident, according to Singh's 20-year-old sister Aasees Kaur, was one that happened in the eighth grade, when a classmate cut hair from the back of Singh's head. Kaur said that the bully was well aware of that fact that unshorn hair is an essential part of the Sikh faith. 
"[The bully] was really just trying to rob him of his faith, his identity," Kaur, whose brother is still enrolled in the DeKalb County School District, told The Huffington Post. "You lose a sense of belonging when that happens every day."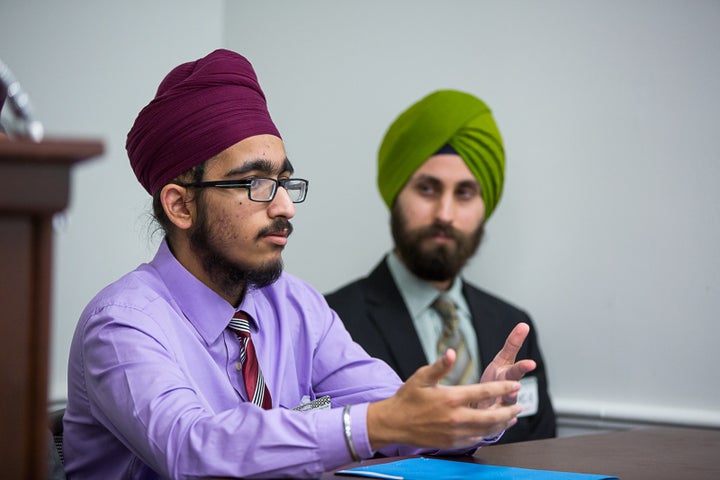 Instead of staying quiet about his ordeal, Singh, currently in 11th grade, spoke out and eventually pushed his school district to sign agreements promising to take action to end biased-based bullying of all children.
His sister doesn't think the district has done enough, pointing to a younger cousin who attends DeKalb schools and still faces discrimination from fellow classmates. The district's spokesman didn't respond to The Huffington Post's requests for comment.
Nationally, one out of every five students reports being bullied during the school year. The number is often higher for Sikhs, Muslims, and other Asian Americans. About 67 percent of turbaned Sikh youth in Massachusetts, Indiana, Washington, and California say they've been the targets of bullying. A study conducted by the Council on American-Islamic Relations in California found that 50 percent of Muslim students in the state reported being subjected to mean comments and rumors because of their religion.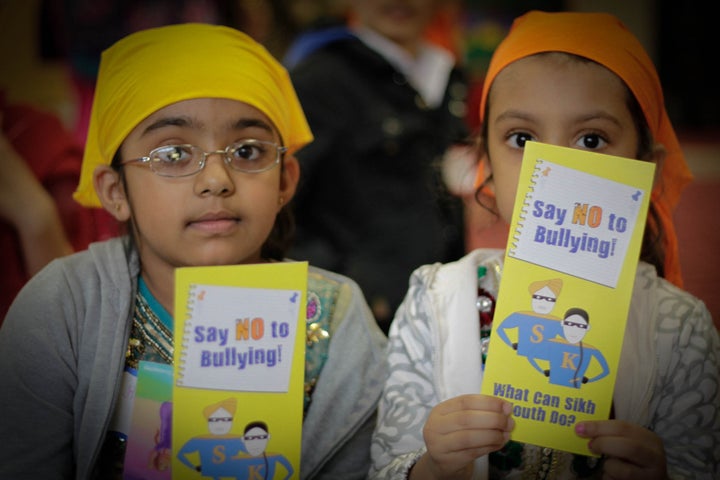 But the real numbers of bullying incidents may be higher. According to a White House task force on Asian Americans and Pacific Islanders (often abbreviated as AAPI), the problem of bullying is often compounded in the AAPI community by "cultural, religious, and linguistic" barriers that prevent youth and their families from speaking out and getting help. 
But a new national anti-bullying campaign is trying to make sure that other children like Singh know that they don't have to endure harassment in silence. 
Launched by the White House Initiative on AAPIs, the Sikh Coalition, and other Asian American and Pacific Islander organizations on Thursday, the Act To Change campaign asks individuals and communities make a pledge to do everything they can to stop harassment. The effort seeks to protect kids of all backgrounds, but there's a focus on students who are bullied because of their religion or national origin.
The Act To Change website features videos, blogs, fact sheets, and other resources in Chinese, Hindi, Korean, Punjabi, Urdu, and Vietnamese -- making it easier for people from the AAPI community, and their allies, to know how to help when someone they care about is being bullied.
The Sikh Coalition released a video encouraging young Sikhs to tell their parents about any harassment they encounter.
Kaur said that her brother has worked hard to turn his past into a positive future for himself and for others in the same situation. She hopes that the campaign will inspire the "thousands of other Japjees out there" who may be suffering alone.
"There's no reason to hide and withdraw yourself from school because you only get one childhood," Kaur said. "It's everyone's responsibility to make sure these kids enjoy the only childhood they'll ever have."
PHOTO GALLERY
10 Books On The Sikh Faith
Calling all HuffPost superfans!
Sign up for membership to become a founding member and help shape HuffPost's next chapter