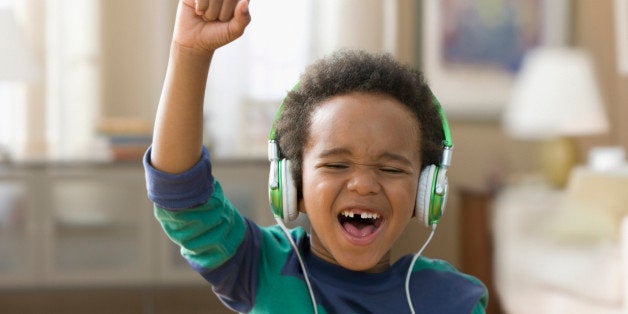 Picture it: a small town in rural New Jersey in 1987. A young girl's classmates and, conceivably, entire nation are going crazy over the release of U2's Joshua Tree. It is, some would argue, one of the top rock albums of all time.
She refuses to give it a try.
Why? Because if everybody else likes it -- she can't. It's just how she is.
Years later she matures enough to admit it's a pretty good album. However, when more years go by and she has children she and her husband decide they surely don't need any Raffi (and certainly not any Barney) to listen to when there was plenty of good Johnny Cash and Bob Marley available.
That girl was, of course, me. So how was it that a few weeks ago I found myself uploading even more Kidz Bop on to my phone? My husband shook his head and asked, "Why???"
I couldn't answer. I'm not really sure how it had happened -- my young kids had access to the Internet and I thought we had all the necessary parental controls in place to protect them! But then, somehow, they discovered Kidz Bop. And they loved it.
If you're not familiar with this phenomenon -- first of all, congratulations, you lucky bastard -- let me explain it to you. Kidz Bop takes the most popular music including the absolute worst the charts have to offer (I'm not naming names, but think misogynistic lyrics, weird animal noises and catchy dance beats) and re-records them with children singing. They take out the bad words with sometimes hilarious substitutions.
Just when I'd gotten "Let It Go" out of my brain after a hostile two-year takeover, children that aren't even mine singing the "Whip/Nae Nae" song moved promptly in. So why on Earth was I encouraging this?
Maybe I'd just mellowed out a bit. Maybe I came to appreciate the catchy dance-ability of pop songs. Maybe I had to admit that the videos of kids singing and dancing were actually pretty cute.
I wasn't planning on letting them listen in the car at all; it would only annoy their older siblings and father. But I figured an hour-long car ride with just the little three and me warranted some Kidz Bop. My 9-year-old son; musically inclined but not quite old enough to appreciate having a beautiful singing voice, excitedly announced that the song playing was his favorite. He knew all the words and began singing along.
It was an irritating KidzBop pop song and one of the loveliest things I'd ever heard.
A few days earlier, we were visiting his Birth Family and I asked his Grandfather, affectionately referred to as "Uncle Pop Pop", where he might have gotten his musical talent from. Uncle Pop Pop was quick to claim responsibility while Auntie laughed, saying that her father does NOT have a good singing voice.
I laughed along too, but here I was days later, maybe having a little post-visit processing? The thing about adoption is this: most of the time these kids are just like the kids I gave birth to. They fill me with pride. They frustrate the hell out of me. They need feeding and play date arranging and consequences and tucking in. I almost never think about them as being adopted.
But then once in awhile I can be driving along listening to Kidz Bop and the profundity of adoption just hits me, hard. This talent, this voice, this boy . . . came from someone who is not a regular part of his life; from someone who doesn't normally get to see him score a basket or read a book with him by the fire.
There are things I do on in my attempts to be a good parent in general: make them healthy food, help them with their homework, make sure they read and exercise. There are things I do in my attempts to be a good adoptive parent: take care of the hair and skin so different from my own, educate myself to be culturally aware, keep them in touch with their Birth Family.
But if those attempts don't ever include moments like these; moments in which I recognize the loss and pain inherent in a seemingly happy situation, I cannot possibly succeed.
He kept singing, every word to that song, with that clear, strong, beautiful voice and I kept crying. I knew my kids would tease me if they saw me crying to a pop song. So I put my sunglasses on and I let the Kidz Bop play.