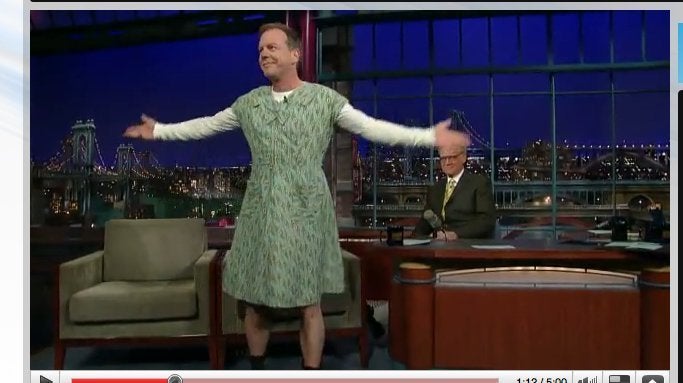 Kiefer Sutherland wore a dress on Letterman Wednesday night, much to his own chagrin. Decked out in combat boots, a long-sleeved t-shirt and a green print dress, the "24" star told Dave that he lost a bet over the weekend, wrongly believing the New England Patriots would beat Baltimore.
But while Kiefer lost, the audience won. Dave's first comment, when he stopped laughing, was, "You doing a remake of Beverly Hillbillies? You're Granny?" He followed up with an offer, "If you get on the subway like that, I'll give you $1,000."
Kiefer responded, "Riding the subway would be easier than what I'm going through right now. This I think might be the most humiliating moment of life, and I've had a few to choose from." (Kiefer has been arrested for DUI, was charged for headbutting someone last year and has drunkenly pounced on a Christmas tree - video embedded at the bottom )
The whole clip CBS posted is funny, and also includes a poke at Jay Leno and talk of purses and leg shaving.
WATCH:
THE CHRISTMAS TREE POUNCE:
Popular in the Community