Fans of the young adult series The Selection are finally getting what they've waited two long years for -- the final book. The end of the series.The One.
All their burning questions will be answered May 6. Will America become the future queen of Illéa? And, who will she choose -- Maxon or Aspen??
In preparation for these discoveries, I talked with The One author, Kiera Cass, about what the publishing process has been like, her own must-read book and what readers can expect from her next.
The One: Interview with Kiera Cass on Her Bestselling YA Series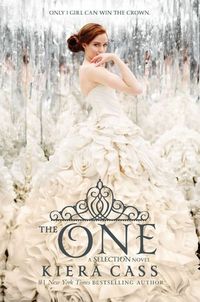 What have you enjoyed the most about writing The Selection series?
KC: Can we tweak this to say what I enjoyed the most about publishing it? Because I realized part way through the process that I would have written the books either way, just for me to enjoy. It's been my safe place and has gotten me through some very hard times. But the best part about publishing The Selection series has been gaining fans.
I love these characters like crazy and having other people who love them as much as I do is kind of unbelievable. I am a huge fangirl over the books, and one of my greatest joys is finding people who make cool art or have interesting questions relating to the story and talking about it with them. Never gets old.
What's been going through your mind as you gear up for the final book release in May?
KC: First and foremost, I'm very impressed that I managed to finish something. Much better at starting than ending! And it's also a little strange. For me, America will always be in my head, so it's not like anything's really ending. Still, there's something about writing "the end" on that last page that's hard to compute.
Who was your favorite character to write?
KC: It's always interesting to spend time with the bad guys. Celeste in particular was always fun to write about. I'm not sure if I could have ever hopped in her head and written something from her perspective, but I always enjoyed her.
And, of course, I love America. Took me a while to get to know her, but I like listening to her think, even if it's a bit different from me.
If you could be a royal from history (or current day), who would you choose and why?
KC: Honestly, I'm not sure I'd be up for that. Yes, I suppose you would always have the best of everything, but it looks like the royals who do it best take on the constant self-denial and sacrifice that it requires to truly serve other people. And while I do tend to put others before myself, I'm not sure I could handle it. I'm with America on this one: It's a pretty cage, but it's still a cage.
What book do you think everyone should read at some point in their lives?
What do you hope fans will say after they finish reading The One?
KC: I'm hoping they won't be able to speak at all. I'm hoping it'll just be lots of vowel sounds.
What other projects are you working on? Anything fans can add to their to-be-read list?
KC: I'm always working on something! I can't talk too much about anything at the moment, but stay tuned. Lots of fun things are on the horizon.
What are you answers are you dying to have answered in The One?
REAL LIFE. REAL NEWS. REAL VOICES.
Help us tell more of the stories that matter from voices that too often remain unheard.