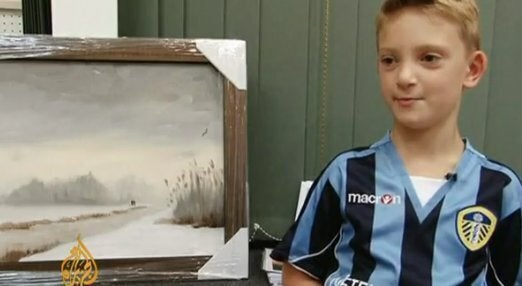 At an age when most of his peers still struggle to keep their crayons within the lines of coloring books, Kieron Williamson demands top dollar for his art.
Dubbed by the British media as "Mini Monet," the 7-year-old art prodigy has got the impressionist style of his namesake down pat. And according to reports, the world is starting to notice: All 33 works in the Norfolk, U.K. native's most recent collection of oil and watercolor paintings sold for $236,850 to customers as far away as South Africa in a record-breaking 33 minutes.
Though his family says he's always been interested in art, Kieron didn't begin painting until age 5, and has yet to fully comprehend the financial rewards of his work. Still, as U.K. gallery owner and Williamson family friend Adrian Hill told The Daily Mail, "Kieron has probably become one of the most collectible artists currently exhibiting worldwide. We have never had this level of interest before."
Watch Al Jazeera's report on Williamson here:
Popular in the Community