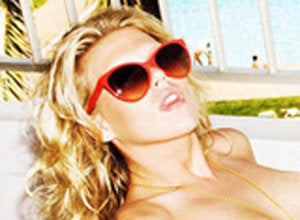 Alexandra Richards, the 23-year-old daughter of Rolling Stones wildman guitarist Keith, has embarrassed her dad by posing nude for the latest issue of French Playboy. Well, almost nude. She does sport a pair of white converse sneakers in the raunchy shots. You can see the pictures here.
It's understood that Pa Richards is not best pleased. But Alexandra is hardly the only Rolling Stone child to have bared all for the camera. In fact, most of the Stones' kids can barely keep their clothes on. Elizabeth Jagger has posed topless, as has sister Georgia (aged 17). Theodora Richards has posed nude, and Jade Jagger loves nothing more than an Ibizan frolic in what English schhoolgirls used to call "the noddy."
What is going on? Is all this exhibitionism an attempt to get dad's attention or live up to his reputation for hell raising? Are they competing with each other? Or is it all in the genes?
Whatever the reason, can dad rein in his spirited daughter? Hardly. Richards is not an exemplary example of fatherhood. After bandmate Brian Jones died in the 60s, the guilt-stricken guitarist numbed himself with heroin and stayed that way for a decade. Arrests in Canada and blood transfusions in Switzerland could not dissuade the guitarist from his headlong pursuit of self-destruction. Even in his dotage, he has been known to favour "a little taste" of the dark stuff.
It's hard to imagine Keith, the human riff, laying down the law to his errant, though shapely, daughters. These girls are clearly no longer under his thumb.
Calling all HuffPost superfans!
Sign up for membership to become a founding member and help shape HuffPost's next chapter