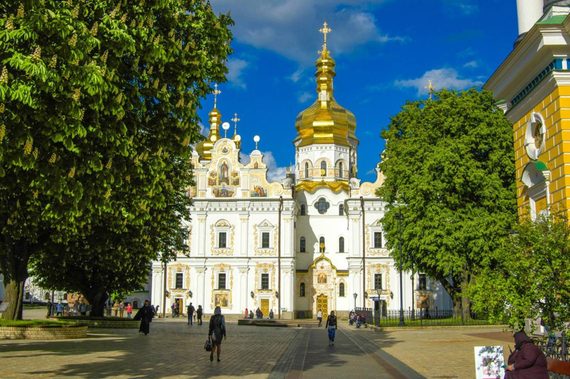 A one-way ticket that cost less than a Big Mac combo got me from Moscow to Kiev, the capital of Ukraine. But that doesn't mean Ukraine is cheap or that other stories I heard about the country were true.
I remember lugging my rucksack off the baggage belt and walking out to a bus outside the Kyiv Boryspil International Airport. The man at customs stamped my passport and I was on my way in an almost empty bus toward the city centre. I was one of about maybe six or seven people going to the city in the afternoon.
When I got off the bus, I went to a small kiosk outside the central station, hungry and tired after a 3-hour flight from Moscow. The young man at the kiosk grabbed me a beer and a chocolate bar. I had a DSLR camera on me - he thought I was here for work. But I told him I was here for tourism. He smiled at me and asked, "Why?"
I'd been seen the headlines. From the Euromaidan revolution, to an illegal annexation of Crimea, to a civil war that still - to this very day - still goes on. My friends had raised their brow when I told them I was on a one-way to Kiev. "Why would anyone ever go there?"
Travellers don't learn about other cultures through headlines and hearsay. They got on that flight and come to their own conclusions. They travel. And that's just what I did.
A week of metro rides in Kiev cost less than a day of taking the tube in London. The value of Ukraine's currency, the Ukrainian hryvnia, has dropped immensely, especially since the outbreak of the civil war. It's a developing country, where much of the population lives in poverty. My dollar didn't go nearly as far anywhere else in Europe than it did in Kiev.
I went to a 5-star restaurant just outside the city centre and paid $7.50 Canadian dollars for a three-course meal. My Airbnb in the city centre cost 21 dollars a night. My one-way flight from Moscow, using Wizz Airlines, cost $14 Canadian. Of course, it also cost me the price of one Big Mac meal to fly to Ukraine on a budget airline. But that doesn't mean Ukraine is cheap.
"Cheap" devalues a place. Kiev isn't cheap. It's inexpensive. Not only is travelling to Ukraine more affordable than it arguably has ever been, the value you get for travelling there is immense. There's a lot you get out of a trip to Kiev rather than just an inexpensive vacation.
Kiev shouldn't be seen as a compromise. It shouldn't be seen as the cheap destination. There's a rich history in the city that still breathes through it's pre-WW2 architecture and the selfless locals.
Yes, Ukraine is a country that is still at war. A war escalates in the eastern parts of the country, particularly in the regions known as Donetsk and Lugansk. As well, the region of Crimea in the south has been annexed by Russia for the past two years -- though this isn't legally recognized under international law. Assuredly, Kiev is well and distant from all these locations and there's soldiers at the border on the east of the country who will not permit tourists to enter these territories. Life goes on in Kiev.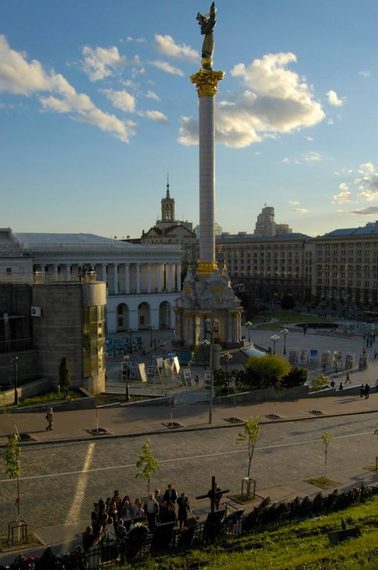 Pedestrians on the street may ask for money to donate to the war effort and there are dozens of sites paying tribute to revolutionaries who died in the 2014 Euromaidan protests. Nonetheless, the urban core still functions as per usual.
A developing country at war. It doesn't paint a colourful image. But quite the contrary, Kiev is painted with a golden skyline. Churches, thousands of years old, dominate the cityscape. Their walls painted in vibrant colours and decorated with finely detailed mosaics. The churches of Kiev are as beautiful on the outside as they are on the inside. And they were unlike any I had seen anywhere in Europe.
The differences weren't necessarily in the Orthodox architecture, but the people. I had been to the Vatican numerous times and attended a mass with the Pope around New Years'. I'll never forget when Pope Francis was walking down the centre aisle for mass. Hundreds were looking at him, but not with their own eyes. Arms stretched out into the aisle with selfie sticks, phones, and the clunky DSLR cameras. It made me wonder why people really were there.
I hadn't seen a single camera inside the Kievan churches. Not only because photography was generally prohibited - but that never stopped people at the Sistine Chapel - but people observed the architecture and prayer in silence. They sang with mass. They made prayers to the soldiers in the war. They paid respect to the beauty that was the churches and entered through their tall doors with authentic intentions. I hadn't seen that on as big as a scale than in Kiev.
The air you breathe in Kiev is untouched and clean. The capital of Ukraine has even garnered the international reputation of being the "Green City." Trees grow seemingly everywhere. It's hard to differentiate where the city ends and nature begins. It's a natural city. But the genuineness wasn't confined to the churches or the parks.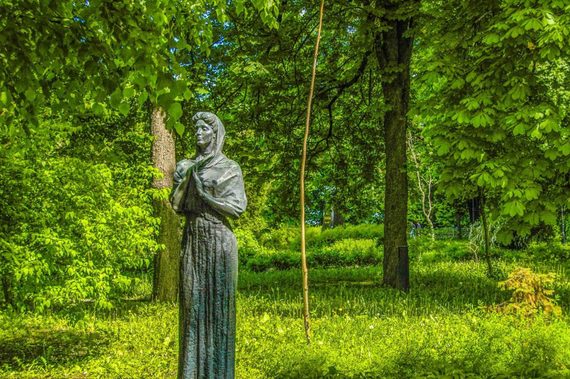 There's one observation I took away with me on my one-way flight to London and that was that people are people. In a country that has dealt with decades of political corruption and mismanagement and an ongoing war, people still go to church. Friends still go to the park. Nightlife is quiet, but the youth still go out for a drink.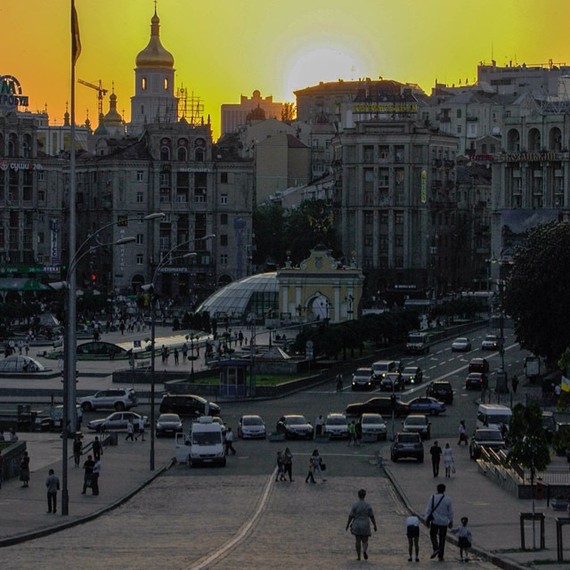 The Ukrainian capital is welcoming and I saw that firsthand myself. My Airbnb host, Oleksii, and his wife welcome me into their home with open arms. I had food poisoning during the first few days of my trip and he went to the pharmacy himself to get medication and to the supermarket to get tea for me. He sat down and we had long conversations about the situation in his country and even decades before. During the Chernobyl fallout, he had to leave his home city to live in Moscow for a few years.
I remember him telling me that despite all this, he loved this city. This was his home.
On my flight to London, I remember feeling thankful for the circumstances in my own country of Canada. I couldn't forget the optimism of people like my host, Oleksii, and the love for their country despite the hard times in his country, though. That, to me, is a true appreciation of life.