A new party is about to hit New York City's legendary Webster Hall that blends together the vast spectrum of scenes encapsulated within queer nightlife in NYC.
Called "Kill City," the party is the brainchild of artists one-half NelSon and Erickatoure Aviance, as well as DJ Jess Marquis -- the curator of NYC's longest running weekly indie dance party "TRASH!"
These three nightlife personalities are bridging the gap between nightlife scenes with "Kill City," bringing in hosts and entertainers from Uptown, Downtown, Brooklyn and across the spectrum of queer identity. "Kill City" is also a party for those aged 19+, giving younger queers the opportunity to experience NYC's queer nightlife scene.
The Huffington Post chatted with Marquis and one-half NelSon this week about the party's launch.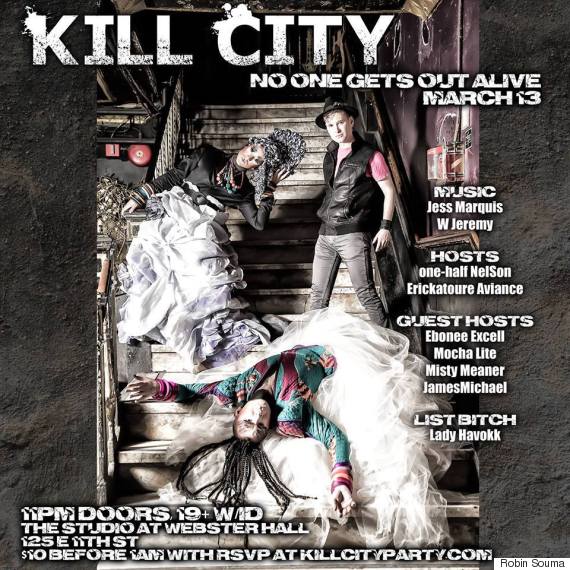 The Huffington Post: What is the concept/vision for "Kill City"?
Jess Marquis: The divide between clublife and nightlife has split too far apart. Every weekend New Yorkers must choose between top tier DJ talent, or the underground discos with artists, queens, and fashion-forward freaks. This party aims to bridge the divide and bring the best of both worlds under one mirror ball.
Why Webster Hall?
Jess Marquis: America's first nightclub has brimmed with music and the arts since its inception. Whether it be roaring balls under previous owner Al Capone, the echo and reverb of Frank Sinatra and the RCA recording studios, or the punk sex of Blondie at the Ritz, Webster Hall is the prefect venue, stage and sound system to highlight the performance art and musical heart of New York City.
How do you intend this party to be a showcase for queer art and performance?
one-half NelSon: Each week we will be bringing together an eclectic group of hosts, artists, designers and performers from all corners of the queer community -- Uptown, Downtown, Brooklyn, boys, girls, drag, trans -- "Kill City" is for everyone. It's also been a while since younger kids in the queer community had a place they could go to be part of a true NYC night life experience. Erickatoure and myself have fond memories of being new to the city and going to places like The Tunnel and Limelight. In many ways it planted the seed for our night lives. With the party being 19+ our goal is to create this again -- to give the kids a place to turn it and be turnt!
What can attendees expect?
Jess Marquis: Vibrant colour pouring through the speakers. Bass in the hips, aural sex and just a hint of cunt.
Popular in the Community