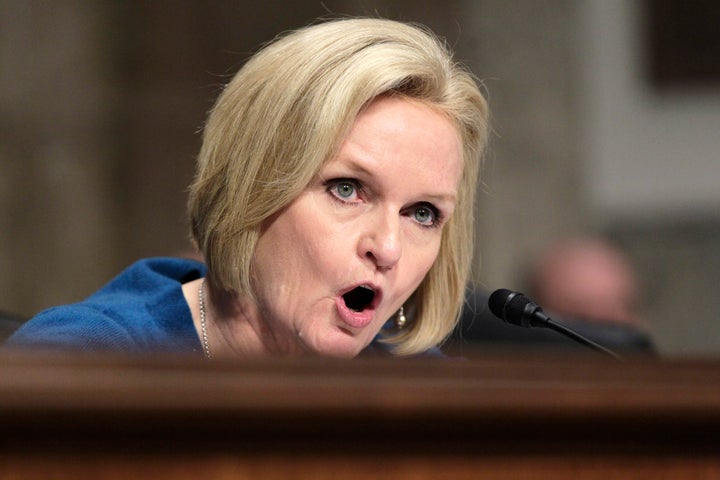 Sam Steelman, the son and deputy campaign manager of Missouri GOP Senate hopeful Sarah Steelman, applauded a Tea Party activist's recent call to "kill the Claire Bear," referring to Sen. Claire McCaskill (D-Mo.).
"We have to kill the Claire Bear ladies and gentlemen," Tea Party activist Scott Boston said at a rally on Thursday. "She walks around like she's some sort of Rainbow Brite Care Bear or something but really she's an evil monster." The St. Louis Post-Dispatch reported that the remark received "mild applause."
Part of that applause was apparently coming from Sam Steelman. Video from the liberal group American Bridge 21st Century shows him clapping after Boston's remark.
Sam Steelman did not immediately respond to a request for comment about the video.
Sarah Steelman, who also attended the event but was not clapping in the American Bridge video, told The Huffington Post on Tuesday, "I may disagree with the words Mr. Boston chose in his statement, but I understand his frustration and I emphatically support his right to express his views."
John Brunner, another candidate for the GOP nomination, denounced the comment more harshly, according to the St. Louis Post Dispatch, saying, "This type of rhetoric is unconscionable and I reject this kind of politics," Brunner said in a statement. "Comments like these have no place in this U.S. Senate campaign, or any other campaign in this country, because they don't represent American values."
Boston later told the Dispatch that his comment wasn't intended as a threat, but as a call to erase misconceptions of McCaskill having a feel-good persona. Nevertheless, McCaskill is now receiving extra security in response.
Besides Steelman and Brunner, Rep. Todd Akin (R-Mo.) is vying for the Republican nomination. The winner will challenge McCaskill in November.

Popular in the Community