 Eric Garner was a 43-year-old father of six and grandfather of two. The tall, 400-pound man, who was known around his Staten Island neighborhood as a "gentle giant" nicknamed " Big E," was approached Thursday outside a New York City store by a group of NYPD officers who accused him of selling contraband cigarettes. "I didn't do shit!" Garner can be seen telling cops in a video of the incident. "I was just minding my own business."
"Every time you see me, you want to mess with me," he added. "I'm tired of it ... Please just leave me alone!"
Cops say they saw Garner selling cigarettes outside the store. Other witnesses, however, said he'd just finished breaking up a fight. He had no cigarettes on him, nor in his car, his family told the Daily News.
But the officers didn't leave Garner alone. Instead they tried to arrest him. Visibly upset at what was unfolding, Garner resisted. "Don't touch me," he said.
It's then that an officer can be seen in the video putting Garner -- who suffered from chronic asthma, sleep apnea and diabetes -- into a tight, illegal chokehold. Garner falls to the ground, where, numerous times, he tells officers he can't breathe.
Then, his body goes limp. (Warning: This video contains content that may be disturbing to some readers. Story continues below.)
Officials say Garner has a history of arrests for selling untaxed cigarettes. In the coming days and weeks, conflicting reports about the circumstances leading to Garner's death will likely surface. But even if Garner had prior charges and even if he resisted arrest on Thursday, he'll never have a chance to defend himself.
There will be anger. Rallies. Posters and T-shirts featuring Garner's face. Memorials. Statements by politicians. Lawsuits.
It's a familiar course of events. NYPD officers have a long history of killing unarmed individuals. They're rarely punished for their actions. And the majority of their victims, like Garner, are black men.
Earlier this week marked the 50th anniversary of the death of James Powell, a 15-year-old black student who was shot and killed by a white police officer outside a Harlem apartment building. Powell's death sparked a series of riots across the country in what came to be known as the "long, hot summer."
As City Councilman Jumaane D. Williams pointed out in a statement following Garner's death, not much has improved since then. "Garner joins a list that every male of more color in New York City knows they are a candidate for and every mother of more color dreads," he said.
Below are the stories of some of the men (and boys) on that list.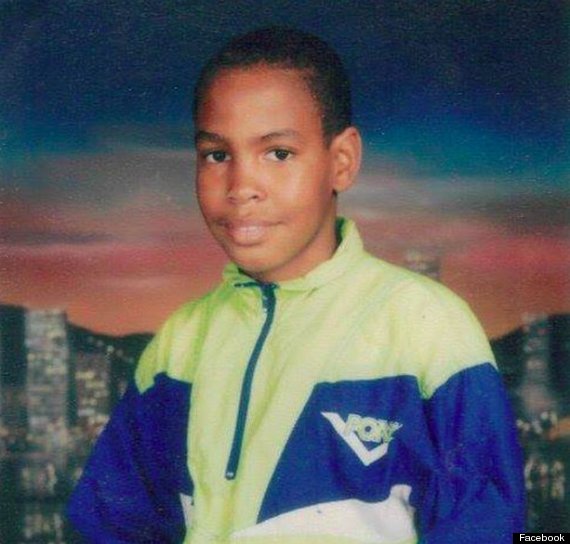 On Sept. 27, 1994, 13-year-old Nicholas Heyward Jr. was playing cops and robbers inside the stairwell of a Brooklyn apartment building. Officer Brian George mistook the boy's toy gun for a real gun and shot him in the stomach, killing him. Then-Brooklyn District Attorney Charles Hynes, who is now facing a range of potential charges regarding his use of public funds, declined to press charges against George.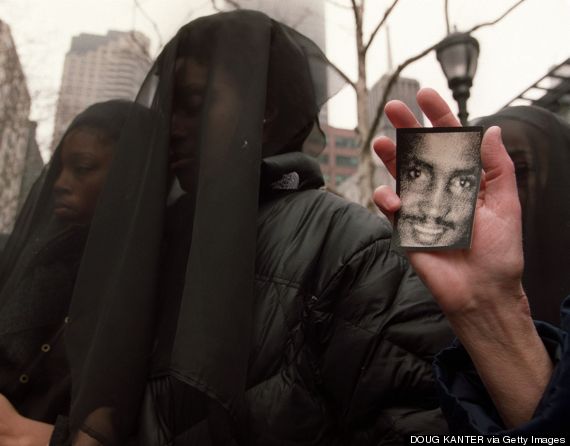 Demonstrators join a rally in New York to protest the police officers' acquittal.
On Feb. 4, 1999, four NYPD officers in the Bronx fired 41 shots at a 22-year-old immigrant from Guinea named Amadou Diallo. The officers thought he had a gun. It turned out to be a wallet. Diallo, who was unarmed and had committed no crime, was hit by 19 bullets and died, setting off large protests across the city. The four officers involved were all white and were all acquitted of any wrongdoing. On March 1, 2000, just a few days after a jury acquitted the four police officers who killed Amadou Diallo, an undercover cop shot and killed 23-year-old Malcolm Ferguson at his Bronx home. The shooting took place three blocks from the site of Diallo's death, and Ferguson had been arrested the previous week for protesting the officers' acquittal in that case. He had seven prior arrests on his record, mainly for dealing drugs. The incident was deemed an accident, and the officer who killed Ferguson, Louis Rivera, was cleared of any wrongdoing. Mourners honor Dorismond at City Hall Park.
Patrick Moses Dorismond, a father of two, was killed by an undercover NYPD officer on March 16, 2000. According to police, Dorismond had become belligerent when the cop, who was with some of his partners, asked him where he could buy some marijuana in the neighborhood. It's unclear who threw the first punch, but a scuffle ensued, and one of the officers, Anthony Vasquez, ultimately shot Dorismond in the chest, killing him. A friend of Dorismond's, who was also involved in the fight, claimed the undercover officers never identified themselves as police. A grand jury declined to indict Vasquez. Mourners carry the casket containing Zongo's body.
On May 22, 2003, Officer Bryan Conroy, disguised as a postal worker, raided a counterfeit CD/DVD operation at the same warehouse where 43-year-old Ousmane Zongo, an immigrant from Guinea, worked repairing musical instruments. When Zongo encountered the cop, Conroy brandished his weapon and Zongo ran. The chase led to a dead end, where Conroy shot Zongo four times. NYPD officials later admitted that Zongo had nothing to do with the counterfeit operation. Conroy received no jail time. He was sentenced to five years of probation and lost his job with the NYPD. On Jan. 24, 2004, 19-year-old Tim Stansbury was shot by Officer Richard Neri on the roof of a building in Bedford-Stuyvesant, Brooklyn. Stansbury, a McDonald's employee who was working toward his high school diploma, died. A grand jury declined to indict Neri, who later admitted to pulling the trigger unintentionally. He was permanently stripped of his gun and given a 30-day suspension. In the early morning hours of his wedding day, Nov. 25, 2006, Sean Bell was celebrating his bachelor party with two friends at a Queens strip club, which a group of officers was investigating for alleged prostitution. An argument broke out outside the club between one of Bell's friends and another man, and one of them allegedly said he had a gun. Officer Gescard Isnora (who is also black) reportedly followed Bell and his friends to Bell's car upon hearing this, and approached the front of the car. Bell accelerated, striking Isnora. In response, Isnora and other officers fired 50 shots at Bell and two of his friends. Bell died, his friends were seriously wounded, and three of the cops went to trial for manslaughter. Each was found not guilty, and no gun was recovered from Bell's car. Graham's father leans over his son's casket.
NYPD Officer Richard Haste shot and killed 18-year-old Ramarley Graham in his grandmother's bathroom in the Bronx on Feb. 2, 2012. Haste had allegedly been responding to reports over police radio that Graham had a gun, but all he had on him was a small bag of marijuana. A grand jury decided not to indict Haste for the shooting.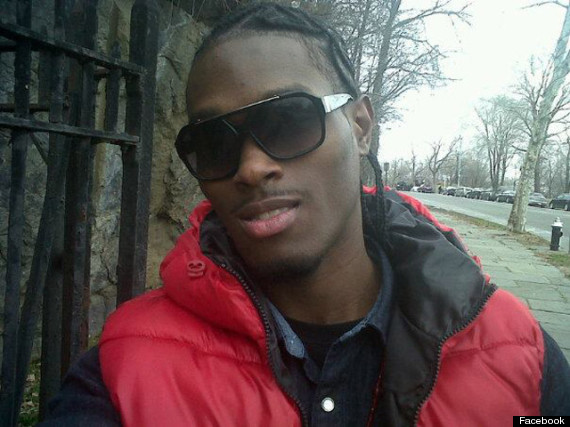 On April 12, 2012, 27-year-old Tamon Robinson ran away from cops after he allegedly stole paving stones from a construction site. (Later, friends said he had permission to take the stones.) During the chase, cops say Robinson ran into their police car. Witnesses, however, say officers intentionally mowed down Robinson, before bouncing him off the hood of the car. Robinson died of his injuries six days later. No charges have been filed against the police involved. Kimani Gray, 16, was shot and killed by two police officers in the East Flatbush neighborhood of Brooklyn on March 9, 2013. The officers allege that Gray pulled a gun on them first, but eyewitnesses dispute the account that Gray was armed. Neither has been charged, and one of the officers, Sgt. Mourad Mourad, received a Cop of the Year award from the NYPD this April.
Before You Go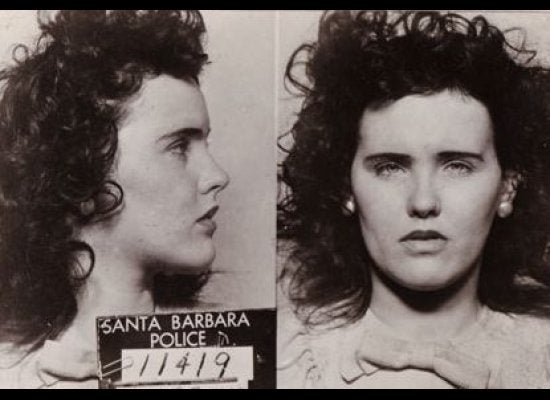 10 Major Crimes That Shocked the Nation (SLIDESHOW)
Popular in the Community