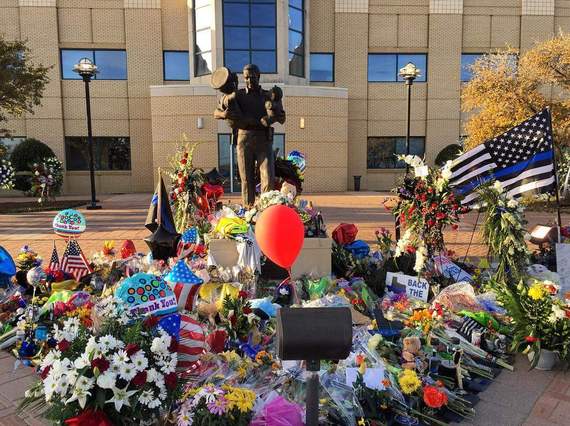 The memorial at the Euless Police Department created by community members after my brother lost his life.
Photo Credit: Jessie Torres

Earlier this year, my brother, Police Officer David Hofer, was killed in an ambush in the line of duty in Euless, Texas. In the last two weeks, five Dallas Police Department officers were gunned down and three officers were killed in Baton Rouge. There are other deaths, and many more who just narrowly escaped this fate.

These officers did not die because they made a bad decision or took an unnecessary risk. They did not die because they didn't have enough training or adequate equipment. They died because they wore a uniform. They were ambushed and assassinated because they wore blue, becoming the symbols of a larger, systemic social problem that they, personally, had little control over.
Sadly, the narrative of police-as-oppressor is being amped up everyday by a media infrastructure that emphasizes going for "clicks" rather than pursuing the substantive, accurate accounting of facts. As it is, we are only presented with the images and stories that represent the polarizing extremes: a cop being killed; a cop behaving badly. But, life happens mostly in between and that is where the acts of kindness are, unknown to most of us.
My brother's path to becoming a police officer was, perhaps, not an obvious one. Born into a liberal, academic family, David attended a private liberal arts school in Brooklyn Heights (where he was a puppeteer, poet and Chinese language student), and later New York University. He was well-traveled and had been presented with a wealth of experiences and opportunities. His decision to become a police officer stemmed from his experience during 9/11 when he was fifteen. In the midst of the tragedy unfolding in New York City, my brother focused on the people who were working to make things better: the firefighters, the police, the EMTs, the community members lining the streets with water and snacks. The experience was so powerful that he wrote a multitude of poems contemplating the sacrifices required of those brave souls who make others' safety their calling. Years later, against all expectations and to the great confusion of those closest to him, who had anticipated him to grow out of these aspirations, David joined the NYPD after college. He became a police officer with the idealistic vision to help make New York City a better place.
As bits and pieces of Dave's biography have made their way into articles and news clips these past months, many have been tempted to mourn his loss as an "exceptional officer" in an otherwise problematic institution. This is a mistake.
There are countless reasons why my brother should be alive today, chief among them to give lessons to us all about how to care for one another. Yet, in that regard my brother is not an exception. There are many caring police officers who do good in an incredibly challenging profession. Unfortunately, we tend not to honor these officers. Rather, what makes the news out of the millions of positive interactions officers have with people daily are the very small number of these interactions that devolve into an abuse of power.  Most officers want to and do do their jobs well. They want to keep our streets safe. They want to help those who need help. They want to solve problems in their communities. However, instead of becoming teachers or social workers or psychologists, they chose to make a difference as a first responder, navigating the acute emergencies and difficulties that crop up in each of our lives.
It is undeniable that we need dedicated first responders in order to help and protect our communities. If we are to promote healing between law enforcement and the communities they serve, we cannot allow ourselves to be guided by negative assumptions about what it means to wear a uniform, just as we cannot allow ourselves to be guided by assumptions about what it means to come from a certain zip code or have a certain skin color.
The willingness to heal has to come from each one of us. We owe it to ourselves, to each other, and to our communities to each do our part. If we don't, we know what happens: People will continue to die. Families will continue to be torn to shreds. Is this the legacy we wish to leave behind?
Calling all HuffPost superfans!
Sign up for membership to become a founding member and help shape HuffPost's next chapter