David Conley allegedly broke into his former home in Houston on Saturday, where his ex-girlfriend lived with her new husband and six children. 
He handcuffed all eight of them and shot them, one by one, in the head, police said. One of the victims was Conley's son. 
Police arrived at the Harris County home after Earl Yanske, the brother of Conley's ex Valerie Jackson, told them about an alarming phone conversation he'd just had with Conley.
Yanske was worried because he'd heard from another family member that Conley showed up at Jackson's home. He detailed the chilling phone call with The Houson Chronicle:
Around 11 p.m., Yanske's cell phone rang. It was Conley.

"I need to ask you a question," Yanske said. "Did you kill my sister?"

Conley's voice was flat.

"He said, 'Yes I did.' It was like me asking if he went to the grocery store and he said, 'Yeah.' There was totally no emotion in his voice."
Officers who hurried to the house hesitated before entering.
"While awaiting response for the (unit), the body of an unidentified child was observed through a window at the residence," said Harris County Chief Deputy Tim Cannon. "Deputies on scene forced entry into the home and were immediately met with gunfire. The deputies withdrew from the home ... and awaited the arrival of the" unit.
A standoff ensued for several hours until Conley surrendered, said Sgt. Craig Clopton, the lead investigator.
Conley, 48, who has been charged with capital murder, stood handcuffed and shackled before State District Judge Vanessa Velasquez on Monday as officials read a probable cause warrant describing the multiple killings. 
The dead were identified as Dewayne Jackson, 50; his wife, Valerie Jackson, 40; and their children Dewayne, 10; Honesty, 11; Caleb, 9; Trinity, 7; and Jonah, 6. Also killed was a 13-year-old, Nathaniel, who was believed to be Conley's son from the relationship with Valerie Jackson.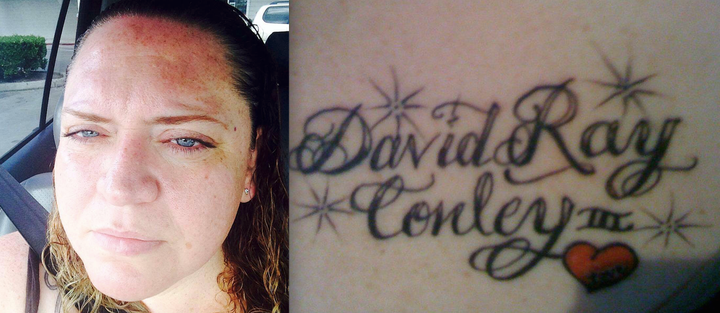 "We do not - cannot - fully comprehend the motivation of an individual that would take the lives of so many innocent people. Especially the lives of the young ones," said Cannon. "The killer's motives appear to be related to a dispute with Valerie, who was his former domestic partner."
Authorities said Conley broke into Jackson's home after learning that the locks had been changed after he moved out. He's been arrested at least twice since 2000 for allegedly attacking and threatening Valerie Jackson. In 2013, he was sentenced to nine months in prision for putting a knife to her throat. In another case, he was accused of punching her in the face and wrapping an electrical cord around the neck of one of her children, according to the New York Daily News.
The Associated Press contributed to this report.
Calling all HuffPost superfans!
Sign up for membership to become a founding member and help shape HuffPost's next chapter