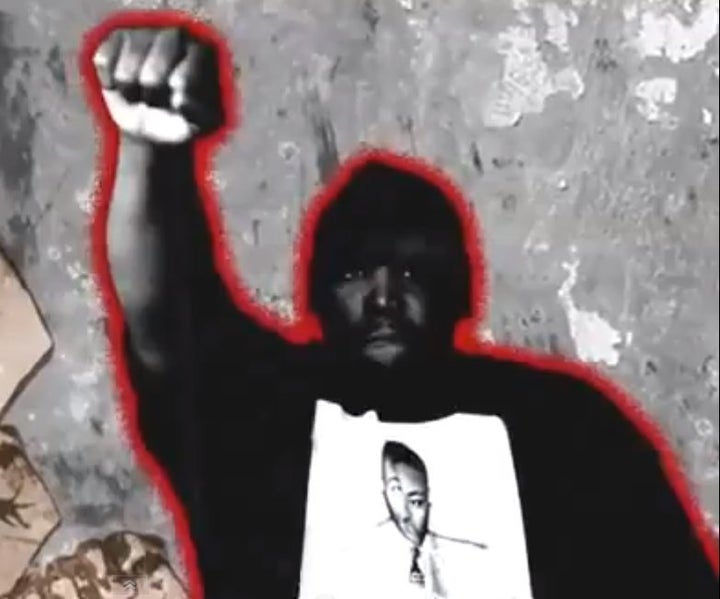 His second national appearance as mentor to a want-to-be rapper would air on MTV's "Made." And before he left the country for a European concert tour, he had all sorts of promotional appearances for "Burn," a politically-charged single from Render's latest album, "PL3DGE." But that kind of pop-star schedule didn't even include the biggest thing to happen to Render in July.
Before the month was over, Black Entertainment Television (BET) would refuse to air the "Burn" video for what the channel described as violent and "convoluted" content. "Burn" voices a musical cornucopia of post-recession frustrations ranging from elevated joblessness and home foreclosures, to corrupt civic and religious organizations, the bank bail-out and police brutality. The network's decision to ban the video reignited a long-running debate about the politics, place and purpose of the 31-year-old network and made BET the target of what can best be described as a 21st-century mob.
On Twitter, Facebook and in the comments section of several Web sites, people openly critiqued not just the decision to ban Killer Mike's "Burn" video, but also an alleged double standard at work at BET. BET embargoed what several people described as a timely social critique while at the same time airing videos and reality shows that tacitly endorse stereotypes, and feature nearly-naked women and staged acts of violence.
By the month's end, BET reversed its decision, announcing on Twitter that the ban on "Burn" had been lifted. (The video has not aired on BET as of this writing.) What happened with Render's video highlights just how BET has evolved and, some might say, not quite resolved a conflict built into the organization's foundation: Can commercial and community interests really reside harmoniously under one network's roof?
BET did not respond by deadline to requests for comment about its initial decision to ban the video or the subsequent announcement that "Burn" would be added to the network's rotation.
"OK, I'm not faulting BET for this alone," said Render, 35, from his Atlanta home. "They aren't the only network that makes room for just about any party song, mine included. But since this company professes to be a proponent, an agent of help and change for the African-American community, I think they also have a responsibility to air a voice like mine when I have something to say on behalf of the working class and the working poor."
Robert Johnson, a Princeton graduate and one-time cable industry lobbyist, founded BET in the early 1980s, right around the time that mainstream news publications first began to take note of a growing black middle class. According to Mark Anthony Neal, a professor of African and African-American studies at Duke who has written extensively about black music, culture and institutions, Johnson was able to convince cable providers to carry the network, in part, by arguing that its programming would speak to an underserved audience, African Americans. And to potential viewers Johnson sold the idea that BET was a special vehicle, a tool for community uplift; it was that rare thing: a black-owned network, "by us and for us," Neal said.
From the beginning, BET has blurred the line that tends to distinguish a business from a social service agency. That made it particularly susceptible to criticism, Neal said. CBS, NBC and HGTV are free to entertain. No one implies that the mental health, public esteem or opportunities available to every lawyer, police officer or decorator/designer rest in the programming that these networks air. But BET's critics have for years argued that the network should produce more original content, limit or ban raunchy, misogynistic and violent videos, and create opportunities for black writers, directors, actors and musicians to curate and showcase their talent.
Almost nowhere on the network was the tension between serving and uplifting the "black community" and turning a profit more clear than in the volume and content of music videos. Music videos -- unlike original programming or even syndicated series and old movies -- are financed and produced by artists and record labels. They can be aired at virtually no cost to BET.
The Harvard-educated Lee, who is today the network's president and chief executive, told reporters that she planned to usher in a new era at BET. Lee brought in a team of producers, animators and other executives with strong track records on the big and small screen. And she made it clear that shows such as BET's infamous late-night video show "Uncut" would be sliced from the network's lineup. She had her reasons.
"Uncut" aired a collection of videos so littered with scantily clad women and sexual situations and related lyrics that after almost every commercial break, the show returned with an on-screen warning about its explicit content. The very existence of "Uncut" created what some music industry watchers referred to as a sort of arms race of raunch.
Companies wanted to get their videos on "Uncut" because young men stayed up to watch. The arms race may have reached its peak in 2004, when St. Louis-based rapper Nelly and his record company produced an "Uncut"-ready video to promote his song "Tip Drill." When it aired -- showing Nelly swiping a credit card between a woman's butt cheeks -- it set off a new round of criticism of BET's programming.
Once Lee took charge, she said publicly that the new BET would create original programming, change its line-up and bring back public affairs programming. Along with "Uncut," BET dropped other man-friendly shows, such as reruns of the critically-acclaimed HBO series "The Wire" and an original documentary, "American Gangster," that explored the lives of African-American criminals.
Marion Hamilton, an analyst at CableU.tv, researches and reports on the programming and ratings performance of BET, USA and other cable networks. "What they (at BET) are doing now is a very woman-friendly line-up, lots of reality shows that prominently feature women and movies that women tend to like," said Hamilton.
Monday through Friday, the network airs three hours of videos on a show dubbed "106 and Park." It also airs exactly three hours of reality shows, original and repeat television series, movies and occasional specials, such as the BET Awards, in prime time. At the new BET, videos play a smaller role than they have in the network's past, said Hamilton.
Right now, the network's audience is about 86 percent black, 10 percent white and nearly 5 percent Latino, according to Nielsen data. The average 445,000 people who -- between January and June -- tuned in to watch BET during its daytime and video-airing hours are dwarfed by the average audience of 865,000 who watched the network's prime-time lineup during that same period.
"Honestly, I am so tired of the whole BET conversation," said Neal, referring to BET's role as self-appointed "community voice" as a topic of conversation in black circles. "BET is what it is and has been what it is for 20 years, and BET is not going to really change in any substantive ways because BET makes a hell of a lot of money using the business model that it uses."
A look at the company's vitals paints a slightly more complicated picture.
When the network began its transition in 2006, it was available in an average of 84 million homes with subscription TV service, and it generated $470.4 million in revenue, according to an analysis by SNL Kagan, a firm that researches media and communications companies.
By 2010, the network's reach had expanded slightly to an average of 90.1 million households, and its revenues had grown to $515.1 million.
While the figures are large, BET's revenue grew only about 9 percent over four years. During that same time period, revenues for the cable industry as a whole grew an average of 38.6 percent.
But the "Burn" ban might not have much to do with BET's programming mix, said Neal. The content in "Burn" could also be read as a critique of the Obama administration. That may be territory on which BET's new management is not willing to tread. During the 2008 election, Johnson publicly criticized Obama and endorsed Hilary Clinton.
"It's one thing to critique the president in the barber shop," said Neal. "It is quite a bit different to critique him on front street [on the air] ... you know, when white folks may be watching."
Render, aka Killer Mike, was born and raised in Atlanta. He is an artist who may be best known as a musical collaborator with Outkast's Big Boi. Like most entertainers, Render is concerned about his image. He recently adopted the secondary stage name of "Mike Bigga," for bookers and audiences who might be put off by a moniker like "Killer Mike." Render said a request to perform for U.S. troops was rejected because of his original stage name.
Render grew up in Collier Heights, a working-class community geographically sandwiched between one of pre-integration Atlanta's most affluent African-American neighborhoods and its poorest. Render said growing up there and watching events such as Rodney King's beating and the related Los Angeles riots on TV made him a man who thinks, writes and sometimes raps about race, class and injustice. Plus, Render's father and grandfather were Teamsters who regularly talked about politics and the dignity of work.
"I honestly find it impossible to be a rapper and not speak on behalf of the working class and what we are going through right now," said Render, a father of four who attended Morehouse College, where he majored in religion and philosophy before leaving to focus on his music.
When Render wrote "Burn," he was particularly frustrated with what he sees as the failure of trusted of institutions like the media, churches, banks, families and government. And he was unhappy about a white California police officer acquitted of the most serious charges he faced in connection with shooting and killing an unarmed black man, Oscar Grant. The officer was found guilty of involuntary manslaughter and other charges.
"People have really lost the security they had just five years ago," said Render. "And it feels like most of these institutions, that we should be able to trust, don't care. I just went in the booth and voiced that as coldly as I could."
Render's song includes references to mass job losses and foreclosures, bank bailouts and the effects of quantitative easing. There are also references to corrupt clergy, school overcrowding, infidelity, police brutality and all of the things that haven't changed since President Obama was elected. The video includes news footage of Egyptian protestors in Tahrir Square, Americans protesting or rioting after a trio of incidents in which police seriously injured or killed unarmed black men, and news clips describing Federal Reserve actions and disturbing stats on unemployment and foreclosures in the U.S. There are images of Obama, Killer Mike and a popular TV talk show that regularly features stories of black female sexual impropriety. There are images of famous musicians and pictures of guns. There are also multiple images of Martin Luther King Jr.'s mug shot after he was booked for an act of civil disobedience. "Burn" is a call to incinerate faulty institutions by holding them accountable, through boycotts and protests, Render said.
The song and the video begin with a very clear plea: "Everybody stay non-violent, baby. Stay non-violent, man." Yet at the same time, the song's lyrics refer to an imaginary girlfriend or wife as "my bitch" and counsels the public to begin stockpiling weapons.
In 2006, Render joined SMC Entertainment, a six-year-old San Francisco-based independent record label. At SMC, Will Bronson, chief creative officer and co-founder, says he encourages artists to make music not with their heads, but rather with another pair of body parts located a little further down.
Bronson says he recognized that "Burn" would not be easy for everyone to understand or embrace. After "Burn" generated a bit of buzz because of its lyrical content, the company decided to produce a video, directed by Giovanni Hidalgo, a San Jose, Calif., music video director. It cost about $6,000.
When the video was complete, SMC's promotions staff sent the video to MTV and BET in early July, hoping to get the video on the air. A few days later, MTV contacted SMC with a request that the company edit out a section of the video in which Render uses the words "just drop 'em" and pantomimes a shotgun blast. With that change, "MTV Jams" put the video in its rotation, and a few days later it started to air, according to Bronson. On July 15, Bronson received an email with much different news from BET.
The following video is rejected from all BET and Centric Platforms:

Killer Mike "Burn": elements of this video's message appear positive. Unfortunately, the message also seems to advocate violence. Ultimately, the message of this video is convoluted and the rational behind the violence shown in the video wasn't sufficiently clarified in the lyrics. Accordingly, the video is rejected.
Days after receiving BET's email rejection, Bronson sent out a tweet questioning why the network would not air a video dealing with serious issues but would air a reality show that features the antics of an R&B singer's mother, who has struggled with substance abuse. Render unleashed a flurry of his own tweets also questioning the BET ban.
"I'm very proud to be an African American -- very proud to be an American, period," Render said. "This country is amazing, what it has been able to morph into after all its trials and tribulations. I was really disappointed that Black Entertainment Television would not see the importance of the stuff in this song or what I'm trying to say about this country."
The network has made room for videos that include explicitly staged violence. An example of this violence is a recent Rihanna video, whose "Man Down" video depicts a man being shot in the head by a woman whom he raped. In the video, Rihanna plays the role of rape victim and the shooter. BET promoted the video's world premiere on its Web site in May and has continued to air the video despite some public criticism of its content. Rihanna has said that the video is an effort to draw attention to a serious issue.
Within days of Bronson and Render's tweets, the online publication XXLMag.com had picked up the story, leading to an avalanche of tweets, re-tweets and blog posts criticizing BET's decision to ban the video.
A North Carolina man who uses the Twitter handle @Pillzbury Muziq wrote:
Think bout it. Dey banned Burn by killer mike but gon keep [t]racks on racks ... really?
And a reader of HipHopDx.com wrote:
I feel for Killer Mike ... but he's already lost the battle he's fighting. I don't remember the last time I actually watched a video on BET, with the Internet, I can watch what I want, when I want.

And ever since they [BET] said Little Brother's "Lovin' It" video was too intelligent for their rotation, I lost all respect for them.
BET's own official Twitter account is typically used to promote new shows and reruns on the network, send birthday greetings to celebrities, mark important and little-known events in black history, pose 'complete this sentence' challenges, and in early July, it was used to re-tweet questions for President Obama during his Twitter Town Hall. But on July 20, the network posted an 84-character message that seemed to confirm just how important Twitter has really become:
Twitter Fam ~~ You spoke - We listened. Killer Mike's "Burn" video no longer banned.

BET's decision not to air the video is noteworthy. But so too is the announcement that it has reversed the ban, said Neal.
"The reversal, I think it speaks to the management culture at BET," said Neal. "There is an inconsistency. It is, on the one hand, oh-so-concerned about public image and perception of BET. But it is never going to fundamentally change."
What the controversy around "Burn" really highlights is the fact that networks such as BET and MTV are becoming increasingly irrelevant, Neal said, now that artists have so many different ways to get their music and even videos to the public.
Calling all HuffPost superfans!
Sign up for membership to become a founding member and help shape HuffPost's next chapter