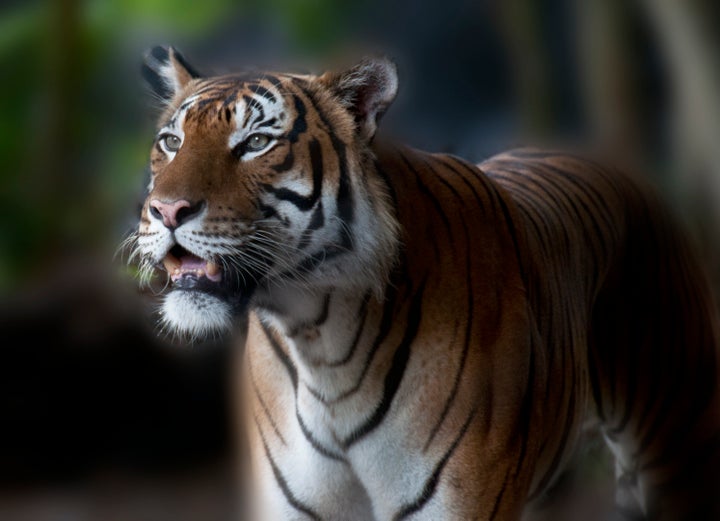 Officials at the Palm Beach Zoo said Tuesday that authorities are investigating threats against one of the zoo's four critically endangered Malayan tigers. One of the tigers -- it hasn't been confirmed which one -- killed zookeeper and tiger expert Stacey Konwiser last Friday.
It's not clear how credible the threats are. The tiger responsible for Konwiser's death has not been identified. He is part of a breeding program that the Palm Beach Zoo participates in, along with more than two dozen other North American institutions.
The Palm Beach Zoo is asking that the media not identify the tiger responsible for Konwiser's death, saying it could jeopardize the animal's safety.
"The Zoo has no interest in assisting, allowing or encouraging blame on one of only 250 Malayan tigers remaining in existence," the zoo said in a statement Tuesday. 
"The male Malayan tiger involved in the April 15th incident has never been blamed or identified. His future has never been in jeopardy. His age has never been divulged. He has never been involved in any other incident at Palm Beach Zoo," the statement says. "The Zoo has never had any other animal-related human deaths in its 60-year history."
In 1990, a monkey reportedly bit a maintenance worker's hand after the worker entered an enclosure without management's approval. In 2008, a tiger bit a keeper's finger to the bone while she was hand-feeding the animal. And in 2011, a tiger scratched a maintenance worker's back after the man fell and landed against the tiger's cage in a restricted area.
The Sun-Sentinel, a Florida newspaper, reports that the zoo has received backlash over the way it handled the incident that led to Konwiser's death.
When a representative from the zoo called 911 following the tiger attack, the caller was initially vague about what had happened, saying only that paramedics were needed. According to the Sentinel, which obtained a recording of the call, the zoo worker didn't mention tigers until over a minute and a half into the call, despite repeated questions by the police dispatcher.
Then, because the tiger had been tranquilized instead of shot, paramedics weren't immediately able to enter the enclosure to treat Konwiser, the Sentinel reports.
The Florida Fish and Wildlife Conservation Commission and the West Palm Beach Police did not immediately respond to requests for comment. A spokeswoman for the Palm Beach Zoo referred The Huffington Post to the zoo's online statement.
REAL LIFE. REAL NEWS. REAL VOICES.
Help us tell more of the stories that matter from voices that too often remain unheard.
BEFORE YOU GO