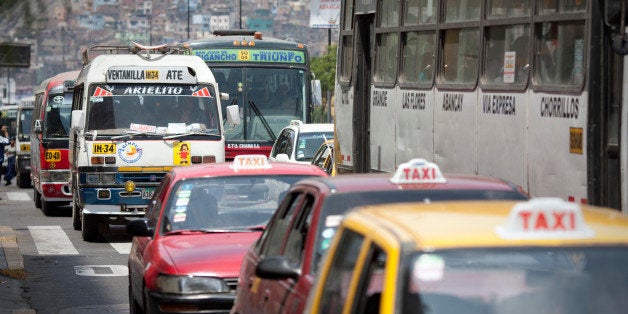 We must place air pollution -- the fourth-leading cause of death on the planet -- at the top of the world's 'most wanted' list of environmental health threats
A KILLER stalks our streets, using poison as its weapon of choice. Slowly and silently, this killer has turned the air we breathe into a deadly cocktail of toxins that can penetrate deep inside our lungs, causing heart attacks, lung infections and cancers. We can even see this killer from space in the thick clouds of filth that shroud so many of our cities.
If this killer were human, then it would be the deadliest mass murderer in history. But the killer I'm talking about is air pollution and you can't just lock it up in prison or bolt your doors to keep the menace out.
Here, in Peru, we know how deadly this air-borne plague can be. Our capital, Lima, is one of the most polluted cities in Latin America. Poor fuel, old buses and the city's geography - nestled between the Andes and the Pacific Ocean - combine to make the air foul.
Nearly 80 per cent of the estimated 5,000 deaths per year from the city's pollution may be caused by the fumes that its old fleet of minivans and buses belch into the air every day. Things have become so bad that travel writers have begun to quip, "If you travel to Lima, try not to breathe the air".
But air pollution doesn't only plague Peru or South America. It is a global scourge that has become the number one environmental health risk in the world, causing the deaths of more than seven million people every year. Outdoor and indoor air pollution - from transport, fossil fuel power stations, cooking and other sources - now kills more than HIV and malaria combined, placing a major strain on hospitals and economies. Indoor smoke is a serious health risk for some three billion people who cook and heat their homes with solid fuels.
The world has never witnessed such high levels of pollution before. Almost 70 per cent of people living in cities are exposed to pollution above the recommended levels as diesel cars combine with emissions from farming, wood and coal fires, tyre burning, cooking, open rubbish dumps, and dust from construction sites and brick kilns to create the noxious miasma that envelopes our homes and streets.
But this deadly menace doesn't just harm human health: it also has a major impact on the world's economy and the education of our children. In China, where the government shuts down schools when toxic levels soar, it is estimated that air pollution cost the country $1.4 trillion in 2010.
The pollutants in our air are also intensifying climate change and damaging our ability to grow food. Global losses to soybean, maize and wheat crops due to ground-level ozone pollution could be as high as $17-35 billion per year by 2030.
Simply reducing methane and black carbon, which comes from diesel engines, cook stoves and wood burning, could cut the rate of climate change in half for the next several decades, reduce by as many as 2.4 million the number of people who die from air pollution every year and avoid annual crop losses of more than 100 million tonnes.
In sub-Saharan Africa, using low-sulphur fuels and cleaning up vehicles could result in health benefits that add up to $43 billion over a ten-year period.
For our own health and the health of our economies, the cost of failing to act is as damaging as the smog that shrouds our cities. The need to act is as clear as the air we want to breathe.
Luckily, we already know what we need to do to catch the killer in our midst. We need to shift to clean modes of power generation, improve urban transport and switch to cleaner, low emission vehicles and fuels. Green technologies can reduce the harm done by industrial smokestack emissions and limit the pollution from traditional cook stoves, and urban and agricultural waste. Improving the way we build our cities will also have a major impact in the fight against outdoor air pollution.
We're already seeing encouraging signs of change. In 2014, China announced plans to remove from the roads as many as six million vehicles that do not meet emission standards. The gradual phasing out of leaded petrol, which is now used in only three countries thanks to an initiative led by the United Nations Environment Programme, helps to avoid roughly 1.3 million premature deaths every year.
But more needs to be done. That is why in Colombia last month ministers and high-level officials from 33 countries in Latin America and the Caribbean adopted the Declaration of Cartagena, which calls for urgent action and increased financing to cut the emissions of short-lived climate pollutants (SLCPs) - methane, black carbon, hydrofluorocarbons and tropospheric ozone.
By tackling air pollution we also stand a far greater chance of achieving some of the Sustainable Development Goals set out in the 2030 Agenda -food security, healthy lives for all, safe cities and access to clean energy.
This is why countries like mine and others from Latin America and the Caribbean will be pushing for ambitious resolutions and tough decisions at the upcoming United Nations Environment Assembly (UNEA), which will be held in Nairobi next week.
It is vital that the world sees UNEA - the world's most powerful decision-making body on the environment - as an opportunity to tackle the world's most severe environmental health emergency.
The silent killer that stalks our streets and cloaks our cities in clouds of filth must be stopped. If we want a future where we don't have to put on surgical masks every time we step outside, where our children can go to school every day without fearing for their health, then we must place the menace of air pollution at the top of the world's "most wanted" list. If we don't, then we will continue to poison the health of our people and the power of our economies.
Calling all HuffPost superfans!
Sign up for membership to become a founding member and help shape HuffPost's next chapter