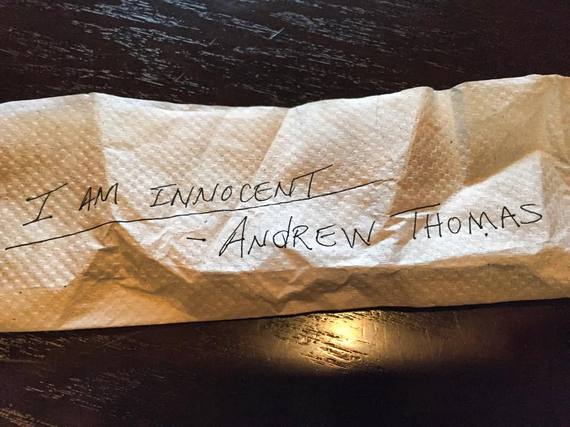 On a frequent basis, I get messages from death row inmates. Due to the volume of my work, I can only engage a small percentage of those who write. In early November, I received a request for help from Tennessee. Opening the envelope, I figured Andrew Thomas would get my regrets. I was wrong. Before I finished the note, there was a phrase at the top of the letter that caught my eye, "I am innocent." It was not that I hadn't heard such talk before. I can assure you that anyone who does this work hears claims of innocence on a regular basis. This time was different. Line by line, I found his story more and more compelling. Sensing a grave injustice, I was desperate to know more.
The road went on forever. Darkness grew. Exhaustion set in. If I was going to make it, I had to drive faster. Nashville was much further than I anticipated. When I arrived at the prison, I went straight in. Minutes later, I was ushered into the visitation space. Upon entering, Andrew Thomas embraced me with a hug. Surprised by the welcome, I looked Andrew in the eye and asked him to tell me everything. I believe he did.
On April 21, 1997, armored car guard James Day picked up deposits at a Walgreens in Memphis, Tennessee. Upon exiting the store, Day met an assailant who robbed and shot him. Jumping in a white car, the shooter was driven from the scene by another person. Authorities recovered the abandoned vehicle down the road. On July 21, 1997, Bobby Jackson attempted to rob an armored car at Southbrook Mall. Upon arrest, Jackson admitted that this was not the first time he sought to or successfully robbed an armored car. One of the witnesses in the Walgreens robbery identified Jackson as the driver of the getaway car. Also around this time, Andrew Thomas and Anthony Bond were arrested on unrelated charges. Investigators determined that Bond's fingerprints matched prints on the getaway car from the Walgreens robbery. When confronted with this information, Bond admitted to being the getaway driver in the Walgreens robbery and claimed that Andrew was his accomplice and Day's shooter. Immediately, Andrew denied involvement. Andrew didn't match any of the descriptions provided by witnesses. Though Bobby Jackson was a heavy man and had a history or robbing armored cars in the area, authorities pursued Andrew as their primary suspect. In the midst of a rush to wrap up the case, Bond cut a deal with federal prosecutors for a lighter sentence and agreed to testify against Andrew. Based on Bond's testimony, Andrew was convicted and sentenced to life for the Walgreens robbery.
James Day died on October 2, 1999. Though Day suffered from heart disease, high blood pressure, diabetes and obesity, the Shelby County Medical Examiner Dr. O.C. Smith ruled the death a homicide related to the gunshot of two and a half years earlier. The State of Tennessee put Andrew Thomas and Anthony Bond on trial for murder and sought the death penalty. Bond pled out and got life. The testimony of Andrew's estranged wife Angela Jackson was the key factor in his conviction. During the trial, Jackson gave detailed accounts of Andrew's purported confession and distribution of the stolen money. In addition to having dated Bobby Jackson, Jackson was also involved in a bitter divorce with Andrew at the time. In an unimaginable breach of legal ethics, prosecutors paid Jackson $750 for her testimony. Richard Fischer was the only person to put Andrew at the scene. Revealingly, Fischer falsely identified two men before he identified Andrew. Not long after he was convicted and sentenced to die, Andrew received a letter from Anthony Bond. On numerous handwritten pages, Bond admitted that he partnered with Angela Jackson to falsely implicate Andrew. Though it seems more than likely that Anthony Bond and Bobby Jackson are the actual culprits in the Walgreens robbery, Andrew Thomas is the only one the State of Tennessee is trying to kill.


When he finished his story, Andrew passed me a napkin that read, "I am innocent." I was moved. Before he could ask, I told Andrew that I would stand with him and do all that I could to save his life. The guard informed us that our time was up. Leaning in and putting my arm around my brother, I prayed, "God of justice...fix this and free your child."
When I got back to the car, I drove to a diner and read as much as I could about the case. The evidence is out there and easily available. After a few hours, I began driving home. Throughout the journey, I grew angrier and angrier that the State of Tennessee was so dedicated to killing Andrew Thomas. Somewhere around Memphis, I pulled over and got out of my car. At the top of my lungs, I screamed out into the bitter freezing night air, "Andrew Thomas is innocent!" While I doubt many people heard me, it was then that I decide to not stop screaming until they do.
Calling all HuffPost superfans!
Sign up for membership to become a founding member and help shape HuffPost's next chapter