It seems like yesterday I was a kid in my early twenties, new to Los Angeles with eyes full of wonder, and dreams as big as the moon.
I didn't know a single soul and yet, I felt as though I knew every one I saw.
Often I find myself thinking, "Where did all the years go?"
Shortly after my arrival, I had the good fortune of meeting two very talented songwriters who told me I should record "Killing Me Softly."
It didn't speak to me then, even though they explained how the song was written (inspired after hearing Don McLean sing at the Troubador) and who better than them to know, since they wrote it!
Although years later I did sing it with Charlie Fox at the Roosevelt Hotel, I never took their advice and recorded the song. Yet everytime I heard it, I'd always share the story of meeting them on that fateful day when I first moved to LA, and how the classic song came to be written.
It wasn't until last year the story became something a little more than just another "story" shared.
I was having breakfast with a friend in Indianapolis when I again shared the story of meeting Norman & Charlie -- and the backstory to one of the most beloved songs in popular music. I ended it the way I always had, "Someday I'll have to record it."
Before we ordered, my friend asked me "When?"
I think because I was hungry, I just answered: "I'll record it next year, now let's eat." But he didn't let up and asked more specifically: "When next year?" I said "You'll have it by Christmas!"
This year, like so many before -- seemed to fly by. There were a lot of the usual ups and downs that remind us we're all human, together in a fragile, fleeting dance called "life" -- and yet through it all, a continuous thread of gratitude is woven into the fabric of my journey. I'd like to believe not a single day passes where I don't at some point in it, look up to the sky and wink, as if I have a Guardian Angel guiding my every step.
That was pretty clear to me when I went back to Indianapolis for Thanksgiving and my friend reminded me I had less than a month to make good on my promise from the year before.
So last week I flew to Atlanta and decided to finally do what had been suggested I do a good thirty years ago... I went to record "Killing Me Softly."
"What could I possibly do to make such a classic song my own?"
I discussed it with several friends, many of whom had some wonderful ideas and yet, it was something I didn't plan that had the most profound effect on me the day of the recording.
I brought a picture from my childhood and placed it next to the lyric sheet on the music stand. In the photo, there I was, a young boy, in many ways, a stranger to my eyes. Beside me, my brother Joey who had died when he was just 32, on my other side, our sister Mary. And beside her, our father.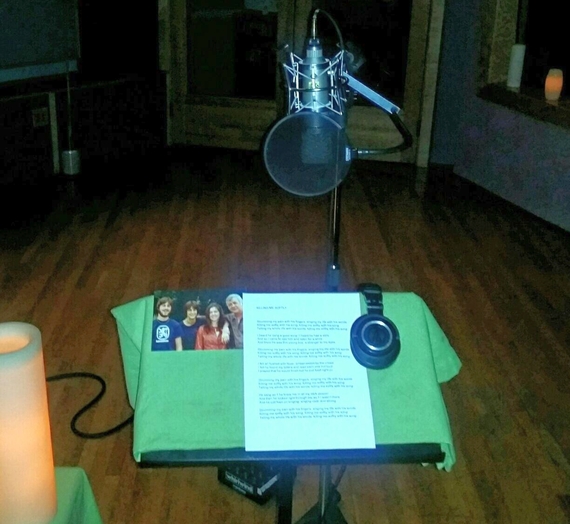 Each served in their own unique way, an important piece not just to the recording of a song, but to the puzzle that is my own life. I took a picture of the stand and sent it to Mary along with this text: "I used this photo as my inspiration singing 'Killing Me Softly' today. A brother passed, an innocent me, a most precious friend, and a father -- who did the best he could... each in their own way, killing me softly --"

The holydays are a powerful time in all our lives. And like all great songs, they have their own individual and unique meaning for each and every one of us.
We reflect, we laugh, we cry, we remember.
We live and we learn and hopefully through it all, a thread of gratitude will be woven into all our lives.
Like the Little Drummer Boy, I've never had any real gift to bring, except my voice. And so it is, in that spirit, and with the spirit of this very Christmas day, I share a song that took me thirty years to sing. As you listen, may you remember it's never too late to do something you may have put off in this life, no matter how long ago.
Hopefully a friend will appear in the nick of time to help push you to it and through it.
If there's one thing I know to be true, there will never be an adequate answer to the age old question that no doubt burns in all our minds, especially around the Holydays...
"Where did all the years go?"
Calling all HuffPost superfans!
Sign up for membership to become a founding member and help shape HuffPost's next chapter