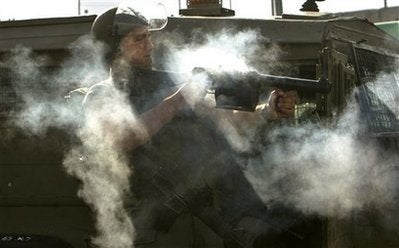 Watch the broadcast media's live coverage of the current conflict in the Middle East, and you'll see correspondents doing stand-ups in Israeli cities like Jerusalem and Ashkelon. But virtually no reporters are actually on the front lines in Gaza.
"In an unprecedented restriction of press freedom, the Gaza Strip has been closed to the foreign press. As a result the world's media is unable to accurately report on events inside Gaza at this critical time."
In a reassuring turn of events, the Israeli Supreme Court today ordered the government to allow the international media into Gaza.
As a result, Israel must now allow up to 12 journalists to enter Gaza whenever it opens the Erez Crossing, the only passenger gateway into the territory.
Still, recent press freedom within Gaza is restricted and dangerous.
Parts of the strip have been declared "closed military zones," most notably of which is the Gaza strip's northern boundary with Israel, which extends two miles into Israeli territory. As a result, journalists are restricted from entering the area to report on what's happening.
A more frightening assault on press freedom is repeat behavior from Israel's 2006 war with Hezbollah in Lebanon; Israel is once again using air strikes to target journalists.
On Sunday, the Gaza City headquarters of the Hamas-operated Al-Aqsa TV were bombed by Israeli Defense Forces.
In response, the Committee to Protect Journalists issued a statement:
"Under international humanitarian law, journalists are entitled to the same protections as all civilians. We are alarmed...by the military's targeting of a media outlet. It is not permissible to target journalists even if their coverage is openly partisan."
Similarly, in the 2006 war with Hezbollah in Lebanon, Israeli jets destroyed the five-story headquarters of Hezbollah's Al-Manar television.
During that war, Israeli forces also singled out other media infrastructure; aerial attacks on telecommunications devices killed and injured people working for the Lebanese Broadcasting Corporation and Tele-Liban.
On July 22, 2006, Israeli fighter aircraft chased a convoy of Al-Jazeera, Al-Arabiya, and Al-Manar vehicles, and fired missiles on the road behind them, even though their cars were clearly marked 'Press' and 'TV."
As is with the current situation with Gaza, when Israel is performing air strikes, everyone is vulnerable - militants, civilians, and journalists alike.
I spoke with Ewa Jasiewicz, human rights activist and writer, and coordinator of the Free Gaza Movement, who's been in Gaza for two and a half weeks. Because of the ban on foreign journalists, she's given nearly thirty interviews in past few days, and has been asked to write stories for a number of news organizations, including the Guardian and The Daily Telegraph.
She says local journalists feel they're being targeted. She spent last night at the headquarters of the Palestinian news agency, Ramattan. Fearing the worst, they'd taken out all their windows, and shortly thereafter, a number of bomb blasts shook the building.
Jasiewicz says of Ramattan,
"They are not moving around at night. They don't have flak jackets, they don't have helmets. They're not like Reuters, CNN, or BBC. They're low-budget, but they get the best pictures, and they've been on the front lines."
With sporadic electricity, local media are having a difficult time operating to begin with. Fearing targeted air strikes, a number of local radio stations have chosen to cease operations.
Says Jasiewicz, "Journalists have said to me 'It doesn't matter if you're a journalist, paramedic...foreigner, or Palestinian. They don't care."

REAL LIFE. REAL NEWS. REAL VOICES.
Help us tell more of the stories that matter from voices that too often remain unheard.