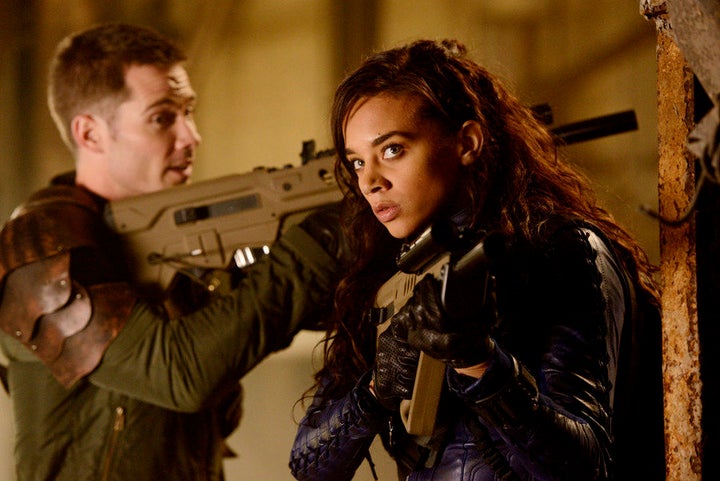 Though the fall season is upon us, I am racked by guilt regarding a summer show I never got a chance to write about.
In a summer that didn't lack for promising new shows, Syfy's "Killjoys" was one of my favorites. If you want to partake of a new-ish slice of escapism, I highly recommend checking out "Killjoys" instead of devoting your precious free time to a bunch of enervated new fall shows that aren't very good, for the most part.
Drama pilots are generally supposed to entertain the viewer, though a lot of shows haven't gotten that memo of late. Having seen the entire first season of "Killjoys," I can tell you it was fun from the outset and I was pleased to have stuck with it for all 10 episodes.
This frisky show about bounty hunters scratched a number of itches for me: It is a brisk, energetic and enjoyable action hour, and I can never get enough of that kind of escapist fare; it is set in on other planets and features actual spaceships, which is, sadly, a rarity on TV these days; and it is a smart show featuring a complicated and charismatic black woman as the lead. Add banter, explosions and an unobtrusive set of themes about morality and independence, and you've got a show that appears to have been designed in a TV lab just for me.
If the reference to outer space was a needle-scratch for you, know that you don't have to be a sci-fi nerd to get into "Killjoys." There's not much of an overarching mythology, and Season 1's world-building mostly concerned the strained, complicated politics of a broken-down corner of space known as the Quad. If I have one mild critique of the first season, it's that it wasn't necessarily clear to me how the main factions in the Quad related to one another. That said, politics didn't often intrude on the engaging bounty-hunter adventure of the week, especially in the first half of the season, and I did understand the core political framework, which made it clear that the rich, powerful folks generally conspired to oppress the poor, struggling ones.
"It's all about the main characters' difficulties in accepting the moral, emotional and physical challenges that have been thrust upon them, but it never veers too far into the darkness or the light."
As Season 1 progressed, it began to dawn on the three core Killjoys (who bag and tag criminals, hence the name) that they were being used as pawns in the Quad's ruthless political games, but the show is not the second coming of "Battlestar Galactica." And that's no dig at "Killjoys," it's more of a differentiation: This is a crackling yarn that features a knockaround former soldier, his brother the tech whiz and a team leader/ship captain who decidedly does not want to delve into her past as a trained assassin.
Difficult memories from the past of Dutch (Hannah John-Kamen) do come up, but sometimes in the midst of sexy romps, barroom chats and pitched battles with bandits. When it explores psychological traumas or edges toward making thematic statements, "Killjoys" does so with an admirably light touch. Sure, the scrappy, banter-y nature of the team might put you in mind of "Firefly," "Farscape" and the better seasons of "Stargate SG-1," but if you like smart action vehicles like "Banshee," "Strike Back" and "Arrow," there's every chance you'd enjoy the adventures of Dutch and her crewmates, D'avin and John Jaqobis.
Actually, when it comes to tone, "Killjoys" hits a sweet spot between "Arrow" and "The Flash" (both of which I generally like a lot): It's all about the main characters' difficulties in accepting the moral, emotional and physical challenges that have been thrust upon them, but it never veers too far into the darkness or the light. The Syfy show's capable mixture of character development, genre competence and sly commentary will be recognizable to anyone who's seen creator Michelle Lovretta's previous show, "Lost Girl." Like that show, "Killjoys" makes smart and efficient use of its limited resources, in part because it realizes that viewers will forgive a small budget if the writers, directors and cast populate a show with compelling core relationships and memorable supporting players. As is the case with "Lost Girl," as well, there's a strong thread of female empowerment, which, on "Killjoys," sometimes involves pregnant handmaidens kicking ass (Reason #847 I love smart science fiction).
As Dutch, Hannah John-Kamen brings natural authority to the action scenes, but she also brings nuance and vulnerability to Dutch's strange, tortured backstory. Like Dutch, former soldier D'Avin (Luke Macfarlane) is also emotionally closed off, though circumstances don't allow him to suppress his war memories for long (that said, Dutch should have known he was trouble: Sci-fi characters with apostrophes in their names are always trouble).
Macfarlane and Aaron Ashmore, who plays John, are extremely well-matched as loving but squabbling brothers, and Ashmore effortlessly does yeoman's work with the few bits of jargon and exposition that "Killjoys" occasionally deploys. John's relationship with the team's ship, Lucy, is minor but diverting, and I'm already enough of a fan to declare that if the gang's favorite barkeep, Pree (Thom Allison), is not a bigger part of Season 2, you can expect some sternly worded Tumblr posts from me.
Multiple episodes of "Killjoys" are available on Syfy as well as on iTunes; when I logged in with my satellite provider's info, all 10 Season 1 episodes were available (albeit with commercials). Amazon, iTunes and other online retailers sell the episodes as well, and though "Killjoys" hasn't yet arrived on one of the big streaming sites, this is one purchase that you may find well worth the price.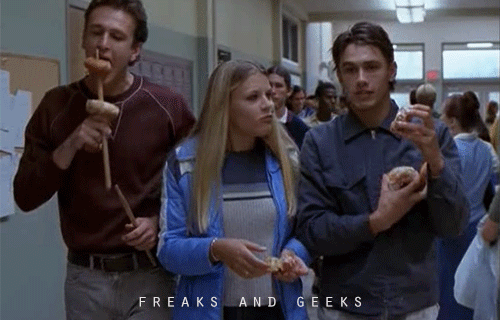 The 7 Shows You Should Binge-Watch Right Now
For a constant stream of entertainment news and discussion, follow HuffPost Entertainment on Viber.
Popular in the Community