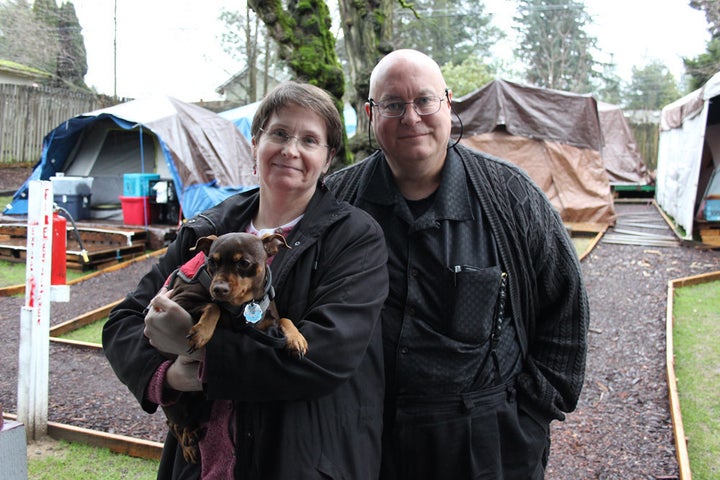 One act of kindness is improving the lives of 16 people without homes.
Kim and Brad Lancaster of Shoreline, a city north of Seattle, have turned their 770-square-foot house and small yard into a homeless camp.
"I have convictions about us being humans together," Lancaster told KIRO Radio.
According to MyNorthwest.com, when the Lancasters found out a nearby church could not run an encampment for homeless people any longer, they took matters into their own hands and offered the displaced a new place to live -- their backyard.
The couple was especially motivated when they found out kids were living in the tent city.
There has been 18 people living at the Lancasters' home since December -- four of whom are children -- that are sharing one bathroom, a small kitchen and a washer and dryer.
"The parents of those kids are excellent parents," Brad told KUOW. "They are actually quite astonishing, being able to keep their family together and have such bright and socially adept children."
"It's been really great to come home at night and have the family with the four kids in the house. The kids are doing their homework and mom and dad are fixing dinner and the little 2-year-old is running around," Kim said. "We enjoy everybody, but the kids are just special."
Though Brad is a lawyer and Kim is a paralegal, both were well-aware that allowing the homeless to build a tent city in their yard was illegal. It goes against zooming regulations. Yet, due to their legal expertise, they knew they could get away with it -- at least temporarily.
According KIRO7, although most neighbors support the Lancasters -- some even offering to cook meals and run clothing drives -- one neighbor has complained, which prompted the city to investigate.
Knowing that the city would reject temporary-use permit to home the homeless in his yard, Brad struck a deal with the city. The tent city can remain on the Lancaster's property no later than April 1 as long as Brad proves in writing they have another place to go. The campers will be relocated to North Seattle's Haller Lake United Methodist Church in Seattle before the spring deadline, according to a follow-up report by MyNorthwest.com.
Homelessness is big problem in Seattle and its surrounding cities. According to Seattle Weekly, Seattle ranked fourth, right behind New York, Los Angeles and Las Vegas for the most homeless individuals in the country in 2015.
According to NBC, due to the overwhelming number of homeless people and a lack of funding to aid the problem, illegal homeless camps have sprung up all over King County, which houses Seattle and Shoreline. The city clears out these camps if a citizen files a complaint against one.
The problem seemed to have come to a head late in January when Seattle's mayor, Ed Murray, gave a speech about city's homelessness problem and the speech was immediately followed by a report that two people were shot in a homeless camp during his speech.
According to The Washington Post, when the mayor was asked for his immediate reaction after learning of the shooting he told a room of reporters:
"I can't help but wonder, did I act too late?" he said. "That's my reaction. Maybe I should have issued the state of emergency months earlier. We have tried to do the best we can, given the circumstances we've been given. Obviously I'm going to ask if I did a good enough job. It's on me in the end."
Many residents have been critical since he made this statement:
Hopefully more residents who are outraged by the problem will take the Lancaster's lead.
Calling all HuffPost superfans!
Sign up for membership to become a founding member and help shape HuffPost's next chapter
BEFORE YOU GO
PHOTO GALLERY
The Harbor Homeless Camp In Hawaii