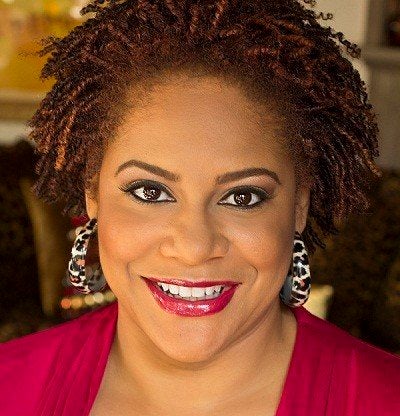 For Kim Coles, appearing on the wildly popular 1990s comedy show "In Living Color" should have been a career milestone, but it was over almost as soon as it started . While many of the show's cast would go on to establish iconic characters, the comedienne was released after the first season. But three years later, Cole landed the role of Synclaire, alongside Queen Latifah, Erika Alexander, and Kim Fields on Fox's sitcom "Living Single."
The Brooklyn native is the focus of the latest installment of TV One's popular series 'Life After.' The network's November 23 episode will chronicle Cole's two decades in television, and the lessons she's learned.
The one-time "Celebrity Mole" contestant said she was a bit hesitant about 'Life' when the show's producers initially approached her. But after a little persuasion about the show's purpose — to "make people look and feel good" — she changed her mind.
"I just knew that it was going to be a lot of work," Coles said on a recent afternoon. "You gotta send the pictures in; you gotta get clearance for the clips; you gotta sit there and talk for hours; you gotta ask your friends to participate. And I was like, 'Ah, I don't know, it just feels a little too invasive.' And I didn't know if I could trust that they would tell my story in a way that was lovely, enlightening and inspiring. But once I talked to the producers and saw what it was really all about, I was in 100 percent."
During preparation for her episode, Coles reached out to some of her former castmates for their cooperation. To her dismay, everyone seemed to be busy. "I'm closer with some than I am with others, so I reached out to the ones that I'm close to," she said, "and none of them were available."
"But who knows? Maybe (the show producers) will surprise me and have gotten in touch with them. So I'll never know who they talked to besides me about 'Living Single.' They let you in on the process but not all of it, so I'll be watching it alongside you all."
Since the sitcom went off the air in January 1998, Coles laments that too few shows nowadays feature entirely African-American casts. And certainly nothing that compares to "Living Single."
"It's kind of a tragedy, because I think that our voice is really not fully being heard," she said. "That show was written a particular way, it was produced a particular way. The characters were very, very positive. There's just not a lot of that on the air, and it's disheartening that the audience doesn't have characters that they can fall in love with and relate to."
In Coles' estimation, the television market is saturated with reality shows. "There are some reality stars who have ten times a bigger following than I do," she admitted. "I wish them well. I just wish there was a space for real talent as well."
"How many times can I watch a bunch of women fighting each other? I don't need that in my consciousness. And I can't wait for people to figure out that's not real entertainment," she continued. "We can't even blame the networks. They're putting on what the audience is willing to watch. So I'll tune out until there's some other programming on. And I don't wish any ill on those ladies, but it's very interesting to me what we're accepting as our role models and as a way to behave out in the world. It's kind of sad to me."
In addition to her acting and live comedy experience, Coles also served as the host of BET's 2009 game show "Pay It Off." Which inspired her to create her own game show that will consist of a hosting-makeover theme, as well as another show that is loosely scripted, similar to HBO's hit series "Curb Your Enthusiasm." Coles revealed that she has already pitched one of them to networks, while the other is still in development.
"To any young performer, or anyone thinking of getting into show business, I would say the key to longevity is being able to do more than just one thing," she explained. "And it's okay if you're a great singer or great actress, but you better build up your skills to where you are the go-to person that they call to do things."
"I get called to host things, not that I was ever trained as a host. It's because I did enough times to where I was good at it and people know that I'm going to come in and do a good job," she explained. "So I think it's very important to keep yourself flexible and be willing to learn and grow at all times."
TV One's "Kim Coles: Life After 'Living Single'" premieres Wednesday, November 23 at 10 p.m. EST.

REAL LIFE. REAL NEWS. REAL VOICES.
Help us tell more of the stories that matter from voices that too often remain unheard.