A federal appeals court on Thursday turned away a request filed by lawyers for Kentucky county clerk Kim Davis, and chastised Davis' attorneys for not adhering to the rules of the court.
In a two-page ruling, the U.S. Court of Appeals for the 6th Circuit denied Davis' request to put on hold a Sept. 3 order that had effectively instructed her to begin serving all couples in Rowan County, Kentucky -- not just those who sued her for not abiding by Obergefell v. Hodges, the case that legalized same-sex marriage nationwide in June.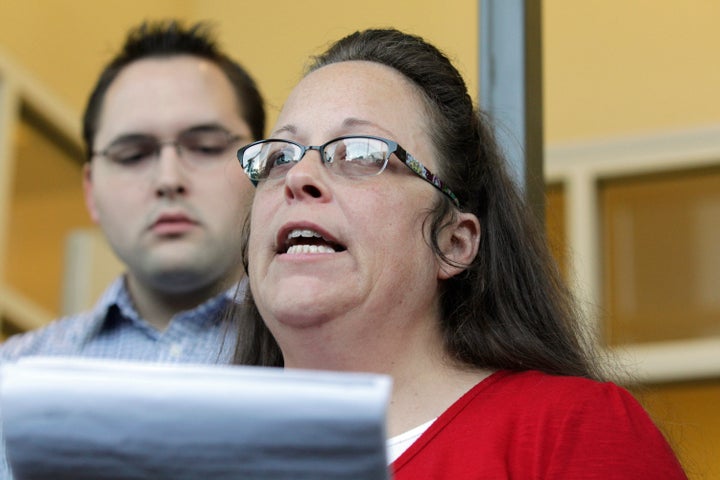 Rather than denying Davis' request on the merits, though, the appeals court said that her lawyers failed to follow the proper procedure.
Under federal rules, a litigant seeking to put an order on hold must first ask the judge who issued it -- in this case, U.S. District Judge David Bunning, the same judge who held Davis in contempt of court earlier this month and ordered her to be detained.
Davis' lawyers skipped that step and instead went straight to the circuit court, arguing that it would have been "impracticable" to go to Bunning first because of his "extraordinary doggedness" in expanding his Aug. 12 order to include all of the county's future marriage applicants.
The appeals court wasn't having it. 
"This is not valid reason to excuse moving the district court for a stay pending appeal in the context of this case," the court said. Which is legalese for, "You need to follow the rules first before you come to us."
Davis' legal team currently has at least three separate cases before the 6th Circuit: the challenge to the expanded injunction, which includes the merits of the Aug. 12 order that set off the clerk's legal troubles; another one involving a lawsuit Davis filed against Kentucky Gov. Steve Beshear (D); and a third one challenging the ruling that sent her to jail for contempt of court.
Calling all HuffPost superfans!
Sign up for membership to become a founding member and help shape HuffPost's next chapter