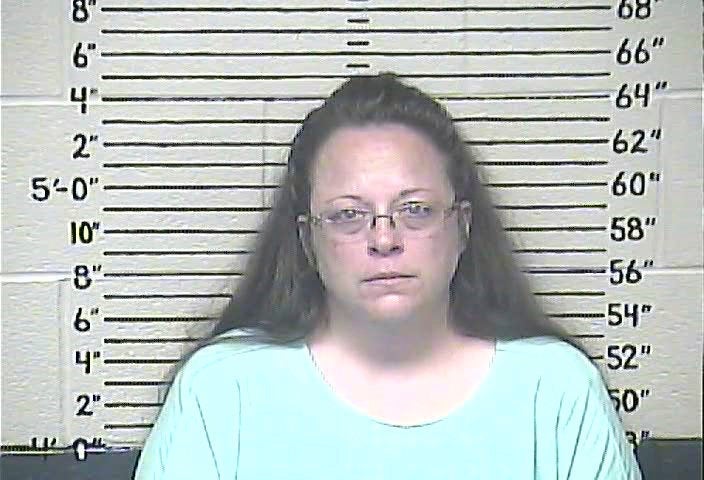 A ruling on Wednesday closes the door on Kentucky clerk Kim Davis' yearlong campaign against marrying gay couples in her county.
Following the ruling, Davis, a devout Christian, instituted a blanket "no license policy" for anyone wishing to marry in the county, contending that signing her name to the documents violated her religious beliefs.
In this final round of appeals, Davis sought to dismiss the matter altogether, in light of a new Kentucky law that no longer requires county clerks to sign their names to marriage licenses. Davis' lawyers argued this meant her case was "moot" because the new legislation gave her the religious accommodation she sought from the beginning.
In a two-page order, the U.S. Court of Appeals for the 6th Circuit agreed to dismiss the case, but specifically declined to throw out the contempt order against Davis because her lawyers didn't meet the necessary legal requirements.
In a statement, the American Civil Liberties Union, part of the legal team that represented the couples, praised the court's move to leave the contempt order in place.
"We're pleased that the appeals court kept that decision on the books: It will serve as a reminder to other government officials that placing their personal views ahead of the Constitution and the rule of law is not acceptable," said Ria Tabacco Mar, an attorney with the ACLU's LGBT Project.
Curiously, Davis' legal team also claimed victory, noting the ruling "removes the cloud" that the initial contempt order placed on Davis' record and "solidifies the religious liberty accommodation" that she asked for, now that Kentucky law no longer puts clerks in Davis' predicament.
"The injunctions are gone and Kim Davis received the accommodation that she requested," said Mat Staver, Davis' attorney at Liberty Counsel, a faith-based law firm. "County clerks are no longer forced to compromise their religious liberty and conscience rights."
Asked if he'd seek a further appeal of the contempt order, Staver acknowledged that "it is past and cannot be undone," but insisted that "it has no continuing effect either."
As for gay couples in Kentucky, the law that gave Davis relief also benefits them. It goes into effect on Friday, and will allow, in the ACLU's words, "all loving couples to obtain marriage licenses in the state without fear of discrimination."
REAL LIFE. REAL NEWS. REAL VOICES.
Help us tell more of the stories that matter from voices that too often remain unheard.