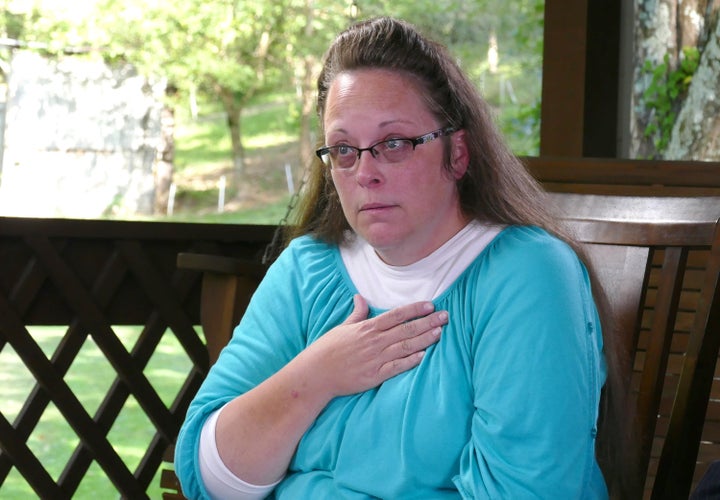 Dallas Black of Morehead, Kentucky told The Daily Beast's Katie Zavadski that he's known Davis his whole life. He and the now infamous clerk became particularly close after she helped him with paperwork at the Rowan County clerk's office after his mother died. 
While he claims to have spoken with Davis shortly after the media firestorm surrounding her case began to swirl, Black now says he doesn't know "who Kim is at the moment." 
"I really want to believe that the kind, sweet person who was there when my mom passed away is still there," he said. "I was friends with Kim in the past, but I don't know this woman I've been seeing."
Black said he'd been tolerant of Davis's opposition to same-sex marriage in the past, noting that members of his family feel similarly. He said he believes Davis is taking her views "to the extreme," making Morehead, where the Rowan County clerk's offices are located, seem like a "backwoods" laughingstock in the process. Home to Morehead State University, the town is known statewide for its progressive views, he said.   
"Kim Davis has become the face of Morehead, and that's not the face we want to portray," he said. "She made us feel like our home was invaded by strangers, and she made us strangers to it."
Black didn't specify whether or not he was one of the gay friends Davis said she'd previously refused a marriage license to in her "Good Morning America" interview.  
"I have friends who are gay and lesbian, and they know where I stand," she said. "We don't agree on the issue."
We'll be curious to see if Black maintains his friendship with Davis once the dust settles. 
PHOTO GALLERY
Homophobic Tweets By Celebs
REAL LIFE. REAL NEWS. REAL VOICES.
Help us tell more of the stories that matter from voices that too often remain unheard.