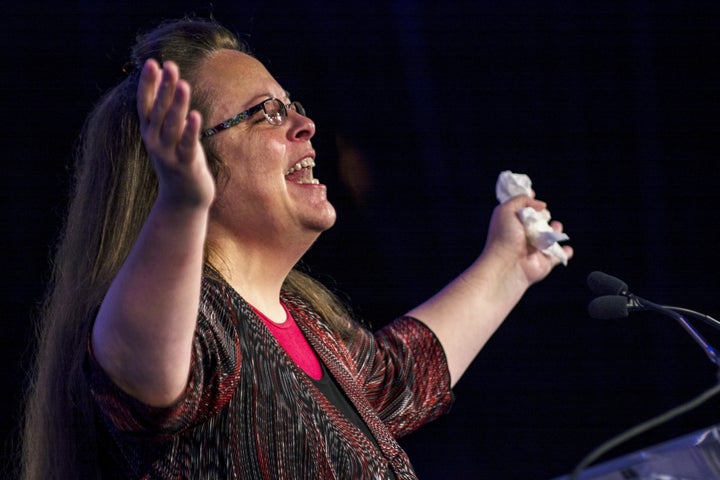 Kim Davis, the Kentucky county clerk who made a splash last summer with her refusal to grant marriage licenses to gay couples, wants an appeals court to officially forget all about the incident and make the case go away.
In a motion filed Tuesday with the U.S. Court of Appeals for the 6th Circuit, where Davis is contesting an earlier contempt order against her, her lawyers asked for the whole matter to be dismissed because of recent developments in Kentucky law.
Specifically, Davis' attorneys noted that the state legislature recently removed a requirement that county clerks sign their names to marriage licenses. This change to the law provides "the very religious accommodation Davis sought from the beginning of this litigation," her lawyers wrote in their petition, thus effectively rendering the whole case moot.
Her lawyers also asked the appeals court to vacate the lower court order that had found her in contempt and sent her to jail for five days.
Notably, the legal team for the same-sex couples who were turned away by Davis -- they were seeking licenses after the Supreme Court legalized gay marriage nationwide -- will not oppose the clerk's latest move.
"We agree that Kim Davis's appeals should be dismissed," Daniel Canon, one of those lawyers, said in an email to The Huffington Post. "Once the new Kentucky law becomes effective, all loving couples seeking to obtain marriage licenses will be able to do so on an equal basis."
That the attorneys for the same-sex couples -- including Canon's firm and the American Civil Liberties Union of Kentucky -- support dismissal of the case strikes a symbolic note nearly a year after the landmark decision in Obergefell v. Hodges.
"On the eve of the one-year anniversary of the Supreme Court's ruling, we're pleased that same-sex couples can fully realize legal recognition of their love, including in Rowan County, Kentucky," said Canon, who was also involved in the Supreme Court case.
Since the beginning of Davis' legal troubles, when she instituted a blanket "no license" policy in response to the Supreme Court's decision, she has had trouble convincing courts that her religious defiance has any legal merit. But with this new development, it is highly likely that the 6th Circuit, which was set to hear oral arguments in Davis' case in July, will simply put the matter to rest.
In effect, Davis would get a win not because she was ever right on the law, but because the law was changed to spare her.
As Canon's partner Joe Dunman said in a follow-up email, "If the court grants their motion, it would be their very first legal victory of any kind."
Popular in the Community