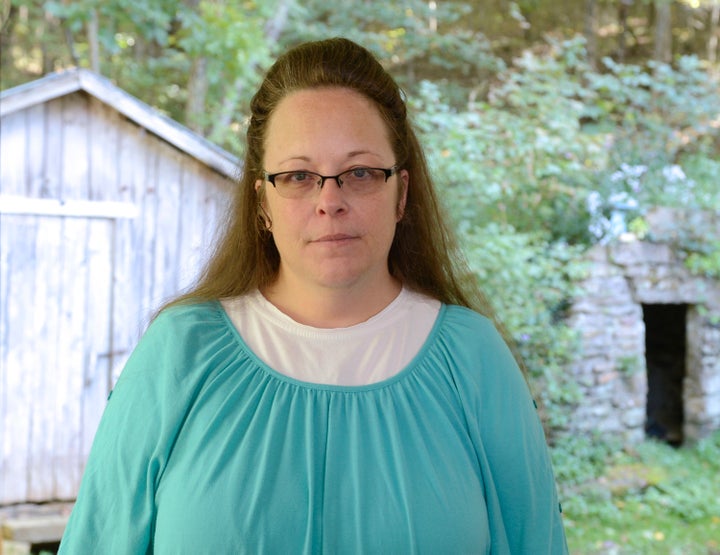 Evidently not content to promote her anti-gay message overseas, Kim Davis has decided to go the literary route.
The Florida-based organization posted the cover of Under God's Authority to its Twitter and Facebook pages Monday.
The book is co-authored by John Aman, director of creative services for Liberty Counsel, and Mat Staver, founder and chairman of Liberty Counsel who represented Davis during her court case.
A description of Under God's Authority: The Kim Davis Story on Liberty Counsel's website calls it an "amazing narrative of redemption and courage," noting, "This true story goes behind the scenes to reveal how God gave this unlikely candidate a platform to defend marriage and religious freedom."
"It's a great read," Huckabee notes. "But more than that, this remarkable story of what God did in Kim's life gives me hope for our nation. I think it will give you hope, too."
The Lexington Herald-Leader cites yet another description of Under God's Authority offered by Liberty Counsel, noting that Davis "chronicles her dramatic encounters with furious, fist-pounding, homosexual men and the hate mail that flooded her office."
One local LGBTQ rights activist told the newspaper that the book should be renamed Kim Davis' Cost to Kentucky Taxpayers, pointing to the reported $222,695 in legal fees from the clerk's case.
The book is yet another eyebrow-raising turn for Davis. She last made waves in October, when she embarked on a nine-day trip to Romania with the Liberty Counsel's Harry Mihet. Together, the pair met with religious groups with the aim of encouraging that nation's lawmakers to adopt legislation against same-sex marriage.
Davis has announced plans to seek another term in November. She's poised to face a surprising re-election opponent, Democrat David Ermold. The assistant professor and his husband were among couples denied a marriage license by Davis nearly three years ago.
Support HuffPost
Every Voice Matters
Popular in the Community