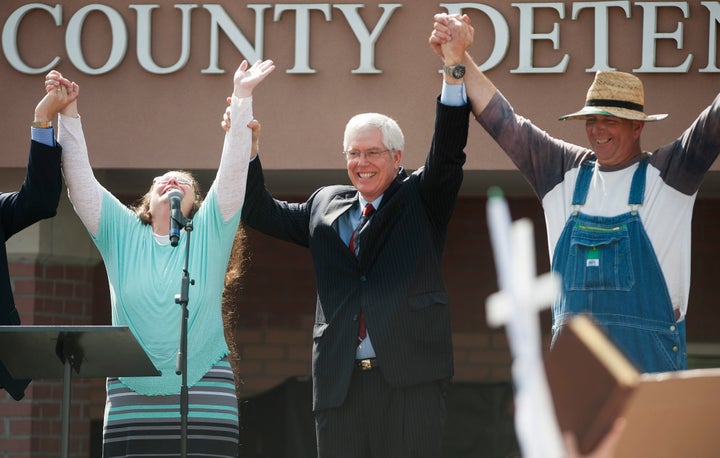 The lawyer for Kim Davis, the Kentucky county clerk who briefly went to jail last week after refusing to issue marriage licenses to same-sex couples, said Tuesday that requiring her to issue those documents would be like making her "grant a license to sodomize children."
Mathew Staver, the Liberty Counsel lawyer representing Davis, made the comments during an interview on the conservative talk radio program "WallBuilders Live." Right Wing Watch posted audio of the segment.
"A clerk provides licenses to do something," Staver said. "In this case, they're licensing... something that is directly contrary to the core of their religious convictions, to engage in sinful activity among same-sex relations, and sanction something that is contrary to the Scriptures, and that is marriage of two people of the same sex."
Rick Green, who co-hosts the program, prompted Staver to give an example of another "activity... that would be un-biblical and violate [Davis'] beliefs" if people asked for a license to do it.
Staver replied that it would be similar to requiring a clerk "to grant a license to engage in pornography, to grant a license to sodomize children or something of that nature ... that would be harmful to the people involved in the activity."
He also said that requiring Davis to issue same-sex marriage licenses would be like forcing a Jewish deli owner to serve pork or forcing someone to endorse a Ku Klux Klan rally.
Staver said that same-sex couples who want to get a marriage license can easily get one elsewhere.
"It's not that these people can't get a license. There's 130 offices in Kentucky," he said. "They could go to a different county if they wanted to. Or, alternatively, they could go to a judge within the same county."
Davis was released from jail Tuesday and appeared briefly at a rally flanked by Staver and former Arkansas Gov. Mike Huckabee (R), who is also an opponent of same-sex marriage. Huckabee is one of more than a dozen Republicans seeking their party's presidential nomination.
"She loves God, she loves people, she loves her work and she will not betray any of those three," Staver told reporters outside Carter County Detention Center in Grayson, Kentucky, on Tuesday.
When Davis was jailed Thursday for refusing to issue marriage licenses, Staver compared her to the persecuted Jews in Nazi Germany.
"They were evicted from public employment, then boycotted in their private employment, then stigmatized, and that led to the gas chambers," Staver told Tony Perkins, president of the conservative Family Research Council, during a radio show.
U.S. District Judge David Bunning released Davis from jail after five of her six deputies began issuing marriage licenses to same-sex couples.