Kim Davis, the Kentucky clerk who made headlines after refusing to issue a marriage license to a gay couple in 2015, lost her re-election bid to her Democratic challenger on Tuesday.
Davis garnered national headlines after she refused to issue a marriage license shortly after the Supreme Court legalized same-sex marriage nationwide, saying she was doing so "under God's authority." Her behavior prompted widespread outrage and she was jailed for five days for contempt, but many on the right celebrated her as a defender of religious freedom.
David Ermold, one of the gay men Davis initially denied a marriage license to, raised more than $200,000 from donors around the country for the chance to campaign against Davis, but lost the primary to Caudill in May.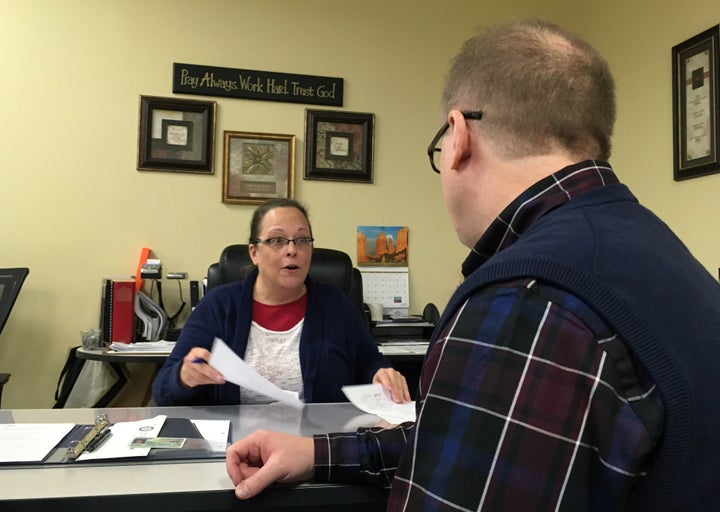 Caudill, who ran for county clerk in 2014 and lost the Democratic nomination to Davis by 23 votes (Davis switched parties a year later), addressed Davis' actions on his own campaign website and pledged that, as clerk, he hoped to "serve every citizen of this county equally."
"When I say I will faithfully execute the job of Rowan County Clerk and serve all citizens equally ... Of course that means LGBTQ+ citizens," Caudill wrote on his campaign website. "I support every American's right to 'life, liberty, and the pursuit of happiness,' afforded them under the laws of our nation, and I do not believe our government should discriminate against anyone for being who they are."
Davis remained steadfast in her beliefs and released a memoir earlier this year. She also said last month that she "did not treat anybody unfairly."
"I treated everybody equally because I quit issuing marriage licenses altogether," Davis said at a forum in October, according to The Associated Press. "I took an oath to stand up and uphold our Kentucky constitution and federal constitution, that's exactly what I did."
Calling all HuffPost superfans!
Sign up for membership to become a founding member and help shape HuffPost's next chapter