Most Americans think that Kentucky county clerk Kim Davis should have been sent to jail for contempt of court, according to a new HuffPost/YouGov poll.
In the survey, which was conducted prior to Davis' release from jail on Tuesday, a 56 percent majority of respondents said they supported the judge's decision to jail her for contempt of court, although fewer wanted her to actually remain behind bars.
Most respondents also thought Davis should be required to issue same-sex marriage licenses, and an even greater majority said she should resign if she's unwilling to do so. Fifty-two percent of respondents said that elected officials should be required to perform work required by their position even if it would violate their religious beliefs, while only 30 percent disagreed. By the same 22-point margin, respondents said specifically that Davis should be required to issue marriage licenses to same-sex couples. Meanwhile, 65 percent of those polled thought Davis should resign.
Democrats believed that Davis should be required to issue licenses and said she should have been jailed, while independents agreed by a narrower margin. Republicans were close to evenly divided.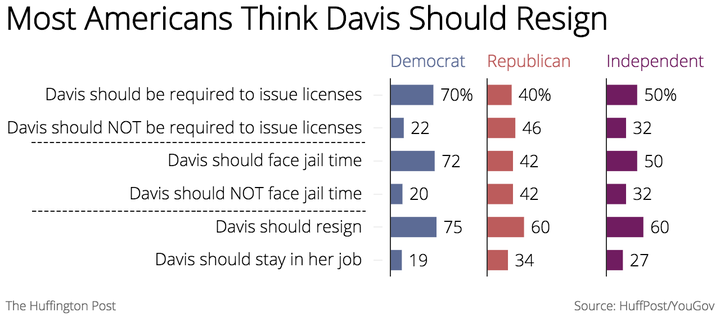 Davis' resistance has become a cause célèbre for the evangelical contingent of 2016 GOP candidates. Former Arkansas Gov. Mike Huckabee praised Davis for showing "more courage than any politician I know" at a rally after her release from jail Tuesday, offering that he'd be willing to go to jail in her place. Sen. Ted Cruz (R-Texas), who called the case "judicial lawlessness turned into judicial tyranny" made a less splashy appearance at the event.
A significant portion of the country shares Davis' views on gay marriage, according to a number of national polls about gay marriage. And more than half of Americans in the HuffPost/YouGov poll, including 81 percent of Republicans and 76 percent of evangelical Christians, said that religious liberty is currently being threatened.
But even the reverent base voters Huckabee and Cruz are seeking aren't convinced that it was necessary for Davis to defy the courts. While 43 percent of Republican born-again Christians thought she should remain in office but continue refusing to issue licenses to same-sex couples, 51 percent of Republicans said she should simply quit. Among all Republicans, 60 percent wanted her to resign.
While Davis' status as a public official and her refusal to obey a court order make the circumstances somewhat different, public opinion about her case largely echoes the public's response this spring to Indiana's controversial religious freedom law, which would have allowed businesses to turn away LGBT customers before the law was revised. Even many Americans who personally disagreed with gay marriage opposed the law, HuffPost/YouGov found.
The HuffPost/YouGov poll consisted of 1,000 completed interviews conducted Sept. 4-7 among U.S. adults, using a sample selected from YouGov's opt-in online panel to match the demographics and other characteristics of the adult U.S. population.
The Huffington Post has teamed up with YouGov to conduct daily opinion polls. You can learn more about this project and take part in YouGov's nationally representative opinion polling. Data from all HuffPost/YouGov polls can be found here. More details on the polls' methodology are available here.
Most surveys report a margin of error that represents some, but not all, potential survey errors. YouGov's reports include a model-based margin of error, which rests on a specific set of statistical assumptions about the selected sample, rather than the standard methodology for random probability sampling. If these assumptions are wrong, the model-based margin of error may also be inaccurate. Click here for a more detailed explanation of the model-based margin of error.
Popular in the Community