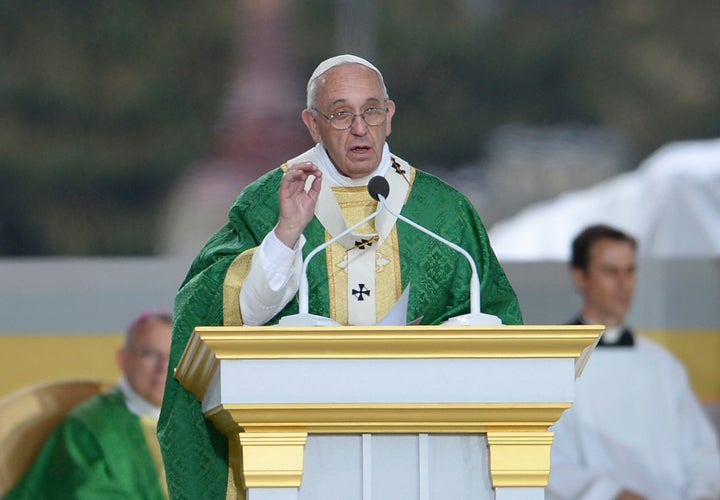 NEW YORK -- Several thousand journalists recently covered Pope Francis' historic visit to the United States -- and yet, his meeting with controversial Kentucky clerk Kim Davis remained a secret until two days after the pontiff left the country.
Robert Moynihan, who first reported the news Tuesday night for Inside the Vatican, a magazine he launched in 1993, met Davis in her Washington hotel room shortly after her Sept. 24 meeting with Francis, but sat on the scoop for days as the pope's trip made headlines.
Indeed, Moynihan, who earned his Ph.D. in medieval studies from Yale, has reported on the Vatican since the late 1980s, and lives part-time in Rome. He's served as a TV commentator on Vatican issues and wrote a 2013 book on Francis. In an interview, he told The Huffington Post he had no qualms about holding the news.
"I think it was respectful of Kim, who's been through a lot," Moynihan said of Davis, whose refusal to adhere to the law and sign marriage certificates for same-sex couples has made her a polarizing figure in America. "There was no desire on the part of the Vatican to cause her to be part of a media circus during the middle of the pope's trip."
The Vatican, he said, wanted the meeting with Davis to be "personal," rather than "polemical or ideological."
Moynihan declined to discuss exactly how he ended up speaking to Davis or speculate as to why she chose him to speak to first.
In Tuesday night's report, Moynihan wrote that the Francis-Davis exchange "was, arguably, the most significant meeting, symbolically, of the entire trip." For that reason, he wrote, "it should, therefore, be brought to the attention of the public, both in the Church, and in the secular world."
Moynihan wrote that Davis told him about her meeting with Francis shortly after it occurred, though he did not specify where or when she gave the account:
"The Pope spoke in English," she told me. "There was no interpreter. 'Thank you for your courage,' Pope Francis said to me. I said, 'Thank you, Holy Father.' I had asked a monsignor earlier what was the proper way to greet the Pope, and whether it would be appropriate for me to embrace him, and I had been told it would be okay to hug him. So I hugged him, and he hugged me back. It was an extraordinary moment. 'Stay strong,' he said to me. Then he gave me a rosary as a gift, and he gave one also to my husband, Joe. I broke into tears. I was deeply moved."
Liberty Counsel, a legal organization representing Davis, sent out a release Tuesday night that linked to Moynihan's report. Several news outlets also linked to Inside the Vatican's site, causing it to crash several times. The Vatican confirmed Wednesday that a meeting took place, but did not elaborate on the details.
Mat Staver, a Liberty Counsel lawyer, told Time magazine that he, Davis and Vatican Embassy officials began discussing a possible meeting on Sept. 14. The Sept. 24 meeting lasted about 15 minutes, prior to the pope flying from Washington to New York.
Through Liberty Counsel spokeswoman Charla Bansley, Staver told HuffPost that Liberty Counsel was involved in setting up the meeting between Davis and Moynihan.
Davis presumably could've chosen any major media outlet to tell her story to, and spoke to ABC's "Good Morning America" on Wednesday. When asked why she spoke to Moynihan, Staver said it was because "Inside the Vatican covers the Vatican."
Staver declined to offer additional details. "No more comment on the details of how or who," he said in response to a follow-up email from HuffPost. "What is important is that the meeting did occur."
Though news of the meeting didn't break until Tuesday night, Francis appeared to offer support for Davis' actions on Sunday night without mentioning her by name.
ABC News' Terry Moran asked Francis if he would support individuals, including government officials, who refuse to carry out duties such as issuing marriage licenses to same-sex couples if they believe doing so violates their religious liberty.
Francis said that "conscientious objection is a right that is a part of every human right." When Moran asked if his response includes government officials, Francis responded that, indeed, "it is a human right."
Moynihan said he believed "the pope has a profound, almost limitless respect for the conscience of others, because it's the most intimate and deliberate part of a person's personhood."
"To oppose and constrain a person's conscience," he added, "is an act of violence against a person's personhood or a person's soul."
Related
Popular in the Community