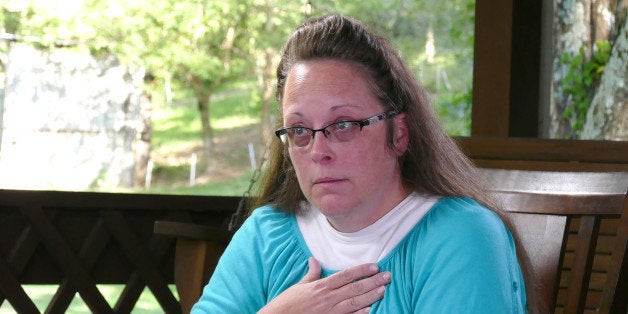 I have no problem with Pope Francis' meeting with Kim Davis.
There, I said it. Today was much more eventful than I thought it would be. People are wondering how I feel about this private meeting. Well, I will tell you. It does not bother me that he met with her.
Who am I to judge who the Pope meets?
The Pope Francis is ... THE POPE. He meets thousands and thousands of people throughout the year. Like Father James Martin, SJ, says, there are several ways this meeting could have come about. Let's not assume anything. However, let's acknowledge what's truly happening.
Religious freedom is a human right.
There's no denying this. I agree with Pope Francis on this issue. We all have a "human right" to refuse to discharge a duty if we feel it violates our conscience. However, that's not what is happening with Kim Davis.
Kim Davis is a hypocrite who is using faith and religious freedom to justify her discrimination towards the LGBT community.
Davis herself has been married numerous times and, according to the bible, she is committing adultery and living in sin. Yet, she doesn't deny marriage licenses to heterosexuals who have been divorced and seeking remarriage...
Kim Davis is discriminating; issuing same-sex marriage licenses is not in conflict with her religion.
By doing her duty, Kim Davis is not sinning or jeopardizing her own relationship with her church, or with God, any more than a Catholic judge who marries heterosexuals who have been divorced and are remarrying without having an annulment.
Perhaps she needs to seek council from her place of worship on culpability if she truly feels that she cannot issue same sex marriage licenses because her conscience tells her it's wrong.
As an appointed official, she has a public duty. If she truly feels she cannot issue marriage licenses because of her conscience, she can do one of two things: delegate the task to someone else or step down.
I have no problem with His Holiness' comments on religious freedom and conscientious objection being a human right.
However, I do have a problem with the people who oppose same-sex marriage using faith and religious freedom as a platform to justify their intolerance, discrimination and criminal actions.
My name is Aaron Jay Ledesma.
I'm from Houston, Texas.
I'm Catholic.
I'm gay.
I'm me.
REAL LIFE. REAL NEWS. REAL VOICES.
Help us tell more of the stories that matter from voices that too often remain unheard.