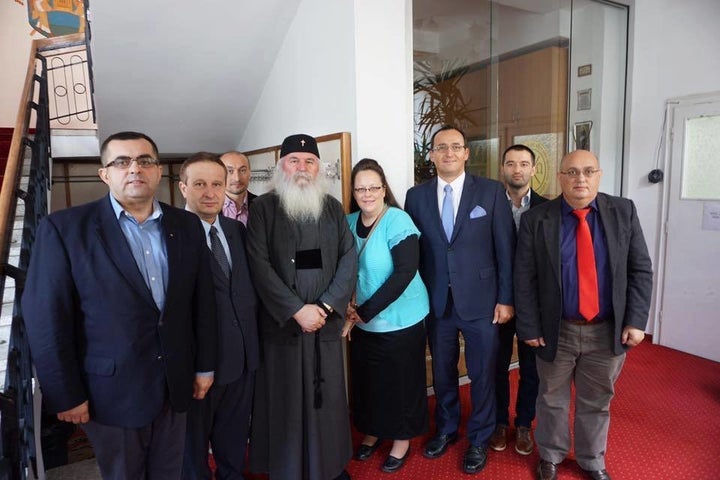 Kim Davis is taking her anti-gay crusade on the road. 
Now Davis' legal representation is hoping their client's steadfast opposition to same-sex marriage will stir similar sentiment in Europe. The Liberty Counsel's Harry Mihet is accompanying Davis on a nine-day trip to Romania with the aim of encouraging lawmakers to adopt legislation against same-sex marriage. 
Still, few politicians have thus far expressed support for same-sex marriage in Romania. An estimated 90 percent of the nation's population belong to the Orthodox Church.
Mihet, who serves as Liberty Counsel's vice president of legal affairs and chief litigation counsel, is a Romanian native, according to a press release. He and Davis will hold conferences in a number of Romanian cities, including Bucharest, Sibiu and Timisoara, in an effort to convince local politicians to support amending the constitutional definition of family, which would, in turn, rule out the possibility of legalizing same-sex marriage.
On Tuesday, the Liberty Counsel shared photos of Davis and Mihet's time abroad on its Facebook page. 
"I am so glad for this amazing opportunity to finally introduce Rowan County Clerk Kim Davis personally to my Romanian people," Mihet said in the press release. "Her story resonates loudly with them, and they are receiving her tearfully and very warmly, because they can still remember the not-so-long-ago days when they were themselves persecuted and imprisoned for their conscience."
He then added, "The freedom of conscience transcends national, cultural, religious and denominational lines, and Romanians are determined to prevent such injustice from ever happening again in their country." 
Davis and Mihet's message to the Romanian people "is simple and based upon the recent lessons learned in the United States: same-sex 'marriage' and freedom of conscience are mutually exclusive, because those who promote the former have zero tolerance for the latter," the news release concluded. 
Stateside, Davis' troubles are over ― at least for now. In July, a federal judge awarded $222,695 in legal fees to the attorneys of four couples ― two same-sex, two opposite-sex ― who were denied marriage licenses by Davis. (The clerk briefly refused to issue licenses to all couples in 2015 as legal pressure began to mount.) However, the state of Kentucky, as opposed to Davis herself, was ordered by U.S. District Judge David Bunning to pay the fees.  
Though Liberty Counsel's Mat Staver, who represented Davis, said in a statement that his organization was pleased that his client had not been deemed liable, he vowed to appeal the ruling nonetheless. 
Calling all HuffPost superfans!
Sign up for membership to become a founding member and help shape HuffPost's next chapter
BEFORE YOU GO