CHICAGO -- Embattled Cook County States Attorney Anita Alvarez was ousted in the Democratic primary Tuesday night by challenger Kim Foxx (D), who now eyes a November bid for the role of top prosecutor of the nation's second-largest county.
Shortly before 9 p.m., Foxx led with more than 61 percent of the votes with 76 percent of the precincts reporting. Alvarez's staff said she was calling Foxx to concede and vow a "smooth transition."
"Obviously, we hoped the results would be different," Alvarez told supporters during her concession speech Tuesday night.
"I've been criticized that I wasn't a very good politician," she said, adding, "I am damned proud of the fact that I am a very good prosector."
Foxx, 43, triumphed thanks to a wave of support and heavy organization from anti-discrimination and anti-police brutality groups in Chicago, many of which are affiliated with the Black Lives Matter movement.
Foxx was among those who criticized Alvarez's handling of the Laquan McDonald case -- including the decision to wait more than 13 months to bring murder charges against the Chicago cop who was seen on camera shooting the teenaged McDonald 16 times.
"The public has to hold feet to the fire on these issues. And Anita Alvarez's feet have not been held to the fire," Foxx said in an interview with the Chicago Reader.
The Chicago native's history was also undeniably powerful: Raised in the now-demolished Cabrini-Green projects, Foxx fought through homelessness in high school to make it to college and then law school. She spent 12 years as a prosecutor in the Cook County States Attorney's office, eventually working under Alvarez.
Foxx has said she was initially inspired by Alvarez, who held the role as Cook County's top prosecutor since 2008, when she was the first woman and first Latina to score the Democratic nomination. But as those feelings gave way to disappointment, Foxx moved on to become chief of staff to Cook County Board President Toni Preckwinkle, considered the most powerful Chicagoan, according to Chicago Magazine -- and a noted Alvarez foe.
Preckwinkle was hardly the only one hoping to see Alvarez's term come to a close.
Alvarez handily won her previous re-election bids, but her pattern of harsh prosecution of youth offenders -- which made Cook County among the leaders for juvenile life without parole sentences -- and low rate of prosecuting police misconduct eventually drew the ire of those hoping for progressive reform.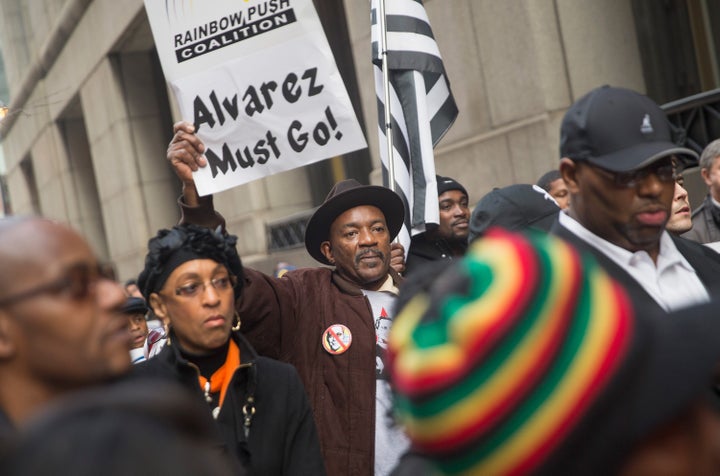 In 2012, Alvarez gave a disastrous interview with "60 Minutes" in which she defended police amid evidence that Chicago, at that point, had managed to rack up more false convictions than any other city in America.
Critics, including Chicago aldermen, activists and justice reform advocates, accused Alvarez of being compromised due to her cozy relationship with the city's powerful police union.
Alvarez made national headlines once again when video of a Chicago police officer shooting McDonald 16 times was finally made public.
Kelly Hayes, a Chicago organizer whose group Lifted Voices was among those working to oust Alvarez in favor of Foxx, said Alvarez was complicit in the Chicago Police Department's "blue wall of silence."
"For this campaign, we wanted to make sure people walked into the voting booths with Laquan McDonald and Rekia Boyd in their hearts," Hayes said Tuesday.
Alvarez eventually charged officer Jason Van Dyke with first-degree murder -- more than 13 months after the shooting -- despite having obtained video of the incident within two weeks of it occurring.
"Sixteen shots and a cover-up" became a rallying cry from both Chicago residents and community leaders who called for the jobs of both Alvarez and Chicago Mayor Rahm Emanuel, whose office was also accused of suppressing the video until a court order forced it into the open.
By then Alvarez had been facing criticism for months from the fallout from Boyd's shooting death by off-duty Chicago detective Dante Servin.
Hayes said she and organizers like her, which include the Chicago chapter of Black Lives Matter, the Black Youth Project 100 and Assata's Daughters, had "no illusions" that a Foxx win would spell the end of racism or that Foxx would end racism or problems in the CPD.
"Everyone involved in this campaign understands the limitations of an electoral victory. It's not going to change the culture of racism, but it's a step," Hayes said.
Though Foxx secured an endorsement from county Democrats, her campaign stirred controversy when she was fined $20,000 by state election officials for failing to report a campaign poll paid for by Preckwinkle and for being late on certain campaign disclosure filing deadlines.
Foxx's campaign said at the time it disagreed with the board's ruling and would appeal.
Foxx now faces Republican Christopher Pfannkuche in the November general election.
She thanked a crowd of electrified supporters Tuesday night, congratulating her opponents on their efforts and noting the historic nature of having three women candidates in the Democratic primary race.
"I want to be absolutely clear... This race is not just about saying goodbye, it's about turning a page," Foxx said.
Before You Go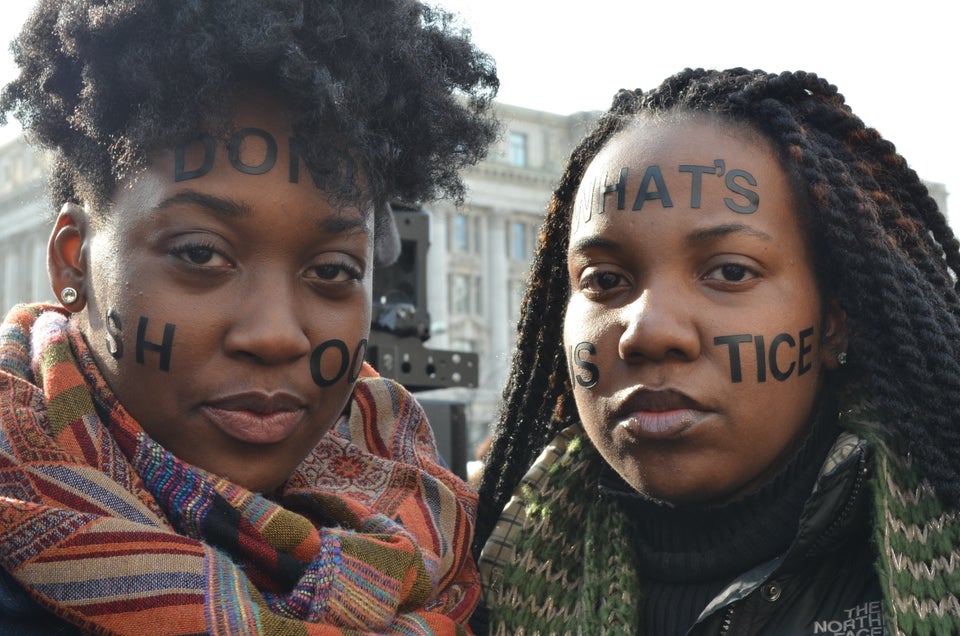 "Black Lives Matter" March
Popular in the Community