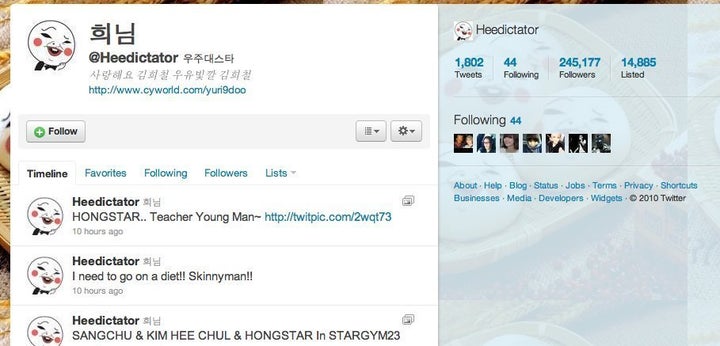 Sounds like 16-year-old Canadian pop sensation Justin Bieber has some competition on Twitter: South Korea's Kim Heechul.
There's a bit of an age difference -- Heechul is 27 -- but both are musical heartthrobs for thousands of teenage girls with rabid social network followings.
Bieber (@justinbieber) may have the edge on Twitter followers -- with 5.6 million to Heechul's 245,000 -- but since this weekend, Heechul has been the one dominating discussion.
It seems as though thousands of fans declared Oct. 11 "Kim Heechul Day" and used Twitter to spread the message. Tweets trickled in from South Korea and elsewhere until there was an international following, and curiosity, solidifying Heechul's spot atop the Twitter Trends throughout the day.
(UPDATE: A HuffPost reader emailed in, "It's actually October 10, 2010 we declared Kim Heechul's Day.. that day we started trending him because he posts a cartoon pic of him and other of his friends using a Uface application on Iphone." However, the buzz continued on Oct. 11 and into Oct. 12.)
Bieber fans often dominate the social network with links and tweets of support. In fact, it's been said that up to 3 percent of Twitter's servers are dedicated to Bieber chatter. Bieber himself is an avid user of the site, known to say some ridiculous things on occasion.
The comparison between the two was made repeatedly during Heechul's reign in the coveted spot atop Twitter Trends. Mashable's Associate Features Editor Matt Silverman tweeted, "It's official: Kim Hee Chul is the Korean Justin Bieber."
UPDATE: As of Noon Eastern Time on Tuesday, Oct. 12, Heechul has been trending on Twitter for 65 hours, according to Twend.it.
Popular in the Community