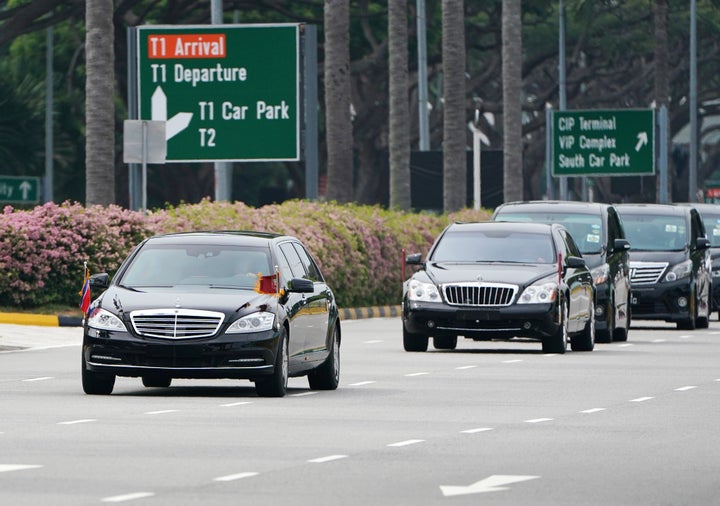 The 3,000-mile journey is the farthest taken by Kim since he took the helm as supreme leader of North Korea in 2011.
Vivian Balakrishnan, Singapore's minister for foreign affairs, tweeted a photograph of him welcoming Kim ― who was wearing a dark, pinstriped Maoist suit and sporting his trademark high-cut hairstyle ― to the Southeast Asian city-state.
Police warned of traffic congestion around the airport and along roads near the hotel, citing the North Korea-U.S. summit as a reason for the delays.
Dozens of onlookers and journalists were awaiting Kim and his entourage at St. Regis,
The motorcade, which included a black Mercedes-Benz limousine adorned with North Korean flags, arrived at the hotel at around 3.45 p.m. local time.
A man identified as a North Korean security official was photographed standing outside the hotel as the motorcade approached. The man was pictured with a pin on his jacket that appeared to feature portraits of Kim's predecessors, Kim Jong Il and Kim Il Sung.
Hours after his arrival, Kim met with Singapore Prime Minister Lee Hsien Loong at the Istana, the official presidential residence. Lee live-streamed the meeting on Facebook.
The prime minister "complimented the bold and admirable decision" by Kim and Trump to come together for the summit, according to an official statement about the meeting.
The prime minister is scheduled to meet with Trump on Monday. Trump, flying aboard Air Force One, arrived in Singapore on Sunday night, local time.
Trump is expected to stay down the road from Kim at the Shangri-La Hotel. The pair will be convening on Tuesday morning at Capella Hotel on Sentosa, a tiny island off Singapore's southern coast, for their highly-anticipated meeting.
This story has been updated with Trump's arrival in Singapore.
Related
Popular in the Community