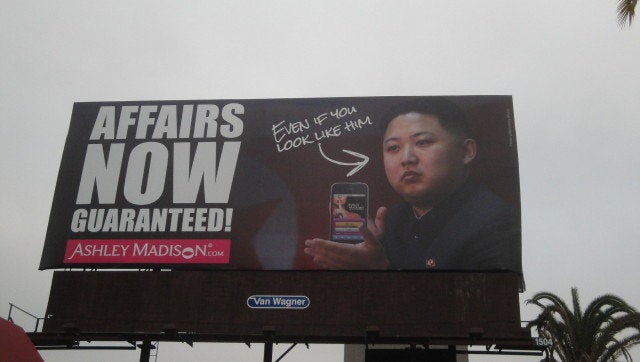 On the same day that North Korean dictator Kim Jong Un's marriage made international news, a shocking billboard of the leader's face was erected at the Los Angeles International Airport Wednesday alongside the message, "Affairs Now Guaranteed. Even if you look like him."
The billboard comes from none other than AshleyMadison.com, a controversial website for people in relationships looking to cheat. "Heads of state are constantly known to be unfaithful. It's almost an inevitability that [Kim] will cheat," Noel Biderman, founder and CEO of the site, told The Huffington Post. North Korea confirmed for the first time Wednesday that its leader had married a woman seen with him at recent events, "comrade Ri Sol Ju."
This isn't the first bold billboard targeting a political leader put up by the company, which operates in 25 countries. Photos below show other billboards roasting U.S. and foreign leaders. One Ashley Madison billboard in Pennsylvania last year depicted presidential candidate Newt Gingrich alongside the message, 'Faithful Republican ... Unfaithful Husband. Welcome to the AshleyMadison.com era."
It's clear that the company watches the news closely and responds quickly. "There's always an Arnold Schwarzenegger around the corner," Biderman conceded.
Biderman said the ads are not meant to convince anyone to have an affair, but to raise awareness of an outlet for those already looking. "You can't convince anyone to have an affair," he said. "What you can do is convince the majority of people who will have an affair at some point in their lives that doing it in the workplace or on a singles' dating site or on Facebook is a bad idea because it's going to lead to consequences of a non-perfect affair. A perfect affair means meeting someone and not getting caught."
In 2010, LAX had nearly 60 million passengers and had the world's sixth-highest passenger volume, according to an industry group. Biderman said he chose the high-traffic location because he's looking to expand Ashley Madison in Los Angeles. The city is not even in the top-10 U.S. cities on a membership-per-capita basis, he said. Biderman speculated that this could be because Angelenos have an easy time finding affair partners without using the Internet or because "maybe East Coast weather keeps people indoors and makes them behave differently."
"Society is reinventing the institution of marriage," Biderman said. "Part of the metamorphosis you see is more polyamorous or open marriages taking place. And those couples … divorce way less frequently. ... They're way more successful. Monogamy is very possessive and doesn't fit with modern-day lifestyle."
Regarding his own marriage, Biderman, who has two children, commented, "I, like so many other millions of people, grew up in a society with a lot of emphasis on getting married. It's only now that I also see things differently." He continued, "I, like other people, want to try to get through my marriage in a monogamous fashion. But if I woke up one day and found my sex life to be like that of a priest, I would definitely stray before getting a divorce."
Biderman said the company plans to put up several more political billboards in the U.S. in the next year. Click through some of Ashley Madison's past billboards and commercials: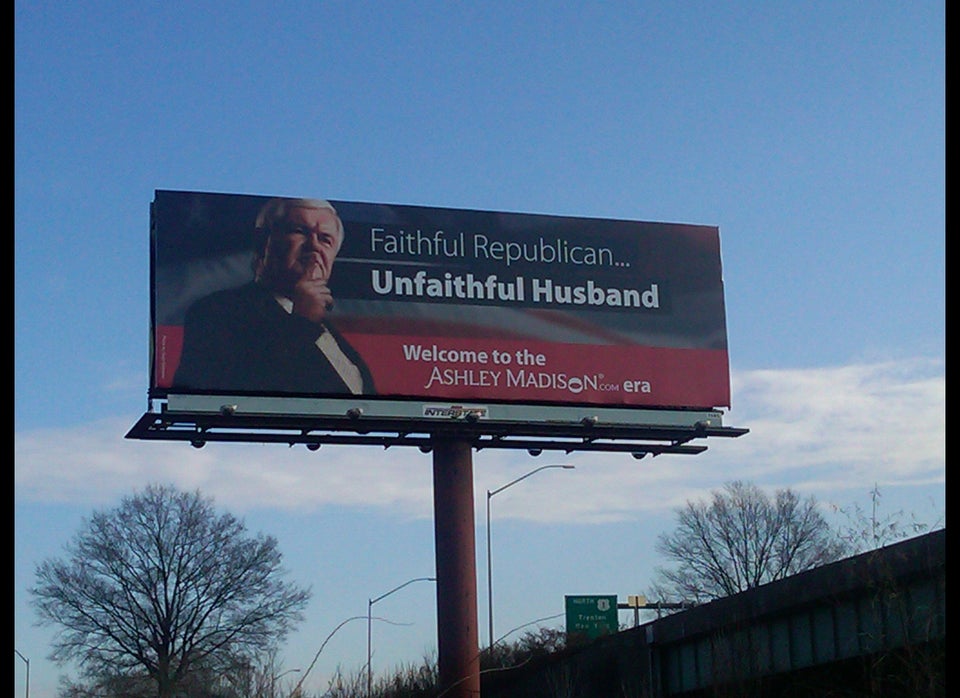 Controversial Ashley Madison Ads