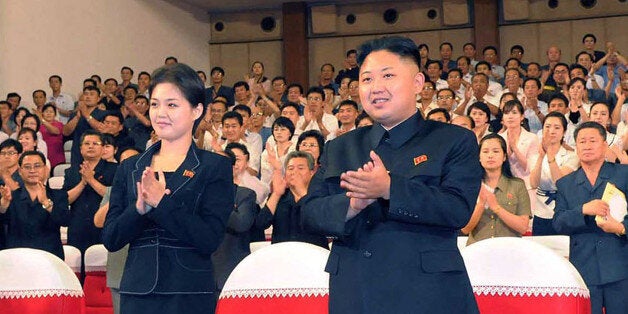 By James Pearson and Ju-min Park
SEOUL, Jan 8 (Reuters) - Exactly one year ago, flamboyant NBA hall of fame star Dennis Rodman stepped up to a microphone in the center ring of a North Korean basketball court and sang 'Happy Birthday' to leader Kim Jong Un, the world's youngest head of state.
Kim is believed to have turned 32 on Thursday, but this year there have been no reports of celebrations or even any public mention of the event so far in the reclusive nation. His age is apparently a state secret.
China, North Korea's only major ally, however offered birthday wishes. Foreign Ministry spokesman Hong Lei told reporters at a daily briefing on Thursday that China had "expressed congratulations" to North Korea on the occasion.
In the United States, which expanded sanctions against North Korea late last month after blaming Pyongyang for a hacking attack on Sony Corp, State Department spokeswoman Jen Psaki said she had no message for Kim for his birthday.
Kim's birth date has long been a secret in North Korea, where information about his personal life is limited and part of a highly-managed state narrative.
Rodman's song was the first time the date was confirmed at an event where Kim was present.
His gruff, low-pitched rendition of Happy Birthday was shown incessantly on state TV after the event, and quickly became a joke among North Koreans who sing the song in the same style, according to Simon Cockerell of Koryo Tours, who has made over 140 trips to North Korea.
"In all the times I've been to North Korea, that is the single most bizarre thing I have witnessed," said Cockerell, who was part of the 8,000 people at the basketball stadium last year.
"It wasn't a birthday party until Rodman started singing," said Cockerell, who was accompanying a group of Western tourists to the isolated country at the time. He said there were no signs or decorations at the basketball event that indicated it was Kim's birth anniversary.
For years, the only clues about the young dictator's age came from the testimony of his father Kim Jong Il's chef Kenji Fujimoto, who remembers Kim Jong Un as a child, and says he was born in 1983.
That date is consistent with Rodman's revelation in September 2013 that Kim was 30, but South Korean intelligence has said he was born a year later, in 1984.
Anniversaries and birthdays are important hallmarks of the North Korean calendar. The April 15 birthday of founding president Kim Il Sung, the young Kim's grandfather, is the biggest holiday of the year and is marked with military parades, mass dances and performances.
The year of Kim Il Sung's birth is the first year of North Korea's own "Juche" calendar system.

But Kim Jong Un's birthday has not yet become an official celebration, in part perhaps because of his age, analysts say.
"He is relatively young compared to his father Kim Jong Il who was officially named as successor at 42," said Cheong Seong-chang, a North Korea expert at the Sejong Institute near Seoul. "Kim Jong Un may think he can just hold back from public birthday celebrations for a while."
Ahn Chan-il, a former North Korean military official who defected to the South in 1979, said: "There are still many elders in North Korea's party, cabinet and military, and Kim Jong Un is too young to celebrate his birthday in front of them."
News organizations run by North Korean defectors in Seoul have reported in the past that North Korean workers have been awarded days off on Kim Jong Un's birthday.
An official at South Korea's Ministry of Unification however said it was "business as usual" at the jointly-ran Kaesong industrial zone on Thursday morning, as North Korean staff showed up for work as usual. (Additional reporting by Michael Martina in BEIJING; Editing by Raju Gopalakrishnan)

Related
Popular in the Community