SEOUL ― The secretive, bombastic Kim dynasty that has led North Korea for the past six decades has probably done so in a smart, rational and unprecedented way, experts say ― despite the frequent descriptions of current leader Kim Jong Un in the West as "crazy," "wacky" and a "nut job."
"It's never helpful, in the midst of an international crisis, to characterize your adversary in those terms," said Evans Revere, a former principal deputy assistant secretary of state who specializes in North Korea. "I have always assumed, based on longtime observations of this North Korean leader and previous leaders, that there's a powerful element of rationality to the things they do."
The North is known for hyperbolic rhetoric, with threats of "seas of flame" and "thousandfold revenge on aggressors." Statements this week out of Pyongyang promised "enveloping fire" around Guam after the North said it was finalizing plans to launch medium- to long-range ballistic missiles in the waters around the U.S. island territory.
But those comments are nearly identical to others made by the various Kim regimes almost every year over the past two decades. Combustible language is common: In response to U.N. Security Council sanctions in 2013, the country threatened to engulf Washington, which it called a "stronghold of evils," in a "sea of fire." In 2012, North Korea threatened to reduce South Korea's government "to ashes in three or four minutes." Similar threats were leveled a year earlier, with promises to turn Seoul's presidential palace, the Blue House, into a "sea of fire." Flame-related phrases have been in use since at least 1994.
Revere described the cyclical threats as part of an attempt to be heard on the international playing field.
"Their bombastic words, those threats to turn neighbors into seas of fire ― they feel that this is something that the United States will take seriously, and will not respond to kinetically," Revere said. "It's distasteful. It's uncomfortable. But if you look at their words, there is a logic and a rationale in the North Korean mind."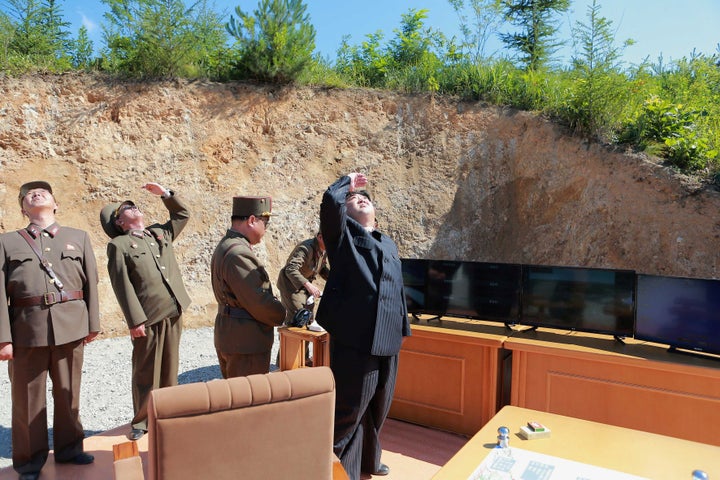 Others point to the reclusive nation's longevity as an authoritarian regime as evidence of a fully formed diplomatic strategy, since other countries ― like Myanmar, China and Vietnam ― have seen such total control fall away.
"If Kim Jong Un were crazy and irrational, North Korea wouldn't exist in 2017," said Sokeel Park, director of research and strategy for the refugee resettlement group Liberty in North Korea. "Looking at the history, we really have to ask ourselves: How has North Korea been able to maintain such a system, against all the odds? We're in a situation where in 2017, North Korea is last man standing in terms of totalitarian states."
Previous U.S. presidents have condemned such bombastic statements from the North, but still sought to bring the country to the bargaining table in an effort to convince the Kims to give up long-held aspirations for a nuclear weapon capable of reaching the United States. President Donald Trump ― the first American leader confronted with a North Korean missile that experts believe could reach California, and possibly a nuclear weapon to fit on top of it ― has taken such denunciation to new extremes.
On Tuesday, Trump made his own threat of "fire and fury like the world has never seen" against North Korea. On Thursday, he said his earlier comments may not have been "tough enough," as North Korea has been "doing this to our country for a long time, for many years." And on Friday, he tweeted that the U.S. military was "locked and loaded," should North Korea "act unwisely."
Trump has previously described Kim as possibly "a total nut job," and others in his administration have offered similar appraisals. "We are not dealing with a rational person," Nikki Haley, U.S. ambassador to the United Nations, said in March. "If this was any other country, we would be talking about that, and it wouldn't be an issue. This is not a rational person, who has not had rational acts, who is not thinking clearly."
Some experts, however, argue that Kim knows exactly what he's doing.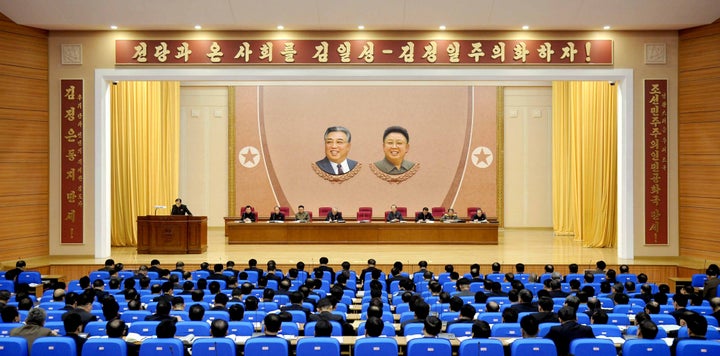 Kuyoun Chung, a research fellow at the Korea Institute for National Unification, a think tank funded by the South Korean government, described North Korea as "very rational." Behind each promise of fire, she said, lies an opportunity for "regime survival."
"Describing North Korea as irrational and crazy [in the U.S.] might demonize the existence of the Kim Jong Un regime, or provide the rationale to criticize or kind of act more coercively towards North Korea," Chung said. "But that does not really help the security of the United States and the security of northeast Asia."
Rather, analysts say, Kim may be trying to push back against international efforts to strip the country of its nuclear might, with the aim of being recognized as a world power on par with the United States and China.
"He learned how power works from [an] early age," Koh Yu-hwan, a professor at Seoul's Dongguk University, told The New York Times in a lengthy profile of Kim. "Kim Jong Un is here to rule for decades, playing the long game. Over time, he believes that the world will have no option but to accept his country as a nuclear power."
Revere said that despite the recent threats toward Guam ― which he described as "bizarre" ― he didn't think the North would preemptively attack the United States, because Kim "understands what the consequences might be" and isn't "suicidal."
"Despite the reality of growing North Korea military capabilities, I don't see us on the brink of war," he said. "I don't see us on the brink of a nuclear exchange, unless someone miscalculates greatly."
"The North Koreans may see it as bluff," he said. "But our allies are listening to it very carefully, and are clearly unnerved by it."
REAL LIFE. REAL NEWS. REAL VOICES.
Help us tell more of the stories that matter from voices that too often remain unheard.